The European Union has announced to decrease the anti-dumping tariff from 47% to 11.8% in the next two months. The impact this could have on production is still being assessed. The change in placement orders that could occur due to the lowered tariff rate being in an acceptable range for Chinese industries.
According to EnergyTrend, with the European market being seen as a long term important market to Chinese manufacturers, they earnestly try to maintain their visibility while being faced with the AD duty. Therefore with the pressure to lower costs and avoid taxation, many manufacturers have looked for OEMs outside of China where the production cost can be as low as $0.679/W.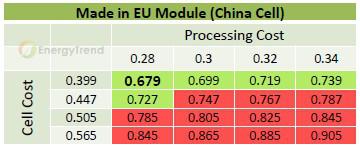 Unit: USD
EnergyTrend's latest "Anti-Dumping Special Report" covers all cost analysis for Chinese manufacturers based on three scenarios, which will give you a clear outlook on cost structure. Besides, this special report is free and exclusive to EnergyTrend's registered members, which could help you to make the correct decision and stay competitive.
Full Article & Report Download: http://pv.energytrend.com/research/20130624-5333.html