CANADA
Bank of Canada in its half yearly review of financial systems, where it aims at identifying vulnerabilities & monitor how they evolve, identified three vulnerabilities (same as in Dec)
The elevated level of Canadian household debt
Imbalances in the Canadian housing market and
Fragile fixed-income market liquidity
As per BoC the first two vulnerabilities have moved higher since December, but with improving economic outlook there is lower probability that the risks will be triggered. It highlighted the pace of rise in home prices in Toronto & Vancouver and mentioned that it is unlikely to be sustained given the underlying fundamentals. The report went on to add that the potential for downturn in home prices is growing, although it is difficult to quantify.
The sharp rise in home prices over the last few months has attracted attention from even the Prime Minister. "Rising home prices, uncertainty around being able to buy your first home or upgrade as you want to grow a family is a real drag on our economy and a real drag on Canadians' opportunities." stated PM Justin Trudeau in an interview with BNN. The lack of data on the housing market was emphasized when he also mentioned "There are all sorts of theories about what is going on in Vancouver and Toronto - there is more data we need." Average home prices in Toronto and Vancouver are at $635,700 & $889,100, with prices up 15% & 30% year on year, respectively in May.
Jobs data for May brought some cheers to Canadian markets as 14k jobs were added in the economy. This was better than economist expectations at about 4k, the details were even better with full time employment increasing by 61k and part time declining by 47k. A bulk of the full time jobs were added in Quebec (56k) and Ontario (40k). Lower crude oil prices and weaker Loonie are adding momentum to two of the largest provinces in Canada. Alberta shed 40k full time jobs which was partly offset by addition of 16.1k part-time jobs. Due to the forest fire in Fort McMurray data was not collected in that region & as per Statscan, this represents only 2% of the population of Alberta & impact of not collecting data is expected to be minimal on the provinces employment estimates. The survey of households revealed that the unemployment rate dropped lower to 6.9% which is the lowest since July 2015.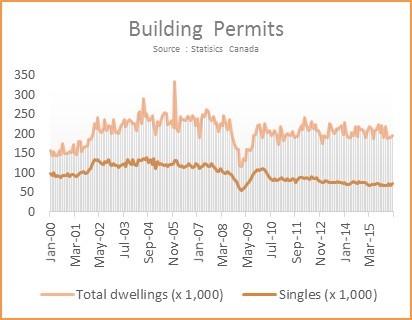 As per data from Statistics Canada, Building permits in Canada were slightly higher in April at an annualized pace of 194.6k units. With the sharp rise in house prices over the last one year, the supply side also has been focus. Building permits have been steady or on a slightly declining trend after peaking in 2005. As per data from CIC, Total Permanent Residence authorizations and visas issued in 2015 increased by 40k from the 2014 number to 296k, this number has been steady around to 260-250k region since 2011. As a percentage of building permits it is about 20%, which is quite large. The other point is that a significant portion of these new immigrants end up in the metropolitan areas of Toronto & Vancouver. In Toronto the long term average for building permits since year 2000 is 3160 units, but new construction has not kept pace with the increase in demographics, both immigration and natural increase due to net of births and deaths. The other thing to keep in mind is that not all permits turn into housing starts and the final product. Again from starts to compilation the percentage is 97% in the last 10 years. The average number of homes completed & handed over to end users in the last 10 years has averaged 196k. From 2009-2015, the actual completed units have below this longer term average at 183k, combined with normal immigration and natural rise due to births & deaths, the supply has been below par. As per data from CMHC, housing starts in May were at an annualized pace of 188,570 which was slowest pace since Feb this year.
INDIA
In India, Reserve Bank of India, disappointed markets by refraining from cutting interest rates and retaining the Repo rate at 6.50%. RBI Governor Raghuram Rajan was cautious in his outlook on inflation stating that the inflation surprise in April makes the future trajectory of inflation somewhat more uncertain. He also commented on rising crude prices and implementation of the 7th pay commission awards, which will substantially increase salaries for a vast number of government employees as threats to inflation. He highlighted the key problem of transmission of policy rates into the economy, and exhorted banks to pass on the benefits of earlier rate cuts. With the Monetary Policy Committee in place now the next policy action could be decided by this committee and not just the RBI. The RBI also mentioned that public sector investment is gaining strength, but private sector investment continues to be weak and is a matter of concern.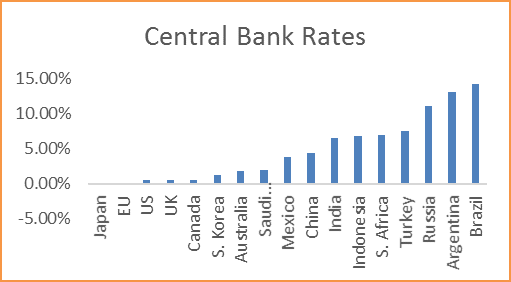 Interest rates in India are amongst the highest amongst G-20 nations. Brazil & Russia have increased interest rates to support their plunging currencies. At a time when the government is trying to boost the infrastructure and manufacturing sectors, there is dire need for capital and with the cost of borrowings not showing signs of entering into a range which could be considered to be competitive it is challenging for the corporate sector to compete in international markets.
Industrial Production fell unexpectedly in April by 0.8% as nine of 22 sectors contracted. Industrial production has contracted in 4 of the last 5 months and the weakness in this important sector is spilling into fiscal year 2016-17 from the earlier year. The forward looking, capital goods sector contracted by 25% in April indicating lack of fresh investments & this is the sixth consecutive month that this important sector has contracted. The manufacturing sector which accounts for about 75% of the IIP Index contracted by 3.1%.
The Indian Rupee firmed up sharply against the US Dollar as the RBI refrained from hiking rates. Indian 1-year T-Bills are yielding around 7.50% and provides one of the biggest arbitrage opportunities for investors from Europe, US & Japan where rates are close to zero or below zero. With growth expectation looking forward also seeming bright & record high Foreign Exchange Reserves; India has emerged as a top destination for arbitrage play in the bond markets.
UAE
The drop in crude oil prices has resulted in increasing pressure on the fixed US Dollar peg that the GCC countries have in place. Forward markets have weakened as expectations of currency devaluations have increased. UAE Central Bank Governor, Mubarak Rashed Al Mansoori told reporters last Sunday that policy makers don't see pressure on the dirham and UAE is committed to its peg with the US Dollar. One year forwards have fallen to about 125 pips indicating buildup of pressure in the market. One reason for the buildup in pressure in the UAE Dirham market in recent weeks could be the clamp down in Saudi Arabia on devaluation speculation using the FX Options route. Saudi Arabian authorities ordered banks to stop selling a few of the products that allow speculator to bet against the currency peg. The UAE Dirham being the second most liquid currency in the GCC in the forward market, possibly is being used as a proxy for the Saudi Riyal. The UAE economy and fiscal position is one of the strongest amongst all GCC countries, but if Saudi Arabia does devalue its currency at some point of time in future the UAE Dirham will also be under pressure due to the strong linkages in the GCC.
As per data from the UAE Central Bank, deposits in the banking system decreased by Dhs. 3.4 billion in April. The fall in deposit base was due to a 12.7% fall in deposits placed by Government Related Entities, these deposits found their way into the private sector and government accounts, with a small portion leaving the system. Overall lending in the system also fell marginally by Dhs. 1.2 billion (0.1%), which is also the first decrease recorded in 2016. One positive from this report was the fall in provisions of 2% in the first four months of the year to Dhs. 318.3 billion from Dhs. 324.8 billion in December. This indicates that the measures undertaken by the banks to alleviate the credit stress in the large SME structure has helped reduce loan delinquencies. Equites across the GCC moved lower on account of lower crude oil prices & risk aversion in global markets. With global equities falling sharply further lower on Thursday & Friday after the close of GCC equity markets, expect selling to continue on Sunday when regional markets start trading again.
GLOBAL MACRO
Federal Reserve's Labor Market Conditions Index, which has been created by taking into account 19 labor market indicators, remained in negative territory for the 5th consecutive month falling to -4.8. Only on three occasions in the past in Feb 1986, May 1995 & Mar 2003, when the Index fell below minus 5, has the economy not slipped into recession. This also ties in with Non-Farm payroll data where job growth has slowed down. The correlation between Non-Farm Payroll & LCMI is at 77% since 1976. What this could indicate is that the job growth which has been the major driver of the housing market & consequently the largest component of retail sales - motor vehicles, could slow down in the coming months. This premise is more plausible when we consider that the US economy is quite close to full employment & at this level job gains are expected to slow down. The other barometer of the job market, JOLTS by the Bureau of Labor Statistics, which measures job vacancies across the non-farm sector in the US, was quite at the other spectrum posting its highest ever recorded number at 5.788 million.
Britain's referendum on exiting the European Union is slated for June 23 and this is a major risk for global markets. Late in the week, an ORB poll showed a 10-point lead for the campaign to take Britain out of EU with 55% indicating a preference for "Brexit". This sent shivers across financial markets equity prices lost ground, bond prices gained as a result yield went further lower & Gold prices gained. Japanese & Swiss government bonds which are amongst the favorite assets during times of risk aversion traded at record low levels as investors rushed to buy these even at negative yields. Japanese 30-year bonds traded at a negative yield. German 10-year yields traded very close to zero, trading a low of 0.02% & currently about 80% of all German Government bonds are trading at zero or negative yields. Gold prices rallied sharply higher attracting attention from investors seeking a "safe haven" in a risk-averse environment towards the end of the week.
Chinese growth concerns weighed in on markets as Chinese exports contracted for the second consecutive month. Chinese exports have contracted in 13 of the last 15 months, reflecting weakness in global demand. Imports on the other hand fell marginally by 0.4%, but the large jump in imports from Hong Kong which surged by 242.6% could mean that some amount of capital flight is happening through the "over-invoicing" method. China's FX reserve fell by $27.9 billion, to touch its lowest level since December 2011.
US equities lost ground towards the end of the week on account of fears of global growth and Brexit fears. The S&P 500 is trading at a dividend yield of 2.17%, which is way above the 10-year Treasury at 1.64%. The S&P 500 is trading at P/E's of just over 17, which in valuation terms is quite rich currently given global growth outlook which is quite bleak. Investor expectations of returns from several asset classes have dropped since the Financial crisis barring equities, it could be time to re-evaluate whether traditional valuation models hold true in the current environment of sluggish global growth.
Baker Hughes the oil field services that publishes the number of active oil rigs reported an increase in count for the second consecutive week. This the first time since August last year that this has occurred. Crude Oil prices heading higher and trading around $50 a barrel and the forward curve is reasonably flat, which means that companies can hedge North American Benchmark WTI futures for 2017 at around the $52 a barrel level, knowing that they are hedged for the next year and half. This will entice more production to come into the market and could lead to a fall in the cash price market in the coming months.
Compiled & Researched by: Shailesh N. Mulki
Disclaimer: This is not a research report and the views and information contained herein are the personal views of the author. These should not be taken to constitute advice or recommendation.
Source: Bloomberg.com, Investing.com