About Lorillard
Lorillard Inc. [LO] is the third largest cigarette manufacturer in the United States. Its brands include Newport, Kent, True, Maverick, Old Gold, blu electronic cigarettes (e-cigs) and the recently-acquired British e-cig brand SKYCIG. The company is also slated to roll out its Newport Non-Menthol Gold in early 2014.
Its Newport brand accounts for 88% of sales and has a 12.6% retail market share. Lorillard claims a sizable 49% of the fast-growing electronic cigarette market.
At $53 per share, the company's dividend yield is 4.15%.
What Lorillard has Delivered
On October 23 Lorillard reported third quarter EPS of $0.83. Analysts covering the company set consensus earnings expectations at $0.81. EPS for the same period a year ago came in at $0.72. Strong sales of its flagship brand Newport along with continued dominance in the fast-growing e-cig market helped Lorillard deliver these solid results. Chart 1 shows that shares of Lorillard have surged compared to shares of competitors Altria [MO] and Reynolds [RAI] recently.
Chart 1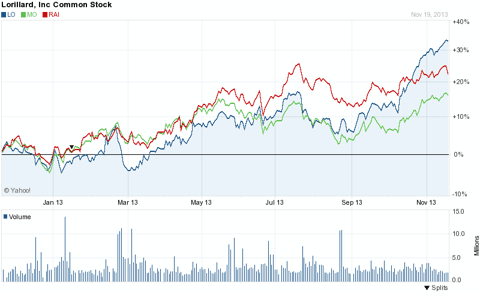 What to Expect
Conditions are anything but calm among cigarette makers. Lorillard is positioning itself to claim additional market share over its competitors. Its aggressive foray into the e-cig market and its planned rollout of Newport Non-Menthol Gold are both part of a strategic play to diversify the company's revenue stream. As it stands, original menthol Newport cigarettes account for 88% of Lorillard's revenue. This is a major concern for Lorillard because regulators are now reviewing evidence to determine whether mentholated cigarettes expose smokers to increased health risks compared to non-menthol cigarettes. I see this playing out one of two ways:
Regulators find that mentholated cigarettes do in fact expose smokers to increased health risks and decide to hand down additional measures to discourage smokers from smoking menthol cigarettes. If such measures are significant enough then Lorillard and its competitors may observe smokers switch to the non-menthol cigarettes over time. This is the worst-case scenario for Lorillard as it derives the majority of its revenue from sales of its mentholated Newport brand. Any significant regulation in this direction would almost certainly have a negative impact on sales. If it does turn out that stricter regulation is on the way for mentholated cigarettes then Lorillard's move to introduce Non-Menthol Newport Gold could extend the Newport brand life cycle. Assuming the Non-Menthol Newport Gold cigarettes catch on then they could offset some of the menthol regulation's negative impact on sales.
Regulators find the study inconclusive and do not hand down any new measures that significantly impact the sale of mentholated cigarettes. This is the best-case scenario for Lorillard as it would clear much of the uncertainty surrounding the future of its cash cow Newport menthol cigarettes. This scenario also plays out nicely for Lorillard because it extends the company's timeframe to capitalize on its position in the e-cig market. As it stands, Lorillard controls a 49% share of the e-cig market. Conservative estimates put 2013 projected industry sales of e-cigs near $500 million. Also, regulators have yet to take action to curb the sale of e-cigs. If Lorillard is able to maintain its stronghold on this market then it stands to benefit immensely as e-cigs sales rise.
When it comes to fundamentals, Lorillard has delivered. Analysts covering Lorillard are calling for the Greensboro, NC Company to report 4Q13 EPS of $0.85 which would bring FY13 EPS to $3.15. Compared to LO's FY12 EPS of $2.82, this would represent year-over-year earnings growth of 11.7%. Based on Lorillard's relatively stable market share in the menthol segment and its early dominance in the e-cig market, the company appears well-positioned to achieve these targets.
Analysis of Lorillard's 50-day and 100-day Moving Averages offers useful insight as well. Chart 2 shows that the 50-day and 100-day Moving Averages crossed at two points in a tight pattern to signal a brisk rally was under way. The stock responded by moving from $45 to its current price of $53 (17.7% increase). LO is also currently trading near 52-week highs. The 100-day Moving Average suggests a support level of $44 to $46.
Chart 2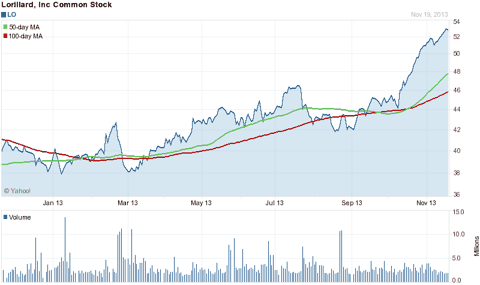 Investors following LO should also be looking for the company to continue to deploy funds towards its share buyback initiative. Earlier this year the company announced plans to repurchase up to $1 billion of its outstanding shares. To date, Lorillard has fulfilled $458 million of this repurchase commitment. If the company makes good on the remaining $542 million of the plan then it will likely help buoy the stock price.
How to Play This Stock
Lorillard has emerged as a star among cigarette makers. Not only has it shown strength by expanding market share in its core menthol segment, but the company has also established a significant lead over its competitors in the growing e-cigarette market. Following Lorillard's stellar performance this year, those interested in established a position in LO may be well-served to buy into the dips. The following events may represent buying opportunities for investors looking to establish a position or add to an existing position.
Lorillard is scheduled to pay a dividend of $0.55 per share at the top of December. The ex-dividend date is November 26. Look for Lorillard to climb going into its ex-div date and then adjust lower to reflect this payout the day it goes ex-div.
Also, there are just 27 trading days remaining in 2013. Some investors may look to take profits from their holdings of winners like LO.
Remember, the jury is still out on possible regulatory action against menthol cigarettes. This conversation has been in play since 2009 and may last several more years if not longer. Until a decision is reached, LO's price may be impacted by related headlines and news releases.
Another factor that may weigh against Lorillard is momentum in broader markets. Both the Dow Industrials and the S&P 500 have hit new record highs recently. Investors sometimes trade out of high-yield stocks and into growth stocks when broader markets start to take off. Investors have gained a good bit of confidence from catalysts including strong fundamentals from firms, transparency from the Fed, and robust economic data. If this momentum continues then high-yield stocks like LO may take a back seat.
Conclusion
Lorillard is a high-yield company that has the potential to deliver considerable price appreciate as well.
A significant portion of its business (sales of Newport menthol cigarettes) is susceptible to possible regulatory action. However, no decisive conclusion has been reached. Outside of this, the company's blu e-cig brand controls a 49% share of the e-cig market. Lorillard has also sought to establish its presence in Britain's e-cig market with the completion of its acquisition of SKYCIG.
LO is fresh off a 17.7% run up from its late October price of $45. Therefore, investors should exercise caution and consider buying into dips. Possible factors that could present buying opportunities include: the November 26 ex-dividend date, investors tendency to bank profits as the year comes to an end, pending regulatory action, and a possible change in investor preference out of high-yield stocks.
Disclosure: I am long LO. I wrote this article myself, and it expresses my own opinions. I am not receiving compensation for it. I have no business relationship with any company whose stock is mentioned in this article.