Last October, BioMarin Pharmaceutical, Inc. (NASDAQ:BMRN) out-licensed the North American rights to its orphan drug Firdapse, to Catalyst Pharmaceutical Partners, Inc. (NASDAQ:CPRX). BioMarin also made a $5 million investment for a 17% ownership in Catalyst that will carry on the current Phase III trial of the drug in the United States for the potentially fatal autoimmune disorder, Lambert-Eaton Myasthenic Syndrome, or LEMS. BioMarin has also agreed to future $10 million milestone payments to Catalyst and will retain its rights to Firdapse elsewhere in the world.
Firdapse is likely to be approved in the U.S. for the treatment of LEMS because it has already been through the process of clinical trials in Europe and was approved by the European Medicines Agency in December 2009. To gain approval in Europe, Firdapse had to demonstrate repeatable efficacy and safety, which it did on both counts.
There is no approved treatment in the United States, but it should be known that the European Federation of Neurological Societies recommends Firdapse as the First Line treatment for LEMS.
Firdapse Market
Lambert-Eaton Myasthenic Syndrome is a rare autoimmune disease with the primary symptoms of muscle weakness. The prevalence of LEMS is estimated at approximately 3,000 patients in the United States and Canada. Once approved, Firdapse is also expected to treat Congenital Myasthenic Syndrome and Myasthenia Gravis that combined increase the market for Firdapse to include up to 6,500 patients.
Pricing in Europe for Firdapse is already set at $60,000 per patient, per year and independent market research indicates that Firdapse would be reimbursed in the U. S. at equivalent ultra orphan drug pricing. Catalyst also expects to offer a Patient's Assistance Program (page 16) to help patients financially with their copay so that those unable to afford treatment will be better able to have it.
Combined, these numbers have the potential to generate large revenues well in excess of $200 million annually for Catalyst and significant cash royalty payments to BioMarin as well a large gain in their investment in Catalyst shares.
Catalyst CEO Patrick McEnany said in a press release, "The relationship with BioMarin is exciting and strategically important, as it provides Catalyst with another orphan drug candidate and near-term funding towards the completion of the currently under way Phase III trial for Firdapse.
BioMarin has four products on the market today and is experiencing fast growing sales from Kuvan, Naglazyme, Aldurazyme and Firdapse. BioMarin is also developing BMM-110, BMM-701, BMM-673, BMM-111, BMM-190 and PEG PAL for various orphan drug indications.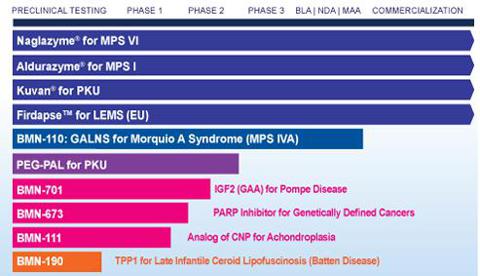 In addition to Firdapse, Catalyst is developing a potential blockbuster drug called CPP-115 that was designed by Dr. Richard Silverman who created the blockbusters Lyrica and Neurontin for Pfizer (NYSE:PFE). According to a recent article in Seeking Alpha, CPP-115 may be an entire pipeline in just one drug.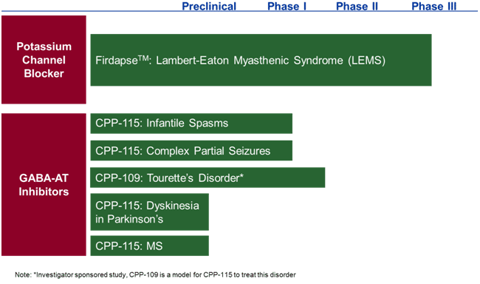 With respect to Firdapse, Catalyst expects to complete enrollment by the end of 2013 and to report top-line results from the double-blind portion of this clinical trial during the first quarter of 2014.
Knowing that results from prior trials have been successful and assuming positive results are obtained from the trial, Catalyst hopes:
• to file an NDA for Firdapse in the first quarter of 2015;
• to obtain approval from the FDA of such NDA by the end of 2015; and
• to commercially launch this product sometime in the first half of 2016.
As a solid player in the fast-growth space of Orphan Drugs, shares of BioMarin have been rising steadily for the past two years and are in a long-term growth pattern that is continually trending higher. Judging by the recent heavy trading volume and spike in price for Catalyst, it too may be under accumulation by larger institutional investors because individual traders don't buy 20 million shares in only four trading sessions like what just happened when Catalyst's price suddenly advanced from $.45 to over $1.00 and is still holding on to most of its' gains.
BioMarin and Catalyst are both expected to outperform the market because their orphan drugs enjoy the many advantages of market exclusivity for extended times, lower priced trials, faster trials, lower risk trials and lower cost trials.
BioMarin is far more mature than Catalyst, generating large sales of close to $500 million and also has large cash resources. At close to $60 per share for BioMarin compared to Catalyst at about $.90, BioMarin is less risky, however Catalyst's low price offers the potential for much larger percentage returns. Catalyst has no revenues currently but does have enough cash for the next years' operations and clinical trials and looks exceptionally well positioned for major growth.
There is the risk that any of the drugs from both companies may not be approved. There is also the risk that one of them they may not have adequate cash to continue in business in the event they cannot raise required capital.
Disclosure: I have no positions in any stocks mentioned, and no plans to initiate any positions within the next 72 hours. I wrote this article myself, and it expresses my own opinions. I am not receiving compensation for it. I have no business relationship with any company whose stock is mentioned in this article.