Shares of Catalyst Pharmaceutical Partners, Inc. (NASDAQ:CPRX) have been soaring for the last several weeks from a low of $.37 to $1.19 on June 12th and trading volume has been very heavy indicating institutional buying is underlying the advance. There has been no news issued by the company so that rules out a news driven advance. The short interest reported on Nasdaq is under 4 million shares and therefore cannot be responsible for the several 4 to 8 million-share day buying sprees. So why is Catalyst rising so fast and on such heavy buying? Perhaps the institutions and smart money know something we don't.
How often can you find a stock with a price of close to one dollar and a market cap of under $50 million that has not only one drug that is likely to be a big seller soon, but a second that is destined to become a blockbuster in only the next few years. Catalyst Pharmaceutical Partners, Inc. (CPRX) had a disappointing phase II trial last year of CPP109 for cocaine addiction that sent shares tumbling to a low of $.37. What investors who sold didn't realize is that the company has begun a phase III trial for Firdapse that has already been approved in Europe and that has already generated over $14 million in early sales. The fact that it has already been approved in Europe is reassuring to investors that Firdapse is likely to soon gain approval in the United States.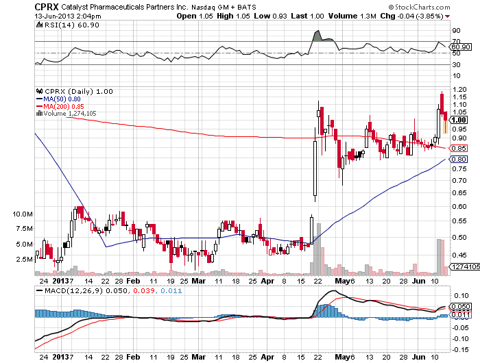 Firdapse is used to treat the orphan disease, Lambert-Eaton Myasthenic Syndrome, "LEMS", and other orphan drug disorders and is expected to generate over $200 million in sales in the North America once it is approved. Since Firdapse has been granted orphan drug status, the time to approval is greatly reduced and Firdapse could be commercial by only 2016. BioMarin Pharmaceutical, Inc. (NASDAQ:BMRN) a very successful orphan drug company, out licensed Firdapse to Catalyst last October and is so confident that they even invested $5 million to purchase 17% of Catalyst ownership.
Add Catalyst's CPP115 to the pipeline and we have an even far more potentially explosive stock because CPP115 was designed by Dr. Richard Silverman, the creator of Pfizer's blockbusters, Lyrica and Neurontin. CPP115 is expected to be a blockbuster for a large number of indications and has shown excellent data to date.
CPP-115 has two potentially significant advantages compared to CPP-109 (vigabatrin). First, CPP-115 may not cause the visual field defects associated with chronic administration of vigabatrin. Second, CPP-115 has been shown to be at least 200 times more potent than CPP-109 in both in-vitro and animal model studies. The increased potency could enable the development of superior or alternative dosage forms and routes of administration. Catalyst hopes that these important benefits will allow it to develop a broad range of other central nervous system therapies, beginning with infantile spasms, epilepsy and/or other selected diseases in which modulation of GABA levels might be beneficial, such as Tourette Syndrome, Post Traumatic Stress Disorder (PTSD) and movement disorders.
CPP-115 has received orphan drug designation in both the US and the EU for infantile spasms. In 2011, Catalyst advanced the development of CPP-115 by commencing a randomized, double-blind, single ascending dose Phase I(a) study in normal healthy volunteers to evaluate the human safety characteristics of CPP-115, including CNS side effects and respiratory and cardiovascular safety. The Company reported results in 2012 indicating that CPP-115 was well tolerated at all six doses administered up to 500 mg, well above the anticipated therapeutic dose of 15-30 mg/day.
The bottom line is that it is difficult to find stocks with such small market caps with the potential for very large percentage returns and with lower than normal risk and Catalyst appears to be exactly that rare find.
Risk
Catalyst is a small cap company and although the company has enough capital for the next year, there is the risk that it may not be able to raise adequate capital for future operations or that a trial of any of its drugs may fail.
Conclusion
It appears that savy institutional investors are discovering Catalyst Pharmaceutical Partners, Inc. as a highly undervalued company with good potential for large percentage returns and are snapping up shares while they are cheap. The risk to reward ratio appears to be excellent!