A new TAG Oil oil and gas discovery in the Taranaki Basin has TAG and its shareholders pleased and optimistic. Especially with Brent oil prices back up around the $70 mark.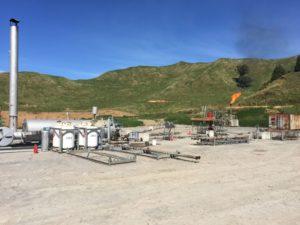 When we entered New Zealand exploration so many years ago, we were well aware of the potential of the prospect-rich oil and gas fairways, and it has yet again proven our judgement and data correct.
After encountering 12.9 meters of oil- and gas-bearing sands in the Mt. Messenger formation during the drilling of the Pukatea-1 well, the TAG team perforated the area, which caused the well to flow naturally at a rate of 600b/d initially. Over a 12-hour testing period the well flowed stably at ~276 boe/d with 74% of that being oil.
As testing continues, we will more fully formulate our commercialization plans, which could include the previous shut-in Pukatea 2 well, among other options. Stay tuned for news and progress, and congratulations to our team.