Is the other proverbial stock shoe about to drop? We do not think that the 20% broad market correction will begin to occur until after the third quarter of 2013. Beware of October 2013 as the spooky season will be more that scary. We reviewed Sasha Cerevacs warning notices in June and the Federal Reserve is now hostage to the stock market as if any correctional adjustment justifies pumping in more funds so corporate profits can reach record plateaus. The financial stocks will have the most to lose if QE is terminated.
Sasha Cekerevac for Investment Contrarians
Recently, I've issued several warnings in these pages for investors who are heavily involved in fixed-income assets. As I've mentioned over the past couple of months, I think the worst investment for investors to make is to put a lot of money into long-term Treasury bonds and notes.
This is because the unprecedented level of quantitative easing by the Federal Reserve will not go on forever. Once this shift occurs-the Federal Reserve beginning to reduce its aggressive quantitative easing program by decreasing monthly asset purchases-I believe it will hit the bond market quite hard.
I am not alone in this analysis, as recently the Federal Reserve Bank of Dallas President, Richard Fisher, stated that he too believes the multi-decade bull run in the bond market is over. (Source: Ito, A., et al., "Fed's Fisher Urges QE Reduction Seeing End to Bond Rally," Bloomberg, June 5, 2013.)
As Fisher stated, "The one thing the market has begun to discount is that this will not go on forever." (Source: Ibid.) Large institutions are beginning to shift their investments ahead of adjustments in the quantitative easing program by the Federal Reserve, and you should consider this too.
Featured below is the chart for the 10-Year U.S. Treasury Yield Index: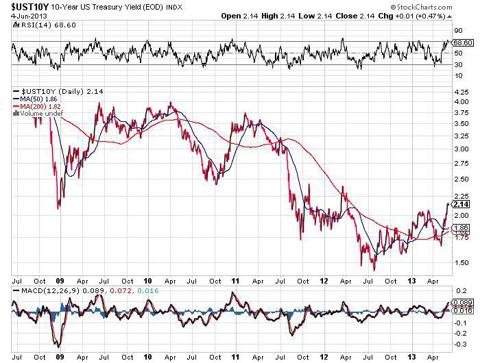 Chart courtesy of StockCharts.com
Even before the Federal Reserve has officially stated it will begin reducing quantitative easing, investors have already begun shifting assets out of the fixed-income market, as I thought they would. The 10-year Treasury note has moved up in yield from 1.63% in May to 2.14% currently.
While this is a substantial move upward over a short period of time, when one looks back over the past few years, there is still a lot of room for yields to move up and for fixed-income asset prices to go down.
While I don't see the Federal Reserve reducing quantitative easing over the next month, as some are forecasting, I do see the Federal Reserve reducing its asset purchase program by the end of the year.
So, what does all of this mean?
Many parts of the economy that have benefited from the low interest rate policy enacted by the Federal Reserve through quantitative easing will now see headwinds.
Both the housing market and vehicle sales have performed extremely well over the past year, but as interest rates begin to move up, this will cause a slight drag in these sectors.
When interest rates move up, it creates an affordability issue. It's a fine balancing act for the Federal Reserve to adjust quantitative easing to help the economy without giving it too much gas. Historically, the Federal Reserve has erred on the side of too much quantitative easing rather than too little.
Considering that many of the stocks that have benefited from the current quantitative easing policy by the Federal Reserve have gone up a huge amount-homebuilding stocks included-I would certainly look to take profits.
Homebuilding stocks have gone up a huge amount over the past few years. For them to sustain their current valuations, the growth rate needs to remain at extremely high levels. I think with higher interest rates moving upward, this will cause investors to pause when calculating their forecast for future sales and revenues.
Obviously, with the Federal Reserve beginning to reduce quantitative easing by tapering and eventually eliminating its asset purchase program, this will be a negative for the fixed-income market. As I've written over the past couple months, owning long-term Treasury notes and bonds is a huge mistake. It appears we are now witnessing just the beginning of what will happen when the Federal Reserve begins to shift its quantitative easing program.
In order for the cyclical economical process to heal an increase in interest rates will be inevitable. The low cost of money to job creators will only continue to produce underemployed and non qualified debt-to-income applicants for the financial services sectors. The current FICO,Beacon and Imperical credit scores on a national level is at a all time low according to Experian. The global scores are seen at lower than acceptable ranges and the Experian Vantage Score is schedule to replace the three major reporting agencies matrix for a one score fits all financial models.
Disclosure: I have no positions in any stocks mentioned, but may initiate a short position in GS, C, WFC, JPM over the next 72 hours.