More pain ahead for the markets as a double head and shoulders has developed and we may be headed for a DOW 15,500 within the next few months. This will present a great buying opportunity and the short squeeze rally will not prevent this formation as it is supported by the Theory of Probability and The Fibonacci Sequence as detailed in the past by Ross Aldridge. We would be long in SKF with a new buy in at 47 and sell at 57! Las Vegas Nevada casino propositions are showing a 4-1 odds of a Dow 15,500 this year in Nevada.
According to Goldman Sachs, the 3-6 percent rally in the S&P 500 this week is a result of a large short squeeze.
Earlier this week, Goldman analysts noted a nearly 6 percent rise in the 50 most heavily-shorted stocks in the Russell 3000 Index.
What Is A Short Squeeze?
When traders want to make a bet that the price of a stock will go down rather than go up, they can make a short sale of the stock. An investor makes a short sale by selling borrowed shares of stock in the hopes that those shares can be bought back for a lower price in the future, and the short seller can pocket the difference.
A short squeeze occurs when a group of short sellers close (or "cover") their short positions in a heavily-shorted stock all at once by buying back shares. The demand for shares from short covering drives prices higher, often leading to more short covering.
Evidence Of A Short Squeeze
The battered Energy sector is the most likely example of a short squeeze in recent sessions.
The Energy Select Sector SPDR ETF (NYSE: XLE), down nearly 16 percent over the past six months, rallied more than 6 percent last week.
Oil, too, is a particularly interesting case. The United States Oil Fund ETF (NYSE: USO) spiked over 9 percent in the last five trading days, even after the Department of Energy released inventory numbers indicating that the oversupply of oil is still growing.
Individual names within the oil and gas sector show even stronger evidence of short squeezes.
Shares of SandRidge Energy Inc (NYSE: SD), Laredo Petroleum Inc (NYSE: LPI) and Denbury Resources Inc (NYSE: DNR), all down more than 45 percent over the past six months, were all up at least 30 percent this week.
The oil "fear index" is at crisis levels
The oil "fear index" is near its highest level since 2009. But unlike its darkest days in the financial crisis, traders aren't betting on a crude turnaround.
The CBOE Crude Oil Volatility Index (the OVX) measures the market's expectation for how much oil will move in the coming month. In many ways, it functions much the same way the VIX does for stocks. Just as the VIX moves in opposition to stocks, the OVX tends to rise when crude falls and falls when crude rises.
But unlike previous VIX surges, which tended to signal capitulatory moments, experts say the spike in the so-called oil VIX isn't suggesting a bottom for crude just yet.
"It is too early to expect major upside for the price of oil," said Ari Wald, head of technical analysis at Oppenheimer & Co. "Back in '09, it took four months of stabilization. That's what I want to see before I expect significant upside in the price of oil."
View photo
.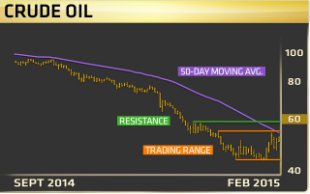 Until that happens Wald anticipates there will be major resistance between $57 and $60 a barrel. "Sell it into those levels," he recommends. "Strength should be sold."
West Texas Intermediate crude oil settled at $51.69 a barrel on Friday.
And there are fundamental indications that crude has more downside ahead as well, according to Erin Gibbs, equity chief investment officer at Standard & Poor's Investment Advisory Services. For her, the first clue is a reduction in 2015 energy-sector earnings. Gibbs, who has more than $15 billion in assets under advisory, said Wall Street has revised energy-stock earnings down 37 percent since the start of 2015 and the sector is expected to earn just half of what it did in 2014.
"If the energy sector's earnings expectations for the year are any indication, there is no indication of a bottom yet," Gibbs said.
While there have been several announcements about oil companies cutting back on oil rigs drilling new wells, that doesn't mean current production has changed.
"We really haven't seen any indication of oil companies cutting back on supply," said Gibbs. "Longer term, there are concerns about how they are going to replace this oil. But for now, it's cheap to drill and it's cheap to store. We really don't see a cutback in supply and there is no reason for the price of oil to rise right now."
"Supply is still at all-time highs," she added. "Until we see that supply cutback, there's no reason for the current price to go higher."
Follow Ross Aldridge in Las Vegas Nevada here:
Disclosure: The author has no positions in any stocks mentioned, but may initiate a long position in SKF over the next 72 hours.