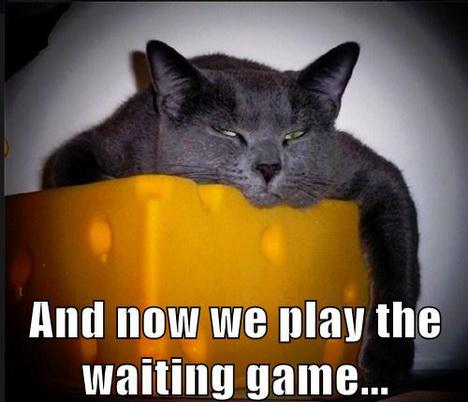 September 05, 2012 - The S&P 500 Waiting Game by Elliott Wave International
You probably know about seasonal bias in the markets. "The Christmas rally." "Sell in May and go away." Likewise, September and October are usually the most volatile months.
But here we are on September 5, and stocks are flat! In fact, here's what the S&P 500 has done over the past 5 trading days (chart courtesy Google Finance):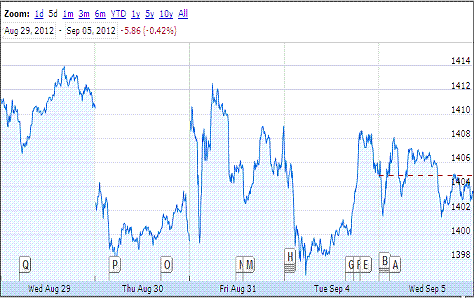 Analysts are saying that traders are waiting for the results of the ECB meeting on Sept. 6. And that may be true. But notice how "coiled" the S&P's price action has been. Also, if you draw an upper and lower trendline, you'd end up with two converging lines. All that suggests the presence of an Elliott wave patterns called a "triangle."
Says Frost and Prechter's Elliott Wave Principle -- Key to Market Behavior:

"A triangle appears to reflect a balance of forces, causing a sideways movement that is usually associated with decreasing volume and volatility. The triangle pattern contains five overlapping waves that subdivide 3-3-3-3-3 and are labeled A-B-C-D-E.
"In the stock market, when a triangle occurs in the 4th wave position, wave 5 is sometimes swift and travels approximately the distance of the widest part of the triangle. Elliott used the word 'thrust' in referring to this swift, short motive wave following a triangle."
Doesn't that just sound to you like a prescription for volatility?
Our U.S. Intraday Stocks Specialty Service agrees: What we are seeing in the S&P 500 likely is a triangle (some Elliott wave labels erased for this article):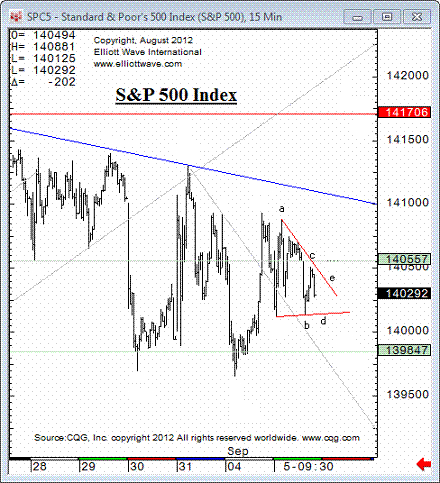 So, the sideways trading in the S&P -- and the waiting game for the S&P traders -- is probably coming to an end.
Click here to find out where the S&P 500, DJIA and NASDAQ should go next with U.S. Stocks Specialty Forecast Service.
FREE Video Training: The Cashflow Catalyst Method
How To Potentially Create Short-Term Income & Long-Term Wealth By Exploiting This 'Recession-Proof' Market 'Catalyst' In 20 Minutes Or Less