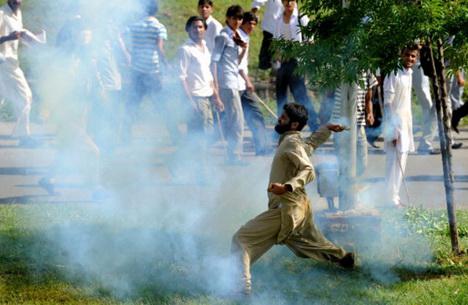 Bloomberg September 21, 2012 - Pakistan TV Airs Obama Ad Denouncing Anti-Islam Video
The U.S. State Department is airing a message on television channels in Pakistan with President Barack Obama and Secretary of State Hillary Clinton disavowing an anti-Islamic film that triggered riots.
The U.S. embassy in Islamabad produced the ad from public comments by Obama and Clinton, and the State Department spent about $70,000 to buy commercial time to show it, department spokeswoman Victoria Nuland told reporters in Washington yesterday.
The ad is an attempt to defuse anti-American sentiment that has spread through the Middle East and beyond over the video made in the U.S. that ridicules the Prophet Muhammad. Pakistan deployed its army yesterday to protect diplomatic missions in Islamabad amid some of the most sustained and violent protests yet against the film.
"We have to do everything we can to protect foreigners in the country," Information Minister Qamar Zaman Kaira said in an interview with the GEO television channel, criticizing violence he said was an attempt to sabotage the government's call for peaceful rallies today. "Is this the way to show respect to our Prophet?" Kaira said.
Earlier, riot police had fired tear gas and warning shots as hundreds of stick-wielding students, some in college uniforms, converged on the so-called red zone that houses the U.S. embassy and the prime minister's house, breaking through barbed-wired barricades flung across roads.
"We will not tolerate insult to our Prophet," demonstrators shouted as they bid to outwit police and gain access to the heavily guarded enclave.
Rejected 'Absolutely'
The 30-second U.S. announcement, subtitled in Urdu, shows Obama saying the U.S. rejects "all efforts to denigrate the religious beliefs of others." Clinton is shown saying, "The United States government had absolutely nothing to do with this video. We absolutely reject its content and message."
A second message featuring clips, drawn from Google Inc. (NASDAQ:GOOG)'s YouTube, of ordinary Americans condemning the film is also being shown in countries around the world, according to Nuland. The anti-Islamic video drew international condemnation when it was posted on YouTube, a video-sharing service.
Rallies were held yesterday in a number of cities as Pakistanis expressed their anger over the movie that portrays the Prophet as a womanizer, sparking deadly protests and attacks on U.S. and European-linked targets in the Middle East.
The government of Prime Minister Raja Pervez Ashraf announced a public holiday for today to celebrate the life of the Prophet and allow people to protest the film. The move coincides with a call by religious political parties for nationwide demonstrations today.
YouTube Ban
Pakistan and Bangladesh this week blocked YouTube to prevent people watching what was billed as an excerpt from a coming full-length movie.
The 14-minute trailer also shows a fictional attack by Muslims on a Christian family, followed by a derisive account of the origins of Islam.
Anti-American sentiment has been running high in Pakistan after years of U.S. drone missile attacks, the raid that killed Osama bin Laden in a Pakistani town last year and other confrontations. A U.S. diplomatic vehicle was attacked this month in the volatile northwestern city of Peshawar, killing two people and injuring two consulate officials.

Trade Forex Oil Energy Metals ETF's
Islamic Moslem Swap-Free Accounts
Bonus Deposit for New Customers
Minimum Deposit $/€300 Free Bonus $/€75
$/€1,000 $/€150 to 1,000
$/€10,000 $/€1,200
Fixed spreads. Free advanced online forex trading tools. Daily exclusive institutional analysis. 24-Hour trading and support. Trade immediately by credit card, PayPal or WebMoney. Start trading forex with as little as $100. No commissions or fees. Euro or US Dollar trading account. Withdraw instantly with Ava Debit Card. Trade Gold Silver and Oil too.
September 21, 2012 - Pakistan TV Airs Obama Ad Denouncing Anti-Islam Video - Review Entire Article Below

"Commodity Code" Oil Gold Silver AutoTrade Metatrader Expert Advisor
The commodity code is a 3 level system. Level 1: The Commodity Code Trading Station Gathers Gold, Oil and Silver quotes directly from the banks. It identifies the common patterns when the big banks are moving the price significantly. Level 2: Commodity Code analyizes the pattern and the signals and decides if there is a profitable low-risk high-reward trading opportunity to apply it. Level 3: The approved signal reaches your Metatrader terminal instantly, opening the profitable trade for you on autopilot.

Gold Newsletter
USA & Canadian Gold ETF Trading Strategies and Signals
High probability stock, index, sector, commodity, bond, & currency ETF trade alerts. US trading signals, Gold & Silver - GLD, SLV, Gold Stocks - GDX, Crude Oil - USO, Natural Gas - UNG, Index Trading - DIA, SPY, Bonds, Foriegn Investments US & Canadian Stocks. Canadian trading signals, Gold & Silver - CEF.A, Gold Stocks - HGU, HGD, Crude Oil - HOU, HOD, Natural Gas - HNU, HND, Index Trading - XIU, HXU, HXD, Bonds, Foriegn Investments, US & Canadian Stocks.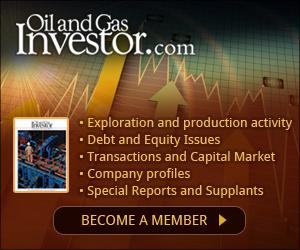 Oil and Gas Investing
Oil and Gas Investor is your complete source for information about the financial world of oil and gas. An interactive, searchable version of Hart Energy Publishing's Oil and Gas Investor Magazine, this site also provides you with online content from OGI This Week and A&D Watch. In addition to providing daily analysis of trends and industry events, our editors interpret the news to highlight opportunities for you, whether your company explores for petroleum or provides finance, capital and advisory services to oil and gas operators.

Gold Silver Alerts Reports Signals Trading
We send Buy and Sell signals, on average 30 to 50 times per month and you can easily make money in the gold and silver spot markets and commodities market with these Sell and Buy signals. It's that easy! Our gold trading signals and silver trading signals are valuable to the forex gold spot market traders and also for the long term gold investors in commodities market. We post the new gold signal every day in the users section of our web site. It will also be emailed to you, so you will not miss any signal.