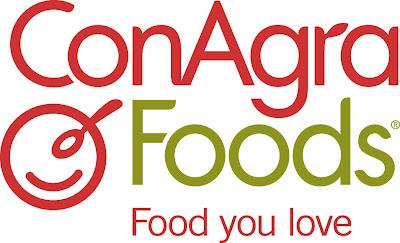 US economic reports last week were pretty crappy to say the least. Maybe that's why Ben Bernanke came out with both guns blazing on continued quantitative easing until he's dead at least. He said that QE will be supported until either inflation breaks above 3% or the US unemployment rate drops beneath 7%. This week is the non-farm payroll unemployment report with probably little change on increasing more jobs, and the looming fiscal cliff coming at the end of the year. The European Central Bank is meeting this Thursday to deal with Spains soaring debt requirements and deteriorating economic conditions within the Eurozone.
Even with weak global growth currently, we have a buy recommendation on ConAgra Foods with their continually increasing EPS this last year and positive forward guidance for 2013. Everyone has to eat no matter how bad the economy is.
Zacks Investment Research reports that ConAgra Foods, Inc. Ticker CAG recently reported solid fiscal first quarter 2013 results, which included a raised fiscal 2013 guidance, an increased quarterly dividend and an expansion plan in Arkansas. The stock hit its 52-week high of $27.75 on September 20, the same day of its earnings announcement. This Zacks #2 Rank (Buy) maker of processed and packaged food has now generated four straight quarters of earnings surprises with an average beat of 10.9%, and offers a solid dividend yield of 3.7%.
Driving Catalysts
Last week, ConAgra Foods reported fiscal first quarter 2013 (ended August 26, 2012) adjusted earnings per share of 44 cents, topping the Zacks Consensus Estimate by 25.7% and improving upon last year's performance of 31 cents by 41.9%.
Revenue grew 6.7% to $3,312 million thanks to improved pricing and strengthening businesses at the Commercial and Consumer segments. Operating margin was recorded at 11.1%, against 4.4% last year.
For fiscal 2013, ConAgra revised its adjusted earnings per share guidance to between $2.03 and $2.06. Previously, the company was calling for an increase of 6% to 8% over 2012 earnings of $1.84, implying a range of $1.95 - $1.99. Also, the company's Board of Directors approved a one cent increase in the quarterly dividend rate, which now stands at 25 cents. The revised annualized dividend rate came in at $1.00 per share.
Moreover, ConAgra Foods plans to expand its plant in the Russellville, Arkansas area by investing $100 million to accommodate the making of Bertolli and P.F. Chang's frozen meals. The expansion is likely to create at least 80 new jobs.
Earnings Estimates Move Higher
Over the last 7 days, nine of 11 estimates were revised upward for fiscal 2013, boosting the Zacks Consensus Estimate by 4.5% to $2.07 per share. Meanwhile, the Zacks Consensus Estimate for 2014 moved up 3.8% to $2.20 as 7 of 12 estimates advanced. These outlooks suggest year-over-year growth of 12.3% for 2013 and 6.2% for 2014.
Dividend
ConAgra has been regularly paying a dividend and increasing the quarterly rates at intervals since 1977. The 5-Year average dividend yield for ConAgra Foods stands at 3.6%, while the stock currently yields a solid 3.7% based on an annual dividend rate of $1.00 per share.
Valuation
ConAgra Foods is currently trading at a forward P/E of 13.3x compared with 15.7x for the peer group. The company's PEG ratio is currently at 1.92. ROE stands at 16.9% compared with the peer group average of 20.5%.
As can be observed from the Price & Consensus chart below; the company has been consistently performing well since 2009. Prospects appear bright as the Zacks Consensus Estimates are trending higher for future years.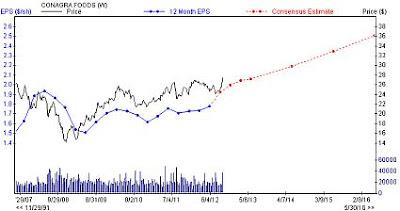 Headquartered in Omaha, Nebraska, ConAgra Foods was incorporated in 1919. The $11.2 billion company is one of North America's leading food processed and packaged food companies. With brands reaching almost 97% of North American homes, ConAgra Foods sells nearly 12.3 million packages of food products each day, including 3.8 million frozen food packages.
Disclosure: I have no positions in any stocks mentioned, but may initiate a long position in CAG over the next 72 hours.