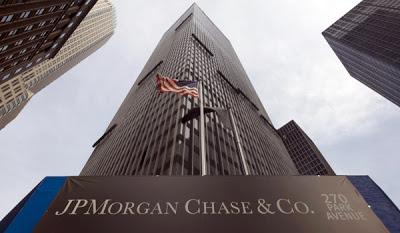 Zacks Investment Research reports earnings momentum for JPMorgan Chase & Co. (NYSE:JPM) has been on the rise since this Wall Street banking giant reported solid third quarter results, which included an earnings surprise of nearly 16%. This Zacks #2 Rank (Buy) recorded positive earnings surprises in three of the last four quarters with an average beat of 20.2%. Moreover, JPMorgan pays a regular quarterly dividend that yields 2.8% annually.
Q3 Results
On October 12, JPMorgan reported third quarter earnings of $1.40 per share, outpacing the Zacks Consensus Estimate of $1.21 by 15.7% and the year-ago earnings of $1.02 by 37.3%. Results primarily benefited from improved revenue and a slowdown in provision for credit losses, marginally offset by still high non-interest expenses.
Managed net revenue of $25.9 billion was up 6% from the year-ago quarter. Moreover, managed non-interest revenue advanced 18% to $14.7 billion, driven by increases in mortgage fees and related income, principal transactions and investment banking fees. Yet, net interest income fell 6% on a year-over-year basis to $11.2 billion, primarily reflecting the impact of low interest rates. Non-interest expense was down 1% to $15.4 billion.
As of September 30, 2012, JPMorgan maintained a strong capital position with Basel I Tier 1 common ratio of 10.4%, up from 9.9% as of September 30, 2011. The estimated Basel III Tier 1 common ratio was approximately 8.4% as of September 30, 2012, up from 7.9% as of June 30, 2012.
Surge in Earnings Estimates
Over the past 30 days, the Zacks Consensus Estimate for 2012 advanced 5.1% to $4.97, as 19 of 25 estimates moved north. For 2013, the Zacks Consensus Estimate is up 1.7% in the same timeframe to $5.28, as 11 of 28 estimates rose.
The estimates reflect year-over-year improvements of about 11.0% for 2012 and 6.3% for 2013.
Dividend Payment
JPMorgan hiked its dividend by 20% to 30 cents per share early this year. Presently, the current dividend rate affirms an annual yield of 2.8%.
Furthermore, JPMorgan is one of the few large banks that continued to pay a dividend throughout the financial crisis. Moreover, the stress test clearance justifies the company's capital strength and its robust business model.
Attractive Valuation
Shares of JPMorgan currently trade at 8.6x 12-month forward earnings, a 20% discount to the peer group average of 10.7x. Its price to book ratio of 0.85 is just 4% above the industry median of 0.82.
Moreover, the company has a trailing 12-month ROE of 10.4%, compared with the peer group average of 8.8%. This implies that the company reinvests its earnings more efficiently than its industry peers.
Chart Shows Strength
The stock has been continuously trading above its 200 and 50 days moving averages since August 2012.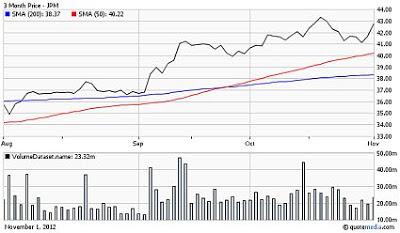 JPMorgan is one of the strongest banks with rising estimates, strong growth projections, a sturdy dividend yield and reasonable valuation. Moreover, with consecutive dividend increases and improving credit quality, it offers an attractive growth and income opportunity.
Headquartered in New York, JPMorgan is a financial holding company with operations in more than 60 countries. The company is a leader in investment banking, financial services for consumers and businesses, financial transaction processing and asset management. With a market capital of approximately $162.7 billion, JPMorgan competes with Wells Fargo & Company (NYSE:WFC), among others.
Disclosure: I have no positions in any stocks mentioned, but may initiate a long position in JPM over the next 72 hours.