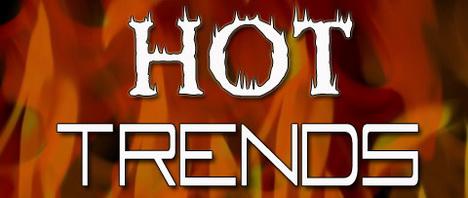 November 14, 2012 - Hot Top-Down Industry Trends to Invest In by Zacks Investment Research
I thought an interesting little piece would be to investigate what industries are on the move in Zacks Industry Ranking terms this week. What I have here are four industries that have the highest recent movement up in Zacks Industry Ranks.
I found two broad macro top-down trends are alive and well here, kicking up a lot of dust inside the Zacks Industry Ranks. What this means? These industries earnings estimate revisions are rising much more rapidly than other industries.
TOP-DOWN TREND #1.
With North American oil and gas production rising on the back of new technologies, it makes a lot of sense to invest in companies driving the fresh oil and gas production growth.
One company highlighted is in Electronic Measuring Instruments industry. It is involved in the sophisticated electronic acquisition and monitoring of oil and gas wells. Related to this fresh production growth trend is a strong Zacks Industry Rank for the Biofuels industry. One company highlight is a Biofuels company that can convert carbon-bearing gas, liquids, and solids into usable hydrocarbons using a proprietary technology.
What this tells us? If you are looking for an investible Energy sector play, look into the companies that supply the sophisticated know-how and technology that is driving the fresh growth in N. American production.
A. Strong Energy Industry - Electronic Measuring Instruments
Rising +117 in the last week. Now Zacks Ranked 47th out of 265 industries.
Company Highlight: Geospace Technologies Corporation (Zacks Rank #1) is engaged in the designing and manufacturing of scientific instrumentation and equipment used in the acquisition and processing of seismic data, as well as in the characterization and monitoring of producing oil and gas reservoirs. The Company also manufactures and distributes thermal imaging equipment and dry thermal film products. Geospace's seismic products consist of land and marine nodal seismic data acquisition systems; multi-component geophones and hydrophones; seismic leader wires; geophone string and acquisition system connectors; seismic telemetry cables; marine seismic cable retrieval and steering devices; and data acquisition systems. It also designs and manufactures non-seismic products, including industrial products, offshore cables, thermal printing equipment and film.
B. Strong Energy Industry - Biofuels
Rising +83 in the last week. Now Zacks Ranked 100th out of 265 industries.
Company Highlight: Rentech, Inc. (Zacks #1 Rank) has developed and owns a proprietary and patented gas-to-liquids process that converts carbon bearing gases, liquids and solids into valuable liquid hydrocarbon products. The technology works with various feedstocks, including natural gas and industrial off-gas, heavy crude oil and refinery byproducts, and coal and petroleum coke, among other carbon-bearing materials.
TOP-DOWN TREND #2.
The second trend is good old-fashioned consumption growth. We see that in the cool days of November, a fresh produce maker is making a strong rise. And look at a company marketing and distributing over-the-counter drugs, personal care, and household cleaning products in the U.S. and Canada.
What this tells us? If you are looking for a fresh Consumer play, focus on something with broad appeal that can track the strong movement in overall U.S. consumption growth and the improvement in U.S. consumer confidence.
A. Strong Consumer Products Industry - Agricultural Operations
Rising +112 in the last week. Now Zacks Ranked 66th out of 265 industries.
Company Highlight: Fresh Del Monte Produce Inc. (Zacks #1 Rank, with an Outperform rating) is a world leader in the production, distribution and marketing of fresh produce. The products are marketed throughout the world under the DEL MONTE brand name, which is a widely recognized symbol of product quality and reliability. The major products are bananas, pineapples, deciduous fruit and melons. The deciduous fruit the company sells includes primarily grapes, plums, nectarines, peaches, apricots, cherries, apples, pears and citrus.
B. Strong Consumer Products Industry - Miscellaneous Discretionary
Rising +66 in the last week. Now Zacks Ranked 105th out of 265 industries.
Company Highlight: Prestige Brands Holdings (Zacks #1 Rank) is a marketer and distributor of brand name over- the-counter drug, personal care and household cleaning products sold throughout the United States and Canada. Key brands include Compound W wart remover, Chloraseptic sore-throat relief products, New-Skin liquid bandage, Clear eyes and Murine eye and ear care products, Little Remedies pediatric over-the-counter healthcare products, Cutex nail polish remover, Comet and Spic & Span household cleaner and several other well-recognized brands.

Profit From Zacks Investment Research Earnings Estimates Revisions
Free Trial
of Zacks a leading investment research firm focusing on equities earnings estimates and stock analysis for the individual investor, including stock picks, stock screening, portfolio stock tracker and stock screeners. "Earnings estimate revisions are the most powerful force impacting stock prices" Zack Investment Research Founder Leonard Zacks, Ph.D. Mathematics M.I.T.
Free Copy of The 5 Most Dangerous Trends Threatening Your Portfolio
In the 5 Most Dangerous Trends Threatening Your Portfolio, financial and investing expert Bill Poulos reveals the very real threats occurring on a global scale that could have a lasting impact on your financial future.
November 14, 2012 - Hot Top-Down Industry Trends to Invest In - Review Entire Article Below

Accurate Market, Sector, and Commodity Forecasting Using Crowd Psychology, Elliott Wave Theory, Sentiment Indicators, and other Proprietary Forecasting Tools
The Market Trend Forecast includes short, intermediate, and long-term forecasts using proprietary Elliot Wave analysis coupled with technical indicators and other pattern recognition methods as developed by David Banister, our Chief Strategist. We believe markets move based on crowd psychology and we uncover the clues and find the probabilities to help with our forecasts. Forecasts will be provided on the major U.S. and Canadian indices, some foreign indices on occasion like the Shanghai Index in China, Gold, Oil, The HUI Gold Index, Emerging Market Indexes, and various sectors of the markets.
What is Trend Investing and Trading?
Trend investing trading is a strategy that trys to obtain gains through the analysis of an asset's price momentum either up or down. The trend investor trader enters into a long position when a stock is trending upward with successively higher highs. Vice versa, a short position is taken when the stock is in a down trend with successively lower highs.
This investing trading strategy assumes that the present direction of the stock will continue into the future. It can be used by short, intermediate, or long-term investors traders. Regardless of their chosen time frame, investors traders will remain in their position until they believe the trend has reversed. Take note that reversals may occur at different times for each time frame.
A common cliche in trend investing and trading is "The Trend is Your Friend". It means the primary trend is where the current overall strength is until it reverses at some point and time. Trading with strength and the primary trend is a generally a lower risk higher reward way of investing and trading. Investing and trading with the counter trend to the main trend is generally a more higher risk lower reward way to invest and trade in the markets. Try to invest and trade where the current strength is, the primary trend. If you are investing and trading with the counter trend, keep your stop-loss tight.

TradeMiner - Advanced Trading Software For Advanced Traders
TradeMiner is a new software trading tool that helps identifies trading opportunities through the use of Artificial Intelligence and brute force mathematics. What used to take days of time consuming mathematical calculations through an Excel spreadsheet is now done in a matter of seconds.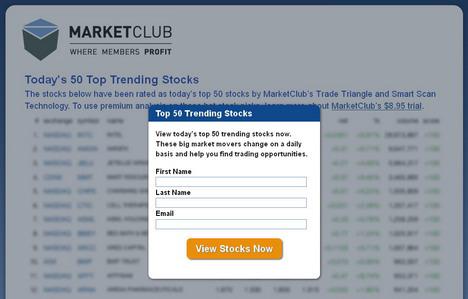 Today's 50 Top Trending Stocks
"Today's 50 Top Trending Stocks" is a list created by MarketClub's "Smart Scan" technology. It gives you an instant snapshot of the top 50 stocks with high volume, a clear direction, and lots of liquidity . . . in trading terms the strongest trending stocks. To gain access to the list only requires your First Name, Last Name and Email for instant access! This is a valuable tool for investors and traders alike.

Invest in A World Of New Big Ideas
Create a portfolio of up to 30 stocks reflecting an investing idea. Pick an actionable idea from new trends and events. Customize the portfolio to your needs. Add delete stocks and or change weightings online at any time.