Zacks Investment Research reports Viacom Inc. (NYSE:VIA), the media giant that controls Paramount Movie Studio and several leading cable TV channels, currently offers an attractive dividend yield of 2.2%. With a long-term earnings potential of 14.7%, this Zacks #2 Rank (Buy) also offers solid growth potential backed by an improving advertisement market, upcoming movies for the holiday season and a solid tie-up with pay-TV operators.
Solid Dividend Yield
Viacom has been paying dividends for 10 consecutive quarters. Last August, management raised its dividend rate by 10%. Currently, the company offers a lucrative dividend yield of 2.2%, significantly higher than the industry average of 1.8%.
A Mixed Quarter
On November 15, Viacom reported mixed financial results for its fiscal fourth quarter. Earnings per share of $1.21 surpassed the Zacks Consensus Estimate by 1.7% and the year-ago earnings by 14.2%. However, total revenue of $3,363 million dropped 17% year over year and fell short of the Zacks Consensus Estimate by 1.9%.
Affiliate fee (paid by pay-TV operators) revenue increased 12% in the U.S. and 11% in the international markets on a year-over-year basis. However, this strong performance was offset by a 6% decline in domestic advertising revenue and a 7% decline in international advertisement revenue. Nevertheless, operating income increased by a sharp 13% to $1,050 million from $929 million.
Earnings Estimates
Earnings estimates for Viacom have been static for the past several weeks. The Zacks Consensus Estimate for fiscal 2013 is unchanged at $4.76, while the Zacks Consensus Estimate for fiscal 2014 crept up by a penny to $5.46 in the past 7 days.
The current Zacks Consensus Estimates for 2013 and 2014 reflect estimated year-over-year gains of 13.1% and 14.7%, respectively.
Attractive Valuation
Viacom currently looks attractive with respect to several valuation metrics. The stock's forward P/E of 10.50x indicates a huge discount of 23.2% from the peer group average of 13.67x. With respect to the forward P/S metric, the stock is currently trading at 1.9x, slightly higher than the peer group average of 1.68x. Viacom looks quite attractive given its trailing 12-month ROE of 29.5%, which is 85.5% higher than the peer group average of 15.9%.
Chart Looks Promising
Shares returned to a growth trajectory on November 15 (the day the company reported its fiscal fourth quarter results),. Going forward, there is an untapped potential locked in the stock, which is evidenced by its current long-term growth potential of 14.7%, significantly higher than the industry growth potential of 12.9%.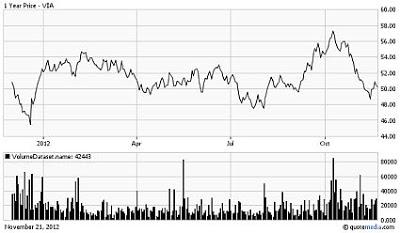 Based in New York, Viacom Inc. is a leading entertainment content company that operates primarily in the U.S. and Europe. The company is a global leader in the creation, promotion, and distribution of film entertainment, news, sports and music programs. Viacom offers many of the world's best known entertainment brands. Prominent among them include MTV, MTV2, VH1, VH1 Classic, CMT, Nickelodeon, Logo, Nick at Nite, Nick Jr., Teenick, COMEDY CENTRAL, Spike TV, TV Land, BET, Rock Band, mtvU, MTV Tr3s, and Paramount Pictures. Viacom currently has a market cap of approximately $25.2 billion.
Click Here for a Free Trial of Zacks Investment Research
Disclosure: I have no positions in any stocks mentioned, but may initiate a long position in VIA over the next 72 hours.