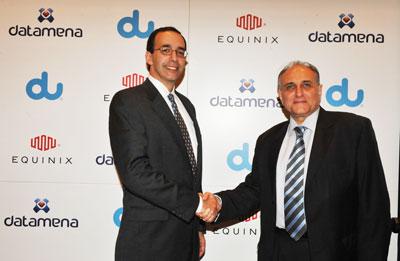 Equinix to Open Dubai Data Center - By Zacks Investment Research
Equinix Inc. (EQIX is looking forward to expand further in the Middle East via its newly acquired International Business Exchange (IBX) data center in Dubai. For this, Equinix will work jointly with United Arab Emirates-based telecom operator, du. Together, the companies will offer seamless interconnection and colocation services through the carrier-neutral data center to cloud service providers, financial services providers, content providers and enterprises.
The data center will host 650 cabinets within its 44,000 square feet area. The first phase, which is likely to be fully operational by January 1, 2013, will cost around $40.0 million. Leveraging Equinix's state-of-the-art IBX data center in Dubai, the local clients of both the companies will have better access to traders around the world.
The Middle East holds huge business potential, which is evident from the growing demand for data center services across the region. A study conducted by networking giant Cisco Systems Inc. (CSCO) reveals that cloud traffic in the Middle East and Africa could grow at a compound annual growth rate (OTC:CAGR) of 79.0% up to 2016, which seems to be pretty high to drive Equinix' business in the Europe, Middle East and Africa (EMEA) region. Reportedly, the region has been performing well over the past few quarters.
In the recently concluded third quarter, the EMEA region generated 23.0% of Equinix's total revenue, registering year-over-year growth of 21.3%.
The growing demand for big data exchanges call for greater usage of data centers. To meet this global need, Equinix is expanding its IBX data center footprint globally and becoming popular among tech majors looking for data management. The company's worldwide presence has resulted in high network density with a vertically focused approach, which will continue to support demand.
We are optimistic about the company's recurring revenue model and expansion plans. Despite all the positives, competitive threats from the likes of AT&T Inc. (T) and Verizon Inc. (VZ) raise our apprehension. European exposure and industry consolidation are also causes for concern.
Currently, Equinix has a Zacks #3 Rank, implying a short-term Hold rating.
Click Here for a Free Trial of Zacks Investment Research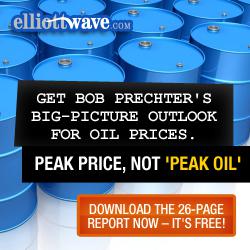 Special Report: Picking the Right Peak

Trade Forex Oil Energy Metals ETF's
Islamic Moslem Swap-Free Accounts
Bonus Deposit for New Customers
Minimum Deposit $/€300 Free Bonus $/€75
$/€1,000 $/€150 to 1,000
$/€10,000 $/€1,200
Fixed spreads. Free advanced online forex trading tools. Daily exclusive institutional analysis. 24-Hour trading and support. Trade immediately by credit card, PayPal or WebMoney. Start trading forex with as little as $100. No commissions or fees. Euro or US Dollar trading account. Withdraw instantly with Ava Debit Card. Trade Gold Silver and Oil too.

"Commodity Code" Oil Gold Silver AutoTrade Metatrader Expert Advisor
The commodity code is a 3 level system. Level 1: The Commodity Code Trading Station Gathers Gold, Oil and Silver quotes directly from the banks. It identifies the common patterns when the big banks are moving the price significantly. Level 2: Commodity Code analyizes the pattern and the signals and decides if there is a profitable low-risk high-reward trading opportunity to apply it. Level 3: The approved signal reaches your Metatrader terminal instantly, opening the profitable trade for you on autopilot.

Gold Newsletter
USA & Canadian Gold ETF Trading Strategies and Signals
High probability stock, index, sector, commodity, bond, & currency ETF trade alerts. US trading signals, Gold & Silver - GLD, SLV, Gold Stocks - GDX, Crude Oil - USO, Natural Gas - UNG, Index Trading - DIA, SPY, Bonds, Foriegn Investments US & Canadian Stocks. Canadian trading signals, Gold & Silver - CEF.A, Gold Stocks - HGU, HGD, Crude Oil - HOU, HOD, Natural Gas - HNU, HND, Index Trading - XIU, HXU, HXD, Bonds, Foriegn Investments, US & Canadian Stocks.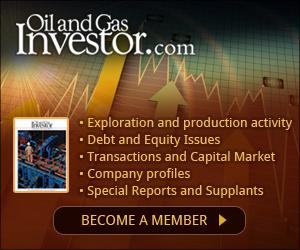 Oil and Gas Investing
Oil and Gas Investor is your complete source for information about the financial world of oil and gas. An interactive, searchable version of Hart Energy Publishing's Oil and Gas Investor Magazine, this site also provides you with online content from OGI This Week and A&D Watch. In addition to providing daily analysis of trends and industry events, our editors interpret the news to highlight opportunities for you, whether your company explores for petroleum or provides finance, capital and advisory services to oil and gas operators.

Gold Silver Alerts Reports Signals Trading
We send Buy and Sell signals, on average 30 to 50 times per month and you can easily make money in the gold and silver spot markets and commodities market with these Sell and Buy signals. It's that easy! Our gold trading signals and silver trading signals are valuable to the forex gold spot market traders and also for the long term gold investors in commodities market. We post the new gold signal every day in the users section of our web site. It will also be emailed to you, so you will not miss any signal.