Zacks Investment Research reports a strong third-quarter performance for CVR Energy Inc. (NYSE:CVI) sent all earnings estimates higher on the petroleum refiner in the past 30 days. This Zacks #1 Rank (Strong Buy) also hit its 52-week high on November 29. In addition, CVR Energy has a compelling valuation and is a true value pick with a price-to-book (P/B) ratio of 2.4, a price-to-sales (P/S) ratio of 0.5 and a price-to-earnings (P/E) ratio of 6.4.
Stellar Q3 Results
On November 5, CVR Energy reported stellar third quarter adjusted earnings of $2.95 per share that exceeded the Zacks Consensus Estimate by 29.4%. The result also surged 90.3% from last year. The outperformance was led by strong operating performances across all refineries.
Total revenue surged 78.2% to $2,409.6 million in the quarter from last year's $1,352.0 million, which also surpassed the Zacks Consensus Estimate of $2,161.0.
Earnings Momentum Trending Higher
All 4 earnings estimates for 2012 have moved north over the past 30 days, lifting the Zacks Consensus Estimate by 13.2% to $7.14 per share. For 2013, the Zacks Consensus Estimate increased 15.2% to $5.77 over the same period as all 4 earnings estimates moved upward.
Impressive Valuation
The company has a price-to-book (P/B) ratio of 2.4 and a price-to-sales (P/S) ratio of just 0.5. In addition, its forward price-to-earnings (P/E) multiple of 6.4 is lower than the peer group average of 8.0. A P/E below 15.0, a P/S ratio less than 1.0 and a P/B ratio under 3.0 generally indicate value.
CVR Energy has a trailing 12-month ROE of 41.4%, compared with the peer group average of 20.9%. This suggests that the company invests its earnings better than industry rivals. The stock also looks attractive with respect to its trailing 12-month return on assets (ROA) of 17.6% and return on investment (NYSE:ROI) of 25.8%, which are above the peer group averages of 7.3% and 15.1%, respectively.
A Look at Chart
Shares of CVR Energy have been trading above the 50-day and 200-days moving averages. In particular, the continuous uptrend in stock prices and the ever increasing gap between the share price and the moving average since mid November indicate a bullish trend. The year-to-date return for the stock is 144.1% compared with the S&P 500 return of just 12.6%.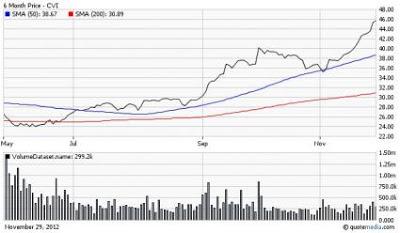 Headquartered in Sugar Land, Texas, CVR Energy, Inc. is an independent refiner with more than 185,000 barrels per day of processing capacity in the Mid-continent United States. With its subsidiaries and affiliated businesses, the company operates independent refining assets in Coffeyville, Kansas, and Wynnewood, Oklahoma. CVR Energy also remains engaged in marketing high value transportation fuels to customers through tanker trucks and pipeline terminals, and a crude oil gathering system serving Kansas, Missouri, Oklahoma, Nebraska and Texas. Through a limited partnership - CVR Partners, L.P. (NYSE:UAN), - it acts as a producer of ammonia and urea ammonium nitrate, or UAN, fertilizers.
Click Here to Review More Energy Company Stock Picks and Analysis
Disclosure: I have no positions in any stocks mentioned, but may initiate a long position in CVI over the next 72 hours.