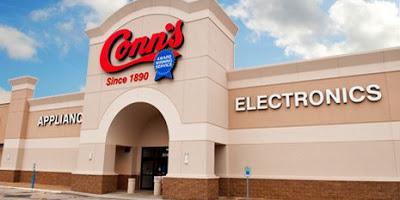 Click Here for a Free Trial of Our "Profit Rockets" Stock Picks Service
Zacks Investment Research reports Conn's (NASDAQ:CONN) can trace its roots back to 1890 where it started life as a plumbing company in Beaumont Texas. In the early to mid 20th century, Conn's began selling refrigerators and ranges and the rest is history.
Since coming public less than a decade ago, Conn's has continued to expand (conservatively) and now operates 68 retail locations in Texas, Louisiana, Oklahoma, New Mexico, and Arizona. The specialty retailer sells everything from home appliances and consumer electronics to computers, furniture, mattresses and even lawn and garden equipment.
Conn's also offers customers flexible in-house credit options instead of farming them off to outside banks. Their unique in-house financing allows them to capture more customers, sell higher margin product to consumers with less than perfect credit and also control approval rates and credit limits. It also allows Conn's to capture fees and interest on accounts that are performing.
They also offer competitive third-party financing programs and third-party rent-to-own payment plans.
Growing Earnings
Conn's is not only expanding their stores (Conn's added 3 new "HomePlus" locations in the last quarter), but their earnings are moving in the right direction. Their last earnings report was a record breaker; here are some highlights:
Total revenues increased 10.6% to $206.4 million;
Retail gross margin was 35.5%;
Same store sales rose 12.6% over the prior quarter, on top of same store sales growth of 18.9% vs. a year ago
Adjusted retail segment operating income was $12.9 million, up $13.8 million on an adjusted basis over the prior-year quarter;
Credit segment operating income totaled $11.6 million, compared to adjusted operating income of $5.6 million for the prior-year period;
Conn's earned $0.35 per share on a reported basis, versus a loss of $0.40 per share the year prior, which is a huge turnaround for the company.
They also raised 2013 earnings guidance to $1.55 to $1.60 on an adjusted basis. Year over year revenue grew by 10.6% and inventories shrank by 20.22% during the same time period.
The company has managed to increase profits quarter over quarter for the last year and beat the Zacks consensus over those last 4 reports by an average of 16.73%.
Analysts have been upping their estimates leading into their next report in April and even though sales are expected to be flat, cost cutting, margin and financing profits are expected to add 15% to earnings over the next year.
Consumers Holding On
It's fair to say that the most recent initial GDP reading was a disappointment, but when you look at the employment trends and couple that with consumer spending, durable goods and home sales, the consumer is alive and well. Employment growth has also been stable and sentiment is improving after a three month decline.
The earnings momentum and macro economic data provides a firm foundation for Conn's to continue to grow.
Their unique store layout, aggressive pricing and buy-here, pay-here type financing makes them an option for the many consumers who may not have the perfect credit to go elsewhere.
The fact that they are only trading at 17 times earnings makes their stock an easier pill to swallow and one that's worth a look, especially since they are a Zacks Rank #1 stock.
Click Here for a Free Zacks Investment Research Trial
Disclosure: I have no positions in any stocks mentioned, and no plans to initiate any positions within the next 72 hours.