Did You Listen To Warren Buffett's Advice In October 2008? by Zacks Investment Research
On Oct 16, 2008, value investor and Berkshire Hathaway Chairman Warren Buffett wrote an Op-Ed in the New York Times called "Buy American. I Am."
This Op-Ed appeared in print on Oct 17, at the height of the financial crisis when stocks had plunged and were swinging wildly day to day.
In fact, on the day he wrote the Op-Ed, on Oct 16, the S&P 500 swung 4% from the low to the high in just that single day. It opened at 909, fell to 865, surged to 947 before closing at 946. The Dow had a similar volatile day, opening at 8577, trading as high as 9013 before closing at 8979. That's a swing of 5%.
But amidst all the noise and the scary volatility, Mr. Buffett was urging calm.
He wrote:
"The financial world is a mess, both in the United States and abroad. Its problems, moreover, have been leaking into the general economy, and the leaks are now turning into a gusher. In the near term, unemployment will rise, business activity will falter and headlines will continue to be scary.
So ... I've been buying American stocks. This is my personal account I'm talking about, in which I previously owned nothing but United States government bonds. (This description leaves aside my Berkshire Hathaway holdings, which are all committed to philanthropy.) If prices keep looking attractive, my non-Berkshire net worth will soon be 100 percent in United States equities.
Why?
A simple rule dictates my buying: Be fearful when others are greedy, and be greedy when others are fearful. And most certainly, fear is now widespread, gripping even seasoned investors. To be sure, investors are right to be wary of highly leveraged entities or businesses in weak competitive positions. But fears regarding the long-term prosperity of the nation's many sound companies make no sense. These businesses will indeed suffer earnings hiccups, as they always have. But most major companies will be setting new profit records 5, 10 and 20 years from now.
Let me be clear on one point: I can't predict the short-term movements of the stock market. I haven't the faintest idea as to whether stocks will be higher or lower a month - or a year - from now. What is likely, however, is that the market will move higher, perhaps substantially so, well before either sentiment or the economy turns up. So if you wait for the robins, spring will be over."
Mr. Buffett was a little early with his buying. We now know the stock markets actually hit bottom around March 9, 2009.
However, from the market close on the date his Op-Ed appeared in print, Oct 17, 2008, to the close yesterday, Feb 12, 2013, if you had followed Mr. Buffett's advice and bought the S&P 500 and the Dow, you would be up 61.6% in the S&P and 58.4% in the Dow.
Did you listen to Warren Buffett's advice and buy stocks during the dark times of 2008 and 2009?
If not, what did the Great Recession teach you about your own risk tolerance?
Click Here for a Free Trial of Zacks Investment Research

Stock and Industry Analysis Reports Daily Technical Portfolio
February 13, 2013 - Warren Buffett Enlarges DaVita Stake as Company Expands by GuruFocus
We recently put a buy recommendation on DaVita with our "Profit Rockets" Stock Pick Service. Click Here for a Free Trial
February 11, 2013
Buy DaVita Healthcare Partners - Ticker DVA
Buy Entry: 115.22 to 121.31
Stop-Loss: 111.60
Take Profit Areas: 127.08 to 127.91, 133.73 to 134.56
Recommended Trade Management: Use ATRStop as a trailing take profit stop in case of extended gains beyond our take profit price area targets.
As DaVita (NYSE:DVA) continues to expand, so too does Warren Buffett's stake in the company. Berkshire Hathaway (NYSE:BRK.A)(NYSE:BRK.B) on Jan. 9 increased its holding in the company by 1.3%, the latest of a string of 12 DaVita share purchases it made since October, according to GuruFocus Real Time Picks. The move is also its second of the new year, as DaVita began partnering with competitor Fresenius Medical Care (NYSE:FMS) though its DaVita Rx pharmacy, and made headway in Europe.
The purchase made Berkshire 14.65% and largest owner of DaVita, followed at a distance by 5.52% holder Vanguard Group. DaVita has earned an eighth spot in Buffett's selective portfolio of high-quality, predictable companies he likes to hold for the long term.
2013 hardly commenced before DaVita took two significant growth steps. On Jan. 8, it announced it will partner with Fresenius Medical Care, another leading dialysis services and products provider with a 33% share of the dialysis market in 2011. Under the agreement, FMC will use DaVita Rx prescription drug services to fill and ship oral medications to its U.S. Medicare patients.
Created in 2005, DaVita Rx is the first and largest full-service pharmacy catering exclusively to kidney patients. The partnership will help Fresenius comply with Congress' mandate that all oral end-stage renal disease medications be included in the bundled payment model by 2016.
DaVita also announced Jan. 7 that it acquired nine dialysis centers from Fresenius, located in Portugal and Poland. The acquisitions bring DaVita's total number of dialysis centers outside the U.S. to 33, along with its 1,912 centers in the U.S.
DaVita is a high-growth company, with revenue increasing at an annual rate of 19% for the last 10 years. In the same time, EBITDA grew at 21.4%, free cash flow grew at 9.8% and book value grew at 34.7%.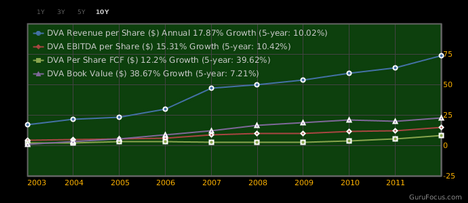 Its P/B of 3.77 is close to a one-year high, and its P/S of 1.46 is close to a three-year high. DaVita has a P/E of 19.8.
Berkshire began picking up DaVita shares in the fourth quarter of 2011, when the price was much lower, just $71 a share on average. It is likely that one of Buffett's new portfolio manager recruits, Ted Weschler, is the one making the trades, rather than Buffett himself.

Value Investing Stock Picks of Guru Investors
GuruFocus is dedicated to value investing. As employed by Warren Buffett, the greatest investor of all time, value investing is the only winning strategy for the long term. GuruFocus hosts numerous value screeners and research tools, and regularly publishes articles about value investing strategies and ideas. GuruFocus also publishes three newsletters: Monthly Ben Graham Net-Net, Buffett-Munger Best Bargains and Microcap Magic Formula Stocks.
The Very Timely Profit Power of Selected Value Stocks
Oracle of Omaha
Warrent Buffett is called by many the "Oracle of Omaha" and is the most successful value investor of all time. Even with his immense wealth Buffett has a frugal attitude and has a value investing philosophy to match that. Buffett is also a notable philanthropist, having pledged to give away 85 percent of his fortune to the Gates Foundation.

Dividend Paying Stocks Generate Real Cash and Build Wealth
Investing The Warren Buffett Way
"There seems to be some perverse human characteristic that likes to make easy things difficult." - Warren Buffett