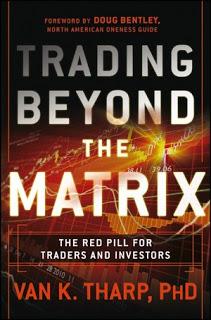 Click Here to Download Van Tharp's Mini Version of His New Book Now. It's Over 50 Pages of Content. Free!
Trading Beyond the Matrix: The Red Pill for Traders and Investors
In his new book, Van Tharp leads readers to dramatically improve their trading results and financial life by looking within. He takes his readers by the hand through the steps of self-transformation by incorporating "Tharp Think" - ideas drawn from his modeling work with several great traders. Making changes in oneself will lead you to adopt the beliefs and attitudes necessary to win when you stop making mistakes and avoid methods that don't work.
Buy his new book on Monday, February 25th (not before), and get up to $1,295 in bonus material and discounts!
Click here to download a free mini-version of his cutting-edge new book now, which includes:
The Preface; Tharp outlines three levels of trader transformation,
The Introduction; Transformation of the Trading Game: Understanding the Basics,
Chapter One; the first in a series of real traders' successful journeys to trading mastery,
A brief summation of each chapter of book, the table of contents, and free bonus offers.
You won't find this much content extracted and given away in most other newly released books. In fact, Dr. Tharp had to make a special deal with his publisher to allow this much free content; and it wasn't a point he was willing to negotiate, because his mission is to get his message through to traders. Once traders reach out to him they say, "Your work has changed my entire approach to trading," or even, "Your Work has changed my life." This motivates him to try harder to get this new book read.
Click Here to get the Mini-Book - No hooks, no gimmicks, no registration. This mini version is free for you to download and read right now. It's yours to keep and pass on to your friends.
The book also offers:
Three different levels of transformation to improve as a trader and to become a happier person.
Real success stories of people who have changed their trading significantly as a result of adopting these concepts.
Advice on how to meet your objectives.
Statistical methods for understanding the market.
How to determine whether or not your beliefs (programs) are useful.
Two methods of dealing with internal conflict.
Nine steps to master yourself.
And much more!
When you buy on February 25th (not before), the list of bonuses goes on and on. Click through to see what you get and how to get the maximum of over $1,295 in bonuses!
More than just another collection of "sure-fire" trading strategies and techniques, Trading Beyond the Matrix takes the reader on a journey of self-discovery, through which they will come to understand who they really are, how their personal psychology affects their every decision, and what, with Dr. Tharp's guidance, they can become: whatever they desire, even a Super Trader.
In addition to the mini-book, you'll find many bonus offers from Van Tharp.
A Tharp Think Webinar from Van Tharp (a $495 value)
An Exclusive Trader Lesson from Van Tharp's Super Trader Program (a $250 value)
Total bonus packages valued as much as $1,295