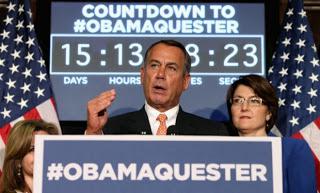 Unless the folks in DC act soon, then on March 1, 2013 a new round of government spending costs will take place. (aka The Sequester).
Right now the Republicans are saying they won't act until the Democrats put forward a new spending reduction plan that gets us on the way to a balanced budget 10 years from now.
The President and his fellow Democrats show no signs of putting that kind of plan together. Instead, the President is just doing speeches about how the sequester will be bad for the economy and employment. He hopes this will get the Republicans to the negotiating table . . . or at least agree to postpone the seqeuster.
What Do You Think Will Happen?
1) Will the sequester spending costs go through on March 1st?
2) If no to #1, then what will happen in its place? (New plan. Kick the can down the road. etc)
3) If yes to #1, then what happens after that?
4) And whichever path you predict will happen, what will be the effect on the economy and stock market?
Click Here for a Free Trial of Zacks Investment Research Investing Guidance