Low-Risk High-Return ETF's by Zacks Investment Research
According to traditional finance theories-investors demand a higher rate of return for taking greater risks but some of recent empirical studies show that the lower risk stocks have rewarded the investors with higher return than the broader markets over longer-term.
This "low risk anomaly" may be due to "mispricing" of risk by the market or in simple words, it may be a result of too many investors chasing higher risk stocks in anticipation of higher returns and in turn paying too much for such stocks.
Though the low-volatility concept is relatively new in the ETF universe, it has become extremely popular of late. Low-volatility ETFs pick stocks based on their historical price volatility.
S&P 500 Low Volatility ETF (NYSEARCA:SPLV) was the first product in this space and is so far the most popular, with more than $3.4 billion in assets. It is one of the most successful launches in ETF history.
A series of new low-volatility or minimum volatility ETFs have been launched after SPLV to capitalize on soaring investor interest in this strategy. Four new products were launched this month, expanding the line-up to 12 products in the US. Investors seeking to ride out frequent bouts of volatility in the markets have continued to pour money into these funds.
We have little historical data available for these ETFs but they have outperformed their broader market counterparts since inception. These ETFs effectively protected the downside during market turmoil but they underperformed when the trend was strongly bullish.
For longer-term performance, we looked at the historical data for the indexes that these ETFs track. The table shows annualized returns and standard deviations calculated using monthly index return data for the past five years for the low-volatility indexes and the respective regular indexes.
U.S. - S&P 500 Low Volatility Index TR (SPLV) - Annualized 5yr Return 9.45%, Annualized 5yr Std Dev 12.60%
S&P 500 TR Index Annualized 5yr Return 6.47% Annualized 5yr Std Dev 19.03%
All-World - MSCI All Country World Minimum Volatility Index (NYSEARCA:ACWV) - Annualized 5yr Return 2.22% Annualized 5yr Std Dev 15.80%
MSCI All Country World Index - Annualized 5yr Return 1.92% Annualized 5yr Std Dev 23.65%
Emerging Markets - MSCI Emerging Market Minimum Volatility Index (BATS:EEMV) - Annualized 5yr Return 6.76% Annualized 5yr Std Dev 22.32%
MSCI Emerging Markets Index - Annualized 5yr Return 2.35% Annualized 5yr Std Dev 28.47%
The results (the table above and the following charts) show that the low volatility strategies handily beat the broader markets with significantly less volatility, in the U.S., international and emerging stock markets in the last five years.
While it is true that the markets were in general more volatile during the past five years, we can reasonably expect that going forward the level of volatility in the markets will stay at elevated levels at least in the foreseeable future.
Academic studies suggest that market volatility over extended periods of time is driven by macroeconomic environment. Given extraordinary global macroeconomic conditions and unconventional monetary tools employed by the central banks all over the world, market volatility will continue to be high. (Read: Treasury Bond ETFs-Still Room to run)
Further, per S&P Indices, backtesting of the index over past 20 years revealed that:
· S&P 500 Low Volatility Index was less volatile than the parent S&P 500--24% volatility reduction over 20 years and 32% volatility reduction over most recent 10 years.
· Lower volatility did not mean lower returns as S&P 500 Low Volatility Index outperformed the S&P 500 for the 20 year period and in 9 of the 20 years between 1991 and 2010.
Another study analyzed the stock returns from 1968 through 2008 and found similar results.
Based on the above, I think that we can safely infer that low-volatility stocks and ETFs are very attractive investments for longer-term investors who focus on risk-adjusted returns.
PowerShares S&P 500 Low Volatility ETF (SPLV)
SPLV tracks the S&P 500 Low Volatility Index, which consists of 100 stocks from the S&P 500 Index with the lowest realized volatility over the past 12 months.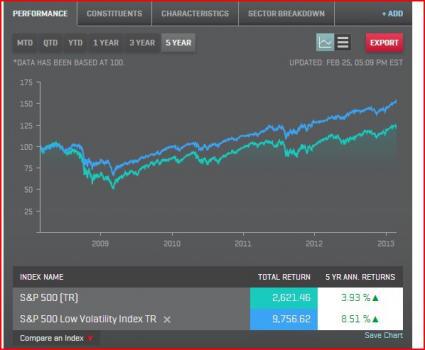 ETF currently has an attractive 12-month yield of 2.83%, while it charges an expense ratio of 0.25% per year.
The ETF holds 100 securities currently, mostly from the Consumer Staples (24%), Utilities (31%) and Financials (15%) sectors. The ETF has returned 7.53% year-to-date. It is a Zacks #1 (Strong Buy) ETF.
iShares MSCI All Country World Minimum Volatility Index Fund(ACWV)
ACWV is ideal for investors looking for low-volatility product with global exposure. It tracks MSCI All Country World Minimum Volatility Index, which is a capitalization weighted index of securities in the developed and emerging economies that have lower absolute volatility. The weight of the stocks in the index is determined by a rules based methodology.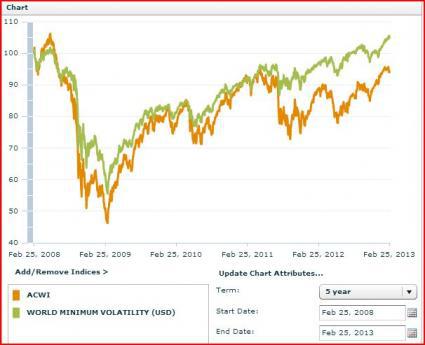 The ETF holds 264 securities which are mainly from the Consumer Staples (15%), Healthcare (15%) and Financials (16%) sectors.
ACWV has an expense ratio of 0.35% and a 12-month yield of 1.83% currently. The fund invests about 51% of its assets in US securities while Japan (12%) and Canada (8%) occupy the next two spots in terms of country exposure.
The fundt has returned 6.76% year-to-date.
iShares MSCI Emerging Market Minimum Volatility Index (EEMV)
EEMV is an ideal choice for the investors looking to participate in the emerging markets growth while limiting their portfolio volatility.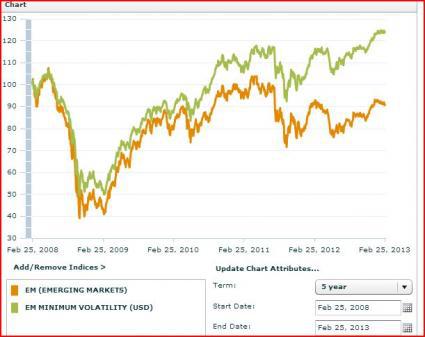 The ETF holds 213 securities from the Financials (27%), Consumer Staples (13%) and Telecom (12%) sectors. Taiwan (16%). China (14%) and South Korea (10%) are the top countries in terms of exposure.
The fund charges a low expense ratio of 25 basis points while the 12-month is 1.64%. It is a Zacks #2 (Buy) ETF.

Exchange Traded Funds Buy Sell Picks
EWI's Wayne Stough adds another Flash opportunity service to the line-up: ETFs By Elliott Wave International. Every trader at times wishes they could pick the brain of a pro that has "pulled the trigger" on real-money trades before. EWI Director of Analysis Wayne Stough is one of these pros. For several years, he's been alerting his Flash service subscribers to opportunities in futures markets. And now, there is a new addition to the Flash service line-up: ETF Opportunity Flash. We caught up with Wayne in his office and asked him a few questions.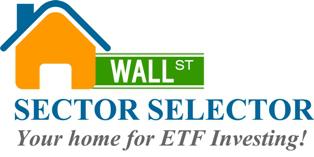 Wall Street Sector Selector
Free email newsletter. John Nyaradi is Publisher of Wall Street Sector Selector: Professional ETF Trading, an online publication specializing in news, analysis and information regarding exchange traded funds. John's writes a weekly column for Investor's Alley, a widely read internet site, and his investment articles have appeared in many online publications including Dow Jones Market Watch, Trading Markets, Money Show, Yahoo Finance, Investors Insight, Fidelity, SeekingAlpha, ETF Daily News, iStock Analyst and many others.

Market Timing Signals & ETF Sector Rotation Investment Newsletter
The strategy behind the Sector Timing Report is a process of continuous upgrading your investment holdings to maximize portfolio returns. Our upgrading strategy works because as economic and market conditions change, new sector leaders rise to the top of our proprietary sector scoring system. We buy these top ranked sectors and hold them for as long as they outperform their sector peers. When a holding starts to drop in rankings we sell it and move on the the next hot sectors in the market. Rebalancing our holdings monthly keeps us in the latest leadership sectors at all times.

By Wall Street Cheat Sheet
At last, a trading system that buys the right ETFs at the right time, time after time! By combining the power of Exchange Traded Funds with professional sector rotation, you can ride the bull instead of getting trampled by the herd, reduce your risk and consistently profit by following the "big money" into the most profitable sectors in the world.

Futures Trading Signals
ETF, Futures and CFD Trading Signals Swing & Day Trading Signals. Features & Benefits. ETF's, Futures and CFD Trading Signals. Entry & Exit Levels. Holding Times from 1Hour - Several Days. Trading instruction, learn as you trade. Consistent potential profits. 100% technical analysis - No bias. Index, Sector & Commodity Trades. Strict Risk/Reward Ratios. Daily Pre-Market Videos. 4-10 Trades per Month. Bi-Weekly Reports on indexes and gold. Help Improve Your Current. Trading Skills. Live Trading Alerts throughout Session. Low Draw Down Levels. Portfolio Trading Alerts (Intraday/Swing). Email Trading Support.

Portfolio Prophet Exchange Traded Funds Trade Alert Software
The Portfolio Prophet is our premium trade alert software for quickly & easily adding Exchange Traded Funds (ETFs) to your trading portfolio. The Portfolio Prophet alerts you whenever a new trade is setting up; then, it follows the trade to completion, so you'll know exactly when to change your stop orders which "lock in" profit. You can even customize it based on your risk tolerance - aggressive, moderate, or conservative. As an added bonus, you also get the complete Portfolio Prophet home study course, which teaches you the details behind the trading logic, so you'll know exactly what's going on, no matter what happens in the markets. There's also a quick start guide, and full-color reference manuals that summarize everything taught in the course. We don't know of any other ETF program that's faster and easier to trade than the Portfolio Prophet.
What Is An Exchange Traded Fund?
An exchange-traded fund or ETF is an investment vehicle traded on stock exchanges, much like stocks or bonds. An ETF holds assets such as stocks, bonds, or futures. Institutional investors can redeem large blocks of shares of the ETF (known as "creation units") for a "basket" of the underlying assets or, alternately, exchange the underlying assets for creation units. This creation and redemption of shares enables institutions to engage in arbitrage and causes the value of the ETF to approximate the net asset value of the underlying assets. Most ETFs track an index, such as the Dow Jones Industrial Average or the S&P 500.

Gold Newsletter
USA & Canadian Gold ETF Trading Strategies and Signals
High probability stock, index, sector, commodity, bond, & currency ETF trade alerts. US trading signals, Gold & Silver - GLD, SLV, Gold Stocks - GDX, Crude Oil - USO, Natural Gas - UNG, Index Trading - DIA, SPY, Bonds, Foriegn Investments US & Canadian Stocks. Canadian trading signals, Gold & Silver - CEF.A, Gold Stocks - HGU, HGD, Crude Oil - HOU, HOD, Natural Gas - HNU, HND, Index Trading - XIU, HXU, HXD, Bonds, Foriegn Investments, US & Canadian Stocks.
An ETF is Like a Mutual Fund and a Closed End Fund
An ETF combines the valuation feature of a mutual fund or unit investment trust, which can be purchased or redeemed at the end of each trading day for its net asset value, with the tradability feature of a closed-end fund, which trades throughout the trading day at prices that may be substantially more or less than its net asset value. Closed-end funds are not considered to be exchange-traded funds, even though they are funds and are traded on an exchange. ETFs have been available in the US since 1993 and in Europe since 1999. ETFs traditionally have been index funds, but in 2008 the U.S. Securities and Exchange Commission began to authorize the creation of actively-managed ETFs.
ETF, Exchange Traded Funds Research, ETF Investing
ETF Screener with Lowest Price-to-Fair Value, Most Heavily Traded, and YTD Top Performers. ETF Tools with ETF Performance Table, ETF Analyst Picks, ETF Valuation Quickrank, Cost Analyzer ETF, and ETF Analyst Reports. ETF Discussion Boards and Free ETF Newsletter.