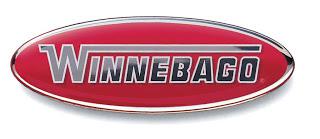 Click Here for a Free Trial of the "Profit Rockets" Stock Picks Service
Zacks Investment Research asks how can you tell the economy is back? Because consumers are buying RVs again. Winnebago Industries, Inc. (NYSE:WGO) managed to make it through the Great Recession, gobbling up market share along the way. This Zacks Rank #1 (Strong Buy) is now poised for triple digit earnings growth in 2013 as RV sales rebound.
Winnebago's brand recognition is so strong that when you think of RVs it's the first name that comes to mind. Founded in 1958 in Iowa, Winnebago manufactures a variety of recreation vehicles ("RVs") including motor homes, travel trailers and fifth wheel products.
Given consolidation in the industry during the Great Recession, Winnebago was able to add to its market share and now has about 20% of the RV market.
Baby Boomers And The Economic Recovery
Motor home sales peaked in 2004 at 69,000 and plunged during the Great Recession. By 2011, only 25,000 motor homes were shipped. But that number is expected to slowly rise as the economy improves and the Baby Boomers age.
The key segment of RV buyers is 55 to 64 years of age. The Baby Boomers are just on the cusp of reaching that age range right now with more to come in the next few years. That's a built-in market for RVs.
Additionally, the stock market has recovered its pre-recession highs and housing is starting to recover, both which will free up cash for Baby Boomers to take to the road.
All of this adds up to good things for the RV manufacturers. The RV and manufactured home industry has a top Zacks Industry Rank of 9 out of 265 industries.
Blew Out Fiscal First Quarter 2013
On Dec 20, Winnebago reported fiscal first quarter 2013 results and blew by the Zacks Consensus Estimate by 189%. Revenue surged 46.8% to $193.6 million in the 14-week quarter from $131.8 million in the 13-week quarter a year ago.
Inventories at dealerships are low and demand is rising. The company has had to hire additional employees to meet production demands the last two quarters. It also warned that production would slow during the winter holidays due to employees taking time off.
Given the grim years of the Great Recession, having too many orders is certainly a problem the company will gladly deal with.
2013 Zacks Consensus Estimate Rises
The tide is turning in the RV industry. Just 90 days ago, the analysts were not as bullish. The Zacks Consensus Estimate for Fiscal 2013 was just 47 cents. But given the big beat in the first quarter, the estimates surged to 80 cents.
That is earnings growth of 220% as Winnebago earned just 25 cents in 2012.
While the short term picture looks bright, the longer term outlook past 6 months is also strong for Winnebago. It has a Zacks Recommendation, which looks out further than the Zacks Rank, of Outperform.
Shares At Multi-Year High
Given the rally in the overall markets and the positive news in the RV industry, it's not surprising that shares of Winnebago have rallied to new 5-year highs.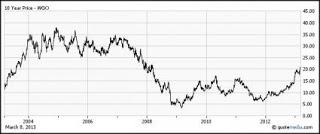 It's not a cheap stock. It has a forward P/E of 26 but that is in line with Winnebago's 10-year average. It does have one good value metric, however. Its price-to-sales ratio is just 0.9. A P/S ratio under 1.0 usually indicates value.
Having survived the rough years of the Great Recession, Winnebago is perfectly positioned to cash in on the economic recovery and the aging of the Baby Boomers.
For investors looking to add a consumer-related stock to their portfolios, Winnebago is one that checks all the boxes.
Click Here for a Free Trial of Zacks Investment Research
Disclosure: I have no positions in any stocks mentioned, but may initiate a long position in WGO over the next 72 hours.