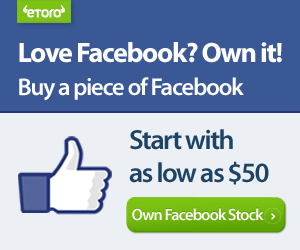 $FB Facebook Stock on The Social Investment Network eToro OpenBook

What Is Social Trading? by eToro
Social trading is the newest, most exciting and most rewarding way for you to get access to the financial markets. By linking traders from all over the world into one big network, social trading empowers traders to use each other's skills to trade smarter together, and that collective wisdom can take your trading to a level you never thought possible before.
As the world's largest online financial trading community, nobody can offer your trading more of a social boost than eToro. And since we're convinced that social trading is the way to the future of financial investment, we are constantly developing new tools to harness the unlimited possibilities of trading as a community. With such ground breaking features as CopyTrader, GuruFinder, Copy.me, and much more to come, we are making it easier than ever for you to monetize not just your own potential, but that of your fellow traders!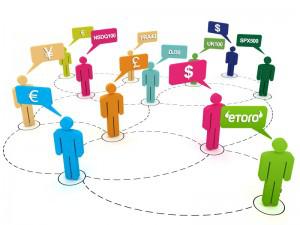 So how does social trading work?
eToro's social trading network works on several levels, enabling you to utilize social trading as it suits you. Whatever your financial investment goals or style, social trading is sure to enrich your trading experience.
See
The most basic function of the social trading network is to bring you live feeds of trading activity. That means that you're exposed to what you're fellow traders are doing in the financial market at any given time. How does that benefit you? Information is power, and staying informed about what other traders are doing gives you valuable insight into market trends, innovative strategies and trading ideas.
Follow
Naturally, you would probably be more interested in looking at certain traders' market activity more than others'. You can do so by choosing to "Follow" the traders that you find more interesting. You can also get more information on each trader and even get in touch with them in person through their personal profiles. If you're not sure which traders you want to follow, use the rankings or the "Guru Finder" to search the network according to your preferences.
Copy
The most direct way to benefit from social trading is to copy. If you spot a particularly promising trade in the live trading feeds or in a trader's personal profile you can quickly open the same trade by clicking on "Copy". However, if you spot a trader who's consistently profitable it's much easier to use the "CopyTrader" feature to start copying their trades automatically. In fact you can even dedicate your entire account to recruiting traders to trade for you through the CopyTrader, building what we call a "people-based" portfolio!
What can social trading do for me?
However experienced you are as a trader, and however you like to interact with others, our social trading community is rich with benefits and opportunities.
Beginner Traders
Pick out your Social Trading Gurus - follow their trades, learn from their trading method and copy their trades automatically
Track the ongoing performance of any trader through a series of simple tools and keep easily informed on everything they're doing
Interact with other traders to get useful tips and advice
Keep your finger on investor sentiment
Experienced Traders (Social Gurus)
Recruit followers and get recognized for your skill
See how other hotshots trade, and spot more of the right opportunities as they happen
Join the Social Guru program and earn commissions for your copiers
Manage your own brand through your own Copy.me website
Contribute guest posts to the eToro Blog to gain even more followers
Did you know?
Social trading has been proven to produce better results than traditional trading. Try it out for yourself today.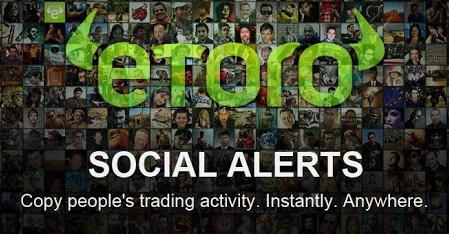 Click Here to Review More Information and Free Registration
Discover the Most Profitable Way to Trade. Join the largest investment network - Open a free account. Go to our rankings page to find the best traders. Quickly build your personal dream team of traders. Use the CopyTrader button to copy what they do. Lean back and watch your dream team trade for you. Trade safely with our responsible trading features.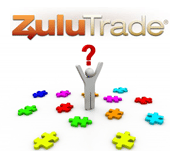 Invest and Trade with the Best at ZuluTrade
Follow between 70,000 talented currency traders from 192 countries automatically for free in your account. Zulu your mobile too. Check out our Android, iPhone, iPad and desktop widget apps.

Forex Buy Sell Signal Alerts with Free Trials from Forex Specialist Companies