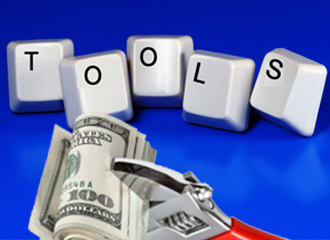 Top 3 Technical Tools Part 1: Japanese Candlesticks by Elliottwave International
EWI senior analyst Jeffrey Kennedy shows you how to identify quality trade setups with supporting technical indicators. By Elliott Wave International
"I always will be an Elliottician, but other technical tools have merit and are indeed worthwhile: they allow me to build a case, build a more confident reason for making a forecast and for taking a trade; making a trading decision." - Jeffrey Kennedy
I recently asked Elliott Wave International analyst Jeffrey Kennedy to name his 3 favorite technical tools (besides the Wave Principle). He told me that Japanese candlesticks, RSI, and MACD Indicators are currently his top methods to support trade setups.
In this 3-part series, we will share examples of how to use these 3 tools to "build a case" in the markets you trade. These practical lessons allow you to preview how Jeffrey applies techniques with proven reliability to support his analysis.
We begin this first lesson with a basic candlestick-style price chart.
This is excerpted from Jeffrey Kennedy's teachings. Follow this link to learn more about Jeffrey Kennedy's educational trading service, Elliott Wave Junctures.
You may be familiar with an Open-High-Low-Close (OHLC) chart: comprised of vertical lines with small horizontal lines on each side. The top of each vertical line is the high and the bottom is the low. The small horizontal lines on either side represent the open and close for that period.
Here's an example of a Japanese Candlestick chart: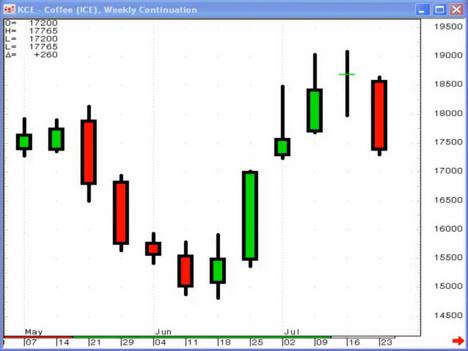 Japanese candlestick charts employ the same data that OHLC price charts do except that the data is expressed differently. The real body is the range between the open and close, and appears as a small block. Shadows are the lines that extend upward and downward from this block, and represent the highs and lows.
Next, take a look at the chart below.
Two bearish candlestick reversal patterns that Jeffrey finds highly reliable are the Evening Star and the Bearish Engulfing Patterns. This weekly continuation chart for the Canadian Dollar combines a 20-period moving average to show that the trend is down -- allowing you to focus on bearish reversal candlestick patterns to spot trading opportunities.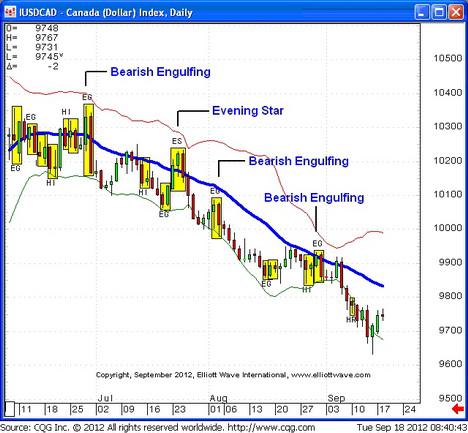 Jeffrey notes that "combining these reversal patterns with moving averages makes them even more dynamic because they focus your attention in the direction of the larger trend."
Japanese Candlesticks begin our spotlight on Kennedy's top 3 ancillary tools for trading with the Wave Principle. We'll share parts two and three via how Kennedy uses RSI and MACD indicators to support his Elliott wave interpretation in coming weeks.

Steve Nisons Candlestick Charting Intensive Training and Software
for Profitably Trading Stocks Forex Futures Commodities
Use the CandleScanner trading software to automatically scan for profitable trading setups on any timeframe. Stock forex and futures candlestick trading courses to throughly understand how to profit from candlestick chart patterns. Free newsletter and live trading webinars. Steve Nison is the authority on trading and profiting using candlesticks.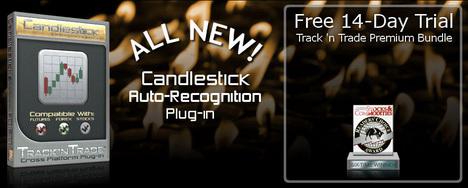 Track n Trade CandleStick Auto-Recognition Plug-in
Quickly identify candlestick patterns without thinking. With Track 'n Trade, you have the ability to click, and select your favorite candle patterns, and have Track 'n Trade find, identify, and even auto-trade each signal through our famed Autopilot Trading System.