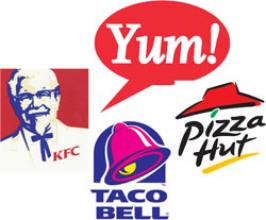 YUM! Brand's China Sales Tumble Again - By Zacks Investment Research
It seems that the Chinese division of Yum! Brands Inc. (NYSE:YUM) , which is also the largest contributor to its revenue stream, is going through a bad phase. In a recent SEC filing, Yum! Brands stated that its China division's same-store sales (comparable sales) have suffered a 13% decline in March with a 16% fall in same-store sales for KFC. Increasing fear from the recent outbreak of H7N9 Avian flu affected KFC's performance in China.
Moreover, same-store sales for Pizza Hut Casual Dining registered a 4% growth in March, but the sales were well below the February comparable sales (comps) growth of 13%.
Yum! Brands has declared that it has and always will take the necessary precautions to ensure the safety of its products.
Previously in Dec 2012, Yum! Brands faced an allegation regarding the quality of chicken supplied to its KFC unit in China. Although food safety regulators in Shanghai cleared Yum! Brands, the incident shattered consumer confidence about the quality of food offered by this U.S. restaurateur leading to a steep fall in the company's sales during the last two weeks of Dec, 2012. Management rolled out a new brand quality campaign and aggressive marketing initiatives to counter the bad publicity.
Comps in the China division plunged 20% in the first quarter of 2013 (first quarter results of Yum!'s China division always include the financial performances of just two months, January and February) with KFC same-store sales falling 24% and Pizza Hut Casual Dining sales dipping 2%. This was however better than management's expectation of a 25% decline.
However, China witnessed a surprising 2% rise in comps in February despite the fact that KFC registered flat comps. The shift in the timing of the week-long Chinese New Year celebrations from January to February this year helped drive sales in the month.
In concurrence with its fourth-quarter earnings, Yum! Brands earlier said that its KFC division is not expected to record positive same-store sales before the fourth quarter of 2013 due to tough year-over-year comparisons and a sluggish retail environment in China, which in turn may be detrimental to the company's overall business going forward.
Although Yum! Brands is trying to recover its position in China, the recent bird flu concern in the region may further hurt KFC's demand in the coming quarters and affect Yum!'s growth momentum.
Following the news of bird flu in China, McDonald's Corp. (NYSE:MCD) has reduced the price of its chicken nuggets in order to prevent any slowdown in its demand.
Yum! Brands currently carries a Zacks Rank #2 (Buy). Some restaurateurs that are worth a look at this point include Red Robin Gourmet Burgers Inc. (NASDAQ:RRGB) and Cracker Barrel Old Country Store Inc. (NASDAQ:CBRL) , both carrying a Zacks Rank #1 (Strong Buy).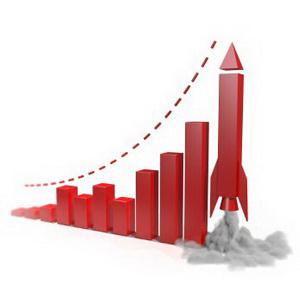 Invest2Success China Hong Kong "Profit Rockets" Stock Picks
Subscription Email Service
Free Trial - Receive daily low-risk high-reward momentum stock picks every day that include buy entry, stop-loss, take profit area targets, and trade management information on China and Hong Kong equities to your email inbox.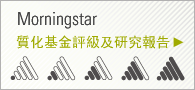 Morningstar Asia Investment Research Free Trial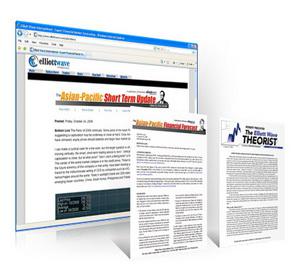 Asian-Pacific Financial Forecast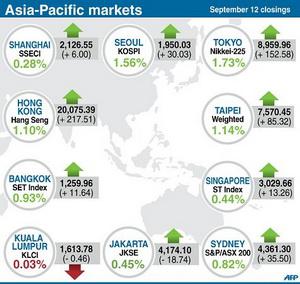 Intraday Forecasts on the Hang Seng, Nikkei 225, MSCI Singapore, ASX 200, STI, Kospi 200, MSCI Taiwan Stocks
You get short, clear forecasts for the direction throughout the trading session, most with short-term Elliott wave-labeled charts. And you get precise support and resistance points, so you always stay in control of your position risk.

Instaforex Metatrader
Voted Best Asian Broker
Forex - Gold Silver Copper Oil - Commodities - Futures - NYSE CFD's
Industry standard Metatrader platform. ECN & Standard Spread Accounts. ECN Spreads As Low as 0.10 Pips. 3 Pip Standard Account Trading Spreads. Trade Gold Silver Copper Oil and Agriculture Commodities Also. Forex Analytics Buy Sell Trade Signals. Metatrader Expert Advisors Auto-Trading & Free VPS Service. Mobile SmartPhone Metatrader Software Trading. ForexCopy Trade Copier. Forex Training Course & Videos. Instaforex TV. Trading Contests. No Minimum Opening Account Balance. Easy Deposit Withdrawl. Earn Annual Interest Paid Monthly On Your Cash Account Balance. Swap-Free Accounts Available. Easy Online Adjustable 1:1 to 1:500 Leverage. Hedging Allowed. New Account Bonus Deposits. 24 / 6 Support