Natural Gas ETFs Continue to Soar by Zacks Investment Research
For investors focused in on commodities, 2013 has been a year to forget. A variety of products in both the precious metal and energy segments have seen severe weakness to start the time frame.
Among the issues plaguingthe spaceare concerns over global growth, and an increasingly firm dollar. Both of these trends are keepinga lid on a host of natural resources, while many investors are forecasting these factors to be in the market for quite some time.
Yet despite the broad gloom over the commodity market, investors have seen a glimmer of hope in an unlikely place; natural gas. The often beaten down commodity has seen a great start to the year, gaining over 25% while other commodities stumbled into the red.
This represents a huge reversal for natural gas, as the commodity has been under severe pressure in years past thanks to a huge supply and demand imbalance. But due to some rig shutdowns and more power plant use of the fuel, natural gas is coming back strong in 2013.
This trend has continued with the latest EIA storage report, as this release suggested more bullishness in the important energy commodity. The consensus expectation called for an increase in natural gas stocks of 35 billion cubic feet (bcf) but just 31 bcf were added to inventories instead, boosting front month futures by over 5%.
So even though this marked the first increase in natural gas stocks since December 2012, the lower-than-expected increase was seen as another reason to be bullish on natural gas in the near term. Many are expecting this trend to continue as well, as colder-than-normal temperatures in much of the Midwest and Northeast could keep a cap on supply increases in the weeks ahead.
Natural Gas ETFs in Focus
This latest EIA release was also great news for the wide range of natural gas ETFs that are in the market, as they also benefited from the bullish tone in the space. Topping the list in terms of volume was the United States Natural Gas Fund (NYSEARCA:UNG) which finished the day up about 5%.
This came on volume that was roughly 170% of normal, largely thanks to a couple of volume spikes immediately following the release of the crucial EIA report. Once this document was released, UNG did about 20% of its usual daily volume in two minutes, a situation that pushed the commodity fund sharply higher as well.
Beyond UNG, investors also saw a good session out of the United States 12 Month Natural Gas Fund (NYSEARCA:UNL) . This product seeks to spread out exposure across the futures curve in order to mitigate contango issues, a problem that has been a big issue in the natural gas ETF market.
However, during bullish market environments, like the recent one, this ends up hurting the return when compared to UNG. For example, UNL was only up about 3.6% after the report was released, while the fund has underperformed its more popular counterpart by about 500 basis points in this calendar year, although it has done much better over long time periods.
Leveraged options for natural gas
For investors with a big appetite for risk, there are also a few somewhat popular levered natural gas products in the market from VelocityShares and ProShares.
ProShares reigns over the double leverage segment with its daily -2x bearish product KOLD, and its 2x bull daily product BOIL. Respectively, these two saw performances of -9.6% and 9.6% on the session.
Meanwhile, VelocityShares takes care of the triple leverage market with its (NYSEARCA:DGAZ) for bearish daily exposure and (NYSEARCA:UGAZ) for bullish 3x exposure. As expected, these two were extremely big movers on the day with DGAZ slumping by -14.6% and UGAZ surging by 14.9% in Thursday trading.
Equity play on Natural Gas
For those that are scared off by UNG's long term performance or the risky nature of leveraged ETFs, it is worth noting that there is an equity play out there that targets the broad natural gas market in ETF form. This fund is the First Trust ISE Revere Natural Gas Index Fund (NYSEARCA:FCG) , an ETF that holds about 30 stocks in its basket and charges investors 60 basis points a year in fees.
The fund hasn't kept up with UNG so far in 2013-it is roughly flat on the year-but that shouldn't be too surprising to investors. After all, a big chunk of natural gas' rise as of late has been due to lower production levels, a factor that helps to boost prices but can shrink revenues for some in the industry.
Additionally, the benchmark does include a number of exploration companies, so these have been under pressure thanks to the heavy competition in the market. The product also includes a fairly big allocation to micro and small cap companies, so volatility can be an issue.
Still, FCG doesn't suffer the contango (or backwardation) worries that are inherent in natural gas ETFs like UNG. This makes FCG a more stable play on the market, but one that may not benefit from trends like some investors might be expecting.
Bottom Line
There are a number of options out there that target natural gas in ETF form, both in the form of equities and especially in terms of futures on the commodity. For much of 2012, these had been terrible picks for investors and many assumed that this trend would continue this year as well.
This is especially true given the broad slump in the commodity market, as almost every product has been hit by the trend, including traditional safe havens like gold. However, natural gas has escaped this spiral, and thanks to some favorable supply trends, has actually surged so far in 2013.
So while natural gas is still a very risky pick in the near term, it is no longer the sure loser that it once was. The supply and demand imbalance is beginning to shrink, while more are using natural gas all the time.
This has helped natural gas have a more favorable futures curve, suggesting that we could see some more solid days ahead for volatile natural gas ETFs in the weeks ahead. Particularly if cold weather and below-expectations supply increases continue in this outperforming corner of the ETF world.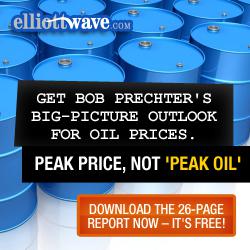 Special Report: Picking the Right Peak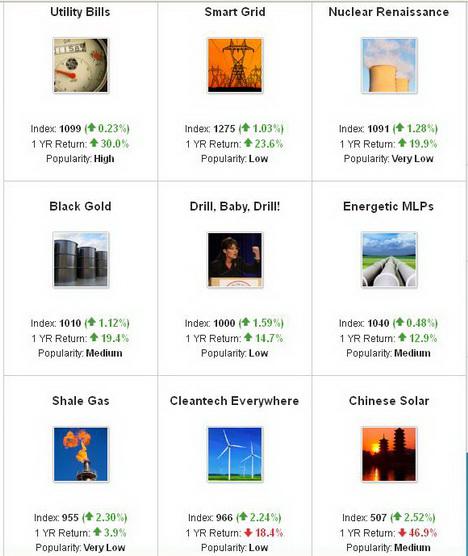 Energy Ideas and Themes Investing with Motif
A Motif is a portfolio of up to 30 stocks reflecting an investing idea. Pick an actionable idea from trends and events in our investing catalog. Customize a motif to your needs by adding deleting stocks or change portfolio weightings. The new easy low-risk high-profit way to invest in all types of new and old global energy stocks.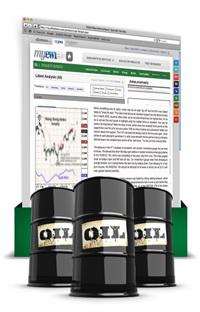 Elliott Wave Energy Futures Forecasts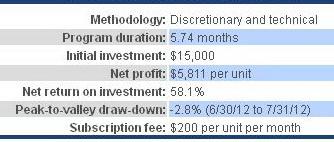 WorldCupAdvisor - Trade with the Pros
Minimum Opening Deposit: USD 15,000.00
Talented professionals from around the world display their live futures and forex trading accounts in real time on WCA and allow subscribers to follow their activity. You can follow the trading of any WCA lead account automatically in your own account with World Cup AutoTrade service.

Oil and Gold Newsletter
USA & Canadian Gold ETF Trading Strategies and Signals
High probability stock, index, sector, commodity, bond, & currency ETF trade alerts. US trading signals, Gold & Silver - GLD, SLV, Gold Stocks - GDX, Crude Oil - USO, Natural Gas - UNG, Index Trading - DIA, SPY, Bonds, Foriegn Investments US & Canadian Stocks. Canadian trading signals, Gold & Silver - CEF.A, Gold Stocks - HGU, HGD, Crude Oil - HOU, HOD, Natural Gas - HNU, HND, Index Trading - XIU, HXU, HXD, Bonds, Foriegn Investments, US & Canadian Stocks.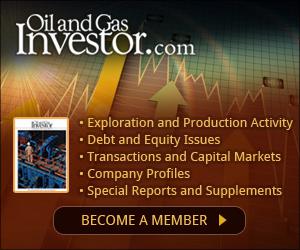 Oil and Gas Investing
Oil and Gas Investor is your complete source for information about the financial world of oil and gas. An interactive, searchable version of Hart Energy Publishing's Oil and Gas Investor Magazine, this site also provides you with online content from OGI This Week and A&D Watch. In addition to providing daily analysis of trends and industry events, our editors interpret the news to highlight opportunities for you, whether your company explores for petroleum or provides finance, capital and advisory services to oil andgas operators .

"Commodity Code" Oil Gold Silver AutoTrade Metatrader Expert Advisor
The commodity code is a 3 level system. Level 1: The Commodity Code Trading Station Gathers Gold, Oil and Silver quotes directly from the banks. It identifies the common patterns when the big banks are moving the price significantly. Level 2: Commodity Code analyizes the pattern and the signals and decides if there is a profitable low-risk high-reward trading opportunity to apply it. Level 3: The approved signal reaches your Metatrader terminal instantly, opening the profitable trade for you on autopilot.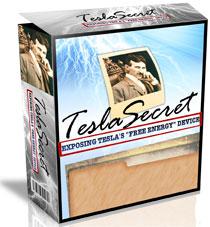 Nikola Tesla Secret - Exposing Tesla's "FREE Energy" Device
Discover How to Use a 100 Year Old Device to Generate FREE Electricity

SolarCity - A Cleaner, More Affordable Alternative to Your Utility Bill
As utility rates continue to rise every year-so will your savings-resulting in thousands in savings over the lifetime of your system. SolarCity makes solar affordable and easy. SolarCity makes it more affordable than ever to go solar. There is no upfront capital investment and installation is free. You simply pay for solar power by the month. And we make it easy. From our free solar consultation to our post installation support, SolarCity manages every step of the process. We even take care of all permits and government rebates to lower your cost, handling all paperwork and maximizing your savings. Home energy evaluations. Only SolarCity offers energy efficiency with solar to holistically address a home's energy needs. After fully evaluating your home, we provide a detailed report that highlights the most effective home improvement options and prioritizes what changes will have the greatest reduction on your utility bills. SolarCity's remodeling and construction services transform a home's health, efficiency and environmental footprint. Call today to see how much you could save.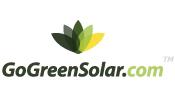 Buy Solar Panels Photovoltaic Solar Power DIY Solar for Home Energy
GoGreenSolar is your trusted source for solar panels, wind turbines, LED lights, and energy efficiency. Let us help you go green today! Green energy makes economic sense. Millions of jobs can be created, while saving our economy trillions of dollars! The environment will thank us. By embracing green energy we can clean up the air we breathe and reduce the impact fossil fuel based energy has on our world. Green energy has a social benefit. Billions of people around the world still have no access to basic electricity. When green energy goes mainstream with economies of scale, everyone will have access to clean, reliable, efficient renewable energy.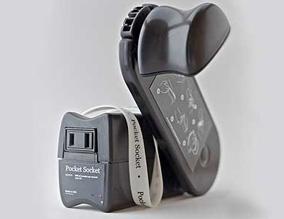 Human Powered Electricity Generators by K-Tor
The Pocket Socket a hand-cranked generator that provides electrical power on the go! It is perfect for anyone who needs to charge a portable electronic device immediately, but does not have access to a wall outlet. From the business traveler to outdoor enthusiast, commuting student to emergency personnel, the Pocket Socket is a great eco-friendly source for emergency backup power. Fully functional anytime, anywhere, it lets you charge a wide variety of electronic devices, including, but not limited to, your cell phone, mp3 player, camera, GPS, or tablet. If you need an adapter included to convert to European two pin standard from US, please let us know. Size: 2.5 x 2.25 x 6.875 inches Weight: 14oz. Power Output: 10W 120V DC @2Hz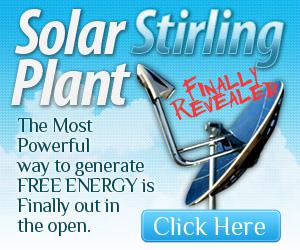 Solar Powered Stirling Engine to Generate Free Energy and Electricity
The Stirling Engine was created in 1816 by Robert Stirling a Scottish Inventor and is a fueless engine that re-generates its own power and provides free power generation capabilites. You may not have heard about it because global energy companies don't want you to know about it so they can make more profits. It's powered by heat differentials, and one of the most efficient ways to power a Stirling Engine is from the Sun. This is the most efficient Stirling Engine Power Plant we've seen yet.

Total Power Solution for Every Battery Need
We offer rechargeable batteries and chargers that are made with industry leading technologies, and the most cost effective manufacturing process. In addition, we offer you a wide spectrum of valuable information on batteries and chargers for your in-depth understanding of the battery world. Our high quality customer service are specially designed and dedicated to offer you a secure, friendly, convenient, private, and informed shopping experience. With our own direct manufacturing of top-quality rechargeable batteries and chargers, we are committed to providing the best battery products and service to you at the most attractive prices. You can easily realize 40-80% saving from the price at retail stores.
How To Make Biodiesel Fuel At Home

Biodiesel Fuel Chemical Solar Supplies Alternative Energy Store