Should You Buy Gold Now by By Zacks Investment Research
The gold market recently did something it hadn't done since 1980. It fell 13% in two days and is now down over 25% from its 2011 highs. Let's examine what caused this recent sell-off and determine if investors should be purchasing gold today.
What Happened To Gold Prices
The reason for the recent sharp decline in gold prices is twofold. First, major analysts lowered their predictions for gold prices, particularly Jeff Currie at Goldman Sachs. Then, once gold fell to $1,550 an ounce, the market was hit with a huge backlog of sell stop orders. The result was once gold broke $1550 an ounce, it went down quickly on the weight of these stop loss orders.
A reduction in global inflation also played a role. Recent Producer Price Index (PPI) numbers have been weaker than expected. Base metals prices, oil prices, and many other barometers of the global economy, including the agricultural markets, all have come down steadily the last few months. This data indicates inflation may actually be weaker than expected. If inflation is weaker than expected, demand for gold should continue to fall.
Looking back, the price of gold surged for years, and then has been trading in a range of $1800 to $1550 an ounce for three years.
In scenarios like this, when market prices have surged and then range-trade, there can be an iceberg of sell stop orders sitting beneath this range. Speculative players wanted to protect their early profits. A negative feedback cycle developed, and the gold market collapsed in two quick days.
When It Crashes, It Crashes Fast
I had originally pointed this out to our clients back on October 11th:
"Gold has performed very well over the past ten years - its price has gone up nearly six-fold over the past decade. This is another reason why I don't think gold is particularly desirable at this point. The same way trees don't continually grow up into the sky, the price of gold will not continue to rise indefinitely.
Historically, when the price of gold crashes, it crashes fast. The charts always look the same -- up, up, up and then down in a hurry. No one ever calls these turns. There is no floor when the price falls because there is ultimately no intrinsic value in gold, and no income stream to keep its value tethered to reality."
I continue to believe that gold is not a financial asset. Gold doesn't generate any income and it doesn't pay a dividend. Thus, I view it not as an investment but as a speculation. You shouldn't own gold in your portfolio.
3 Reasons Investors Buy Gold
So why are there so many investors who own gold, and so many mutual funds who allocate to gold?
Generally, there are three reasons investors buy gold: (1) as a store of value, (2) as a hedge against inflation; or (3) as a hedge versus the debasement of currency. But gold's value completely depends on other people to act in a specific manner for it to go up in price.
Historically, gold has been known as an effective store of value, but this has gone in and out of favor. The price of gold has risen over the last ten years, but prior to that, it did absolutely nothing for a long period of time, even during times of high inflation. In the 1980's, gold wasn't considered a great store of value; now it is. The only thing that has intrinsically changed is the perception of what the future might bring.
Some brokers or portfolio managers will tell you that gold should be a part of everyone's portfolio because it's just a good way to diversify assets. This is one point of view, but an outdated way of thinking. Yes, it meant something when gold was inversely correlated with the equity markets. But with assets now correlating together via gold-based exchange-traded funds (ETFs), this view has less and less credence.
At the end of the day, the price of gold is completely reliant on people's preferences. As those preferences change, just as they have recently, the price of gold falls.
What Investor's Should Do
In short, gold prices are being driven by 'animal spirits,' not any sort of evaluation of its intrinsic value. There's no real reason for gold to go up -- or down -- in value. That's not to say you should think of it in terms of being 'bullish' or 'bearish,' but recognize gold as something other than an investment - it is a speculation.
In contrast, solid companies that report growing earnings or pay a dividend are true investments. The intrinsic value is measurable with these firms, and as such they are more sensible - and far less risky - assets to own.
What is driving the price of gold is not fundamentals, not income streams, but fluctuations and perceptions about expectations. It's essentially a speculation on mass psychology, and that, quite simply, cannot be predicted.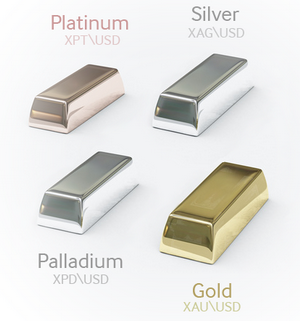 Intraday Forecasts on Gold Silver Copper and Aluminum
You get short, clear forecasts for the direction throughout the trading session, most with short-term Elliott wave-labeled charts. And you get precise support and resistance points, so you always stay in control of your position risk.

Instaforex Metatrader
Forex - Gold Silver Copper Oil - Commodities - Futures - NYSE CFD's
Industry standard Metatrader platform. ECN & Standard Spread Accounts. ECN Spreads As Low as 0.10 Pips. 3 Pip Standard Account Trading Spreads. Trade Gold Silver Copper Oil and Agriculture Commodities Also. Forex Analytics Buy Sell Trade Signals. Metatrader Expert Advisors Auto-Trading & Free VPS Service. Mobile SmartPhone Metatrader Software Trading. ForexCopy Trade Copier. Forex Training Course & Videos. Instaforex TV. Trading Contests. No Minimum Opening Account Balance. Easy Deposit Withdrawl. Earn Annual Interest Paid Monthly On Your Cash Account Balance. Swap-Free Accounts Available. Easy Online Adjustable 1:1 to 1:500 Leverage. Hedging Allowed. New Account Bonus Deposits. 24 / 6 Support

Gold Newsletter
USA & Canadian Gold ETF Trading Strategies and Signals
High probability stock, index, sector, commodity, bond, & currency ETF trade alerts. US trading signals, Gold & Silver - GLD, SLV, Gold Stocks - GDX, Crude Oil - USO, Natural Gas - UNG, Index Trading - DIA, SPY, Bonds, Foriegn Investments US & Canadian Stocks. Canadian trading signals, Gold & Silver - CEF.A, Gold Stocks - HGU, HGD, Crude Oil - HOU, HOD, Natural Gas - HNU, HND, Index Trading - XIU, HXU, HXD, Bonds, Foriegn Investments, US & Canadian Stocks.

By Wall Street Cheat Sheet
Join Chicago Mercantile Exchange commentator Eric McWhinnie as he covers Gold, Silver, Gold & Silver stocks, and miners. We look for companies that based on their price today are trading at a discount now or likely bigger discount 12 months from today. The takeover game is a huge part of the resource business. Quality undervalued companies will not remain so for long.