Home-Builders Raise The Roof, Will The Rally Last? by Market Authority
This morning, the leading home-builder stocks are trading higher at the start of the trading session. Earlier today, leading home-builder Lennar Corp (NYSE:LEN) reported better than expected earnings. This news is one of the catalyst that is helping the home-builder stocks to trade higher on the session. The Case-Schiller data was also released today. This data stated that there were gains in 19 of 20 cities, the 20-city composite index increased by 2.5% in April. This was the largest monthly growth on record.
Toll Brothers Inc (NYSE:TOL) is one of the leading home-builder stocks that is trading sharply higher. Today, TOL stock is trading higher by $1.41 to $33.26 a share. Day traders should watch for intra-day resistance around the $33.73 level. Some other leading home builder stocks that are rallying higher today include DR Horton Inc. (NYSE:DHI), KB Home (NYSE:KBH), PulteGroup, Inc. (NYSE:PHM), and Hovnanian Enterprises Inc. (NYSE:HOV). Please understand, the home-builder stocks are very sensitive to higher interest rates, so the yield on the 10-year U.S. Treasury Note should be followed very closely by traders and investors. Higher bond yields are a negative for the home-builder stocks and could stall out any near term bounce in this important sector.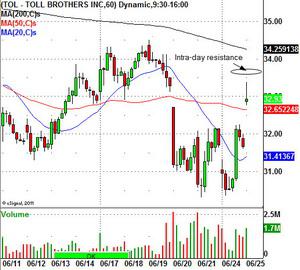 Alternative Investing Borrowing Lending

Short Sales,and Property Foreclosures
Discover how to start cashing 6 figure checks on short sales, in ANY market of the country . . . without EVER leaving your home . . . and with NO Risk and NO Downpayments. And without EVER using your own credit, and with no previous experience or working capital needed.

Government Auctions & Bank Foreclosures
Save money on huge discounts from government auctions on real estate foreclosures, seized surplus automotive vehicles, and other high value consumer items of motorcycles, boats, smartphones, computers, electronics, jewelry, and artwork. Paypal verified. As seen and heard on CNBC, Entreprenuer Radio, eBay Radio, and Business Week.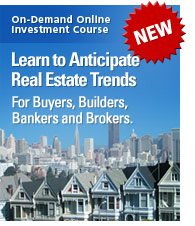 Learn to Anticipate Real Estate Trends
For Buyers, Builders, Bankers and Brokers
More than three months in the making, Learn to Anticipate Real Estate Trends. For Buyers, Builders, Bankers and Brokers is a truly one-of-a-kind, on-demand, online course that goes well beyond any of EWI's previous research on the real estate trends.