Very Important Market Condition Update By Dr. Van Tharp Ph.D. Trading Institute
While I won't write another full market update until next week, it's important to note that the market type has changed significantly since the last update on June 5th. If you look at the following chart showing the 100-day market SQN® rating, you will see that the trend is clear: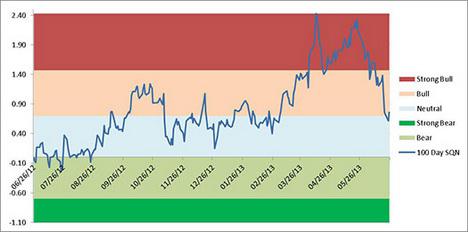 The 100-day market SQN score has moved from strong bull to bull very quickly and is now at the borderline with neutral territory. The trend in the chart says it all and the shorter term market SQN scores confirm that trend. The 50-day market SQN rating is in neutral territory and the 25-day market SQN rating is now a STRONG BEAR MARKET. In addition, market volatility moved from quiet to normal and its current trend is heading toward more volatility.
This is becoming a dangerous market; it is not a time for "buy and pray" investors. If you are active in the market, you need to know what you are doing or you could be one of those people in a future workshop who might be saying "I wish I had known that back in 2013."
We have what is probably one of the biggest bubbles in the history of the U.S. financial markets - bond prices. Interest rates have dropped ridiculously low. In fact, they cannot be much lower despite owing the greatest debt in the history of any country in the world. When this bubble bursts, and the Fed is now implying that it might start tapering their current round of QE soon, it will be a disaster for most markets. Not only will bond prices crash, but the stock market will as well. Be prepared to protect yourself.
Most importantly, make sure you are clear. This is a time for neither fear nor greed. For those who are sharp and well trained, this could be a time for tremendous profits.
Stock Option Forex Futures Trading Seminars Webinars Workshops Events
Click Here For The Complete 2013 Schedule