Buy Sell Signal Trade Plans for Crude Oil Futures
We hand-pick and call two very successful Forex markets (EURUSD and EURJPY) and two high-performing Futures markets (Crude Oil and Russell eMini) during the week, Monday through Friday. Specifically, here's the schedule: At 8:30 EST, we begin trading two Forex markets; EURUSD and EURJPY. At 8:50 EST, we begin trading Crude Oil Futures. At 9:30 EST, we begin trading our Russell eMini trade plan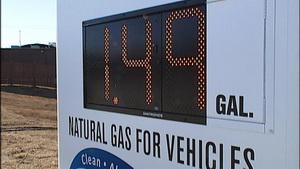 Natural Gas Boom: What You Need to Know by Market Authority
"After years of talking about it, we are finally poised to control our own energy future," said President Obama in his 2013 State of the Union address.
"We produce more natural gas than ever before and nearly everyone's energy bill is lower because of it."
He's right to champion the progress made by the industry.
Over the last two years alone, natural gas supply has skyrocketed some 26% thanks in part to new technological advancements. We now have a 100-year supply, as a result.
There's so much supply that some analysts fear we'll run out of places to store it. "I cannot in my memory recall a time like this, when we have created a surplus that may be beyond our capacity to store," says Weeden & Co. in 2012.
Because of the supply, gas is cheaper than oil.
And because gas is cheaper than oil, it has a great chance of emerging as a "significant" transportation fuel, according to the International Energy Agency (NASDAQ:IEA).
According to T. Boone Pickens:
When I started the Pickens Plan in 2008, there were about 200,000 vehicles on natural gas in the world; now there's about 16 million. That growth's coming from everywhere but the U.S. Places like Iran and Argentina. China's already got 40,000 trucks on LNG [liquefied natural gas], and they import the stuff. And here we are in the U.S., with more natural gas than any other country in the world, and we aren't doing a thing about it. It's just amazing to me that these dumb clucks in D.C. don't see this opportunity and try to capitalize on it.
The best thing to do is focus on heavy-duty trucks and give them a tax credit. It could work like a toll road, what you call a pay-for system. If you use it, you pay for it. So you give these guys a break upfront to convert to natural gas trucks, and then you tax the natural gas.
You don't put natural gas in your corner gasoline station. You put natural gas in a truck stop. It's a fuel that competes against diesel. There are about 8 million heavy-duty trucks in the U.S. If you convert them to natural gas, that boosts consumption by about 15 billion to 20 billion cubic feet a day. Right now we do about 70 billion cubic feet a day. So that extra demand would immediately boost the price and get drills moving again. Today natural gas is about $2.79 a gallon, compared with about $4.79 for diesel. That's a huge advantage. But here's the thing: If you take natural gas from about $4 (per thousand cubic feet) to $6, you only increase it by about 28¢ a gallon. So it's cleaner by 30 percent and still cheaper by almost a half.
Waste Management (NYSE:WM) is converting to natural gas trucks.
Fed Ex truck fleets are shifting from diesel to natural gas.
UPS is expanding its natural gas fleet to 800 by the end of next year.
Wal-Mart, Frito Lay, AT&T, General Motors, and Coca-Cola were all switching over in 2012.
Seeing that about 98% of natural gas consumed in America is domestically produced, we reduce our dependence on foreign states and enhance our security.
Bottom line - the future of natural gas is bright.
Fast Money Trader has an eye on one stock that should perform quite well with the natural gas transportation boom. Stay tuned.
Click Here to Review Market Authority Daily Income Trader Program