It May Be Time to Buy Gold by Market Authority
"Nobody really understands gold prices and I don't pretend to understand them either." - Ben Bernanke, Senate Banking Committee hearing
He may not grasp the intricacies of gold. But I do…
Since buying gold at $650 just a few short years ago, I've successfully called many of the yellow metal's major turning points.
I'll explain…
Suddenly, every one is an expert on all things gold and silver…
They're all seasoned experts, dissecting the dollar and telling us why we should avoid gold and silver.
At least a dozen people have told me they absolutely "knew" gold would run higher off recent lows.
These were the same people that panicked when talking heads calmly told us:
"Warning! Gold could drop below $500," we were told in 2010. "Gold's Decade-Long Bull Run is Dead, Gartman Says," per Forbes in 2012. "The Gold Bull Market is over," reported over-enthusiastic Seeking Alpha article in 2012.
But a funny thing happened after each and every warning.
Gold surged.
The herd - and the experts - had it all wrong.
Now we hear that gold has run its course again…
We're told the yellow metal could fall another $500 this year. We're scared to death and not really sure where to park our money any more.
But as I've learned over the years the time to buy is "when blood is running in the streets… even if that blood is your own," according to the Rothschild family now worth more than $400 billion.
Time and time again, the family kept cool heads during times of absolute panic, making a fortune from the Battle of Waterloo and countless other events.
I'll admit it's a hard maxim to follow. Your instinct is to follow the herd.
It's counter-intuitive to run into a burning house not knowing if you'll come out alive.
Right now, investors are running scared. But they're selling everything at the wrong time.
As Warren Buffett will tell you: "Be fearful when others are greedy and greedy when others are fearful."
Every one is afraid of the burning house.
But now is the time to buy.
Why am I so confident in gold?
I've been trading the yellow metal since it priced at just $650.
It wasn't difficult to understand that an influx of cheap money and global crises would send gold screaming above $1,000… $1,250, $1,500 or even $2,000.
By August 2011, I told investors to sell gold around $1900, noting:
Gold has simply run up too far, too fast. It's up close to 35%, or $500, since January 2011. And it's up close to 18% in just the last few weeks. It broke $1,900 the other night, less than two weeks after hitting $1,800.
The herd is far too bullish. Gold margins could get hiked again. It's technically overdue for a significant pullback on overextended conditions. Just look at the Bollinger Bands, RSI, and MACD reads. Gold has rallied too far, too fast.
All gold did was overshoot the channel at $1,900, put in a double top, and refill a bullish gap around $1,670.
I knew that a pullback was imminent.
The world wasn't coming to an end; gold simply had to pull back. That's it.
I am convinced that those buying gold under $1,600 are being handed a gift because the "flight to safety" to the crushed dollar…
A month later, gold was down to $1,600.
Oddly enough, investors followed billionaire John Paulson into gold around $1,850 around the same time.
Gold would sink, wiping out millions.
Interesting to note, Paulson's gold fund fell about 65% in 2013 after another disastrous call. I'm sure he'll make up for it. But still…
The "herd mentality" of Wall Street forced investors into told at $1,800. They weren't paying attention, though.
They bought as greed took over. They were swept up with the herd.
Catalysts are still in place…
Smart investors are buying gold here and on pullbacks because nothing has changed.
Higher prices are on the way for patient investors.
How can the bull market in gold be over when the only solution to our global issues is buying more debt, and printing more money, which devalues currencies and makes problems worse?
Don't listen to the mainstream press.
Gold still has room to run off recent lows. Buy the dips.
Consider the extreme amounts of pessimism in gold right now.
Instead of buying, the herd has ganged up against the metal. In fact, since the beginning of July 2013, the number of shorts has simply exploded.
The herd is ganging up on one side of the trade.
That's a contrarian investor's dream come true.
Sellers are caught up in the near-term potential of gold. Instead, they should be buying for the long-term.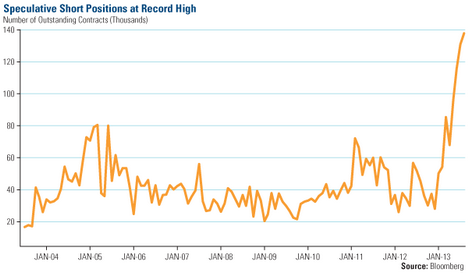 Global crises are still unfolding, the Fed continues to be accommodative, a very dovish Janet Yellen is likely to replace Ben Bernanke, cities are filing for bankruptcy, the dollar will crumble, and we're not exactly recovering.
Better still, gold is in backwardation. That is, the near-term contract for gold trades above the longer-term contracts.
This doesn't happen quite often…
Couple that with gold buying by investors in Asia, and the fact that China just approved two gold-backed exchange products last month and you can see why we're so bullish.
Gold will move higher off recent lows.
Buy all you can on dips. We'll be sure to show you exactly how to do that at Market Authority.
Click the Links Below to Review Professional Gold Trading Advisory Services and Resources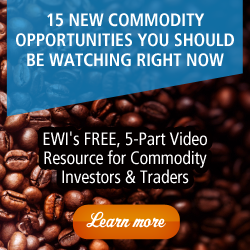 15 Commodity Opportunities You Should Be Watching Right Now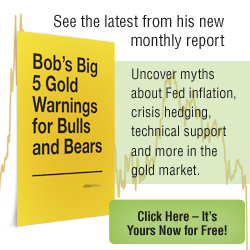 Bob Prechter's Big 5 Gold Warnings for Bulls and Bears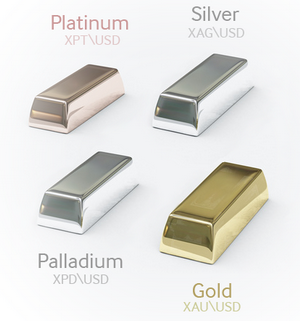 Intraday Forecasts on Gold Silver Copper and Aluminum
You get short, clear forecasts for the direction throughout the trading session, most with short-term Elliott wave-labeled charts. And you get precise support and resistance points, so you always stay in control of your position risk.

Instaforex Metatrader
Forex - Gold Silver Copper Oil - Commodities - Futures - NYSE CFD's
Industry standard Metatrader platform. ECN & Standard Spread Accounts. ECN Spreads As Low as 0.10 Pips. 3 Pip Standard Account Trading Spreads. Trade Gold Silver Copper Oil and Agriculture Commodities Also. Forex Analytics Buy Sell Trade Signals. Metatrader Expert Advisors Auto-Trading & Free VPS Service. Mobile SmartPhone Metatrader Software Trading. ForexCopy Trade Copier. Forex Training Course & Videos. Instaforex TV. Trading Contests. No Minimum Opening Account Balance. Easy Deposit Withdrawl. Earn Annual Interest Paid Monthly On Your Cash Account Balance. Swap-Free Accounts Available. Easy Online Adjustable 1:1 to 1:500 Leverage. Hedging Allowed. New Account Bonus Deposits. 24 / 6 Support