Click Here for a Free Trial of the "Profit Rockets" Stock Pick Service
Housing stocks have fallen from their recent highs report Zacks Investment Research. Yet builders like Hovnanian Enterprises, Inc. (HOV - Snapshot Report) are still expected to generate double digit earnings growth this year and in 2014. Is this stock weakness a buying opportunity?
Hovnanian and its brands, which include Brighton Homes, Parkwood Builders, Town & Country Homes and Oster Homes, is one of the most recognizable homebuilders in the United States. Founded in 1959, it has operations in 16 states, including the hot housing markets of California, Florida, Illinois, Arizona and Virginia, and the District of Columbia.
Big Beat in the Second Quarter
Hovnanian reports earnings outside of the normal earnings cycle. It reported second quarter earnings results all the way back on June 5. But it was a sign of things to come with the rest of the homebuilders as it easily beat the Zacks Consensus by 120%.
The company made a penny, beating the Zacks Consensus by 6 cents. The Zacks Consensus was looking for a loss of 5 cents.
Revenue was up 23.8% to $423 million. For the first six months of fiscal 2013, revenue rose 27.8% to $781.2 million.
Hovnanian was able to raise home prices in the quarter throughout the country to offset increases in labor or material costs. Homebuilding gross margin percentage increased 150 basis points to 18.9% from 17.4% in the second quarter of fiscal 2012.
Backlog also rose 23% to 2,827 homes compared to Apr 30, 2012.
The Turnaround is Here
The turnaround in earnings tells the story of the housing recovery.
Fiscal 2012: -$0.54
Fiscal 2013 Expected: $0.18
Fiscal 2014 Expected: $0.50
Fiscal 2013 is expected to be the first profitable year since 2006.
Shares are Down Double Digits from the 52-Week High
While shares rallied big into the end of 2012 as the housing recovery picked up steam, they've yet to reclaim the high hit on Jan 2, 2013 of $7.43.
Instead, shares have fallen about 29% from that high.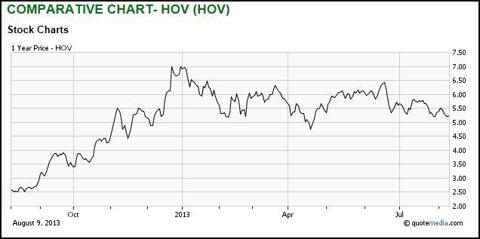 While Hovnanian is trading with a forward P/E of 29, investors aren't looking for value but are buying the expected 170% earnings growth this year and another 184% growth in fiscal 2014.
The summer housing market has been strong. We'll see just how strong on Sep 5, when Hovnanian is expected to report fiscal third quarter results.
The housing stocks seem to have lost their shine in recent weeks, but the fundamentals are still solid. Investors might want to keep this Zacks Rank #1 (Strong Buy) on their housing investment short list.
Click Here to Review More Financial Intelligence
Disclosure: I have no positions in any stocks mentioned, but may initiate a long position in HOV over the next 72 hours.