Crude Prices Fall Despite Supply Drop by Zacks Investment Research
The U.S. Energy Department's weekly inventory release showed that crude stockpiles logged a larger-than-expected decline. The report further revealed that within the 'refined products' category, gasoline stocks plunged, while distillate supplies were up from the week-ago level. Meanwhile, refiners unexpectedly scaled up their utilization rates by 1.6%.
Despite the supportive crude data from the U.S. government and the ongoing unrest in Egypt that could destabilize the resource-rich Middle East and further tighten the global supply picture, the commodity's price retreated back below $104 a barrel. This was mainly on account of the minutes from the Federal Reserve's July meeting that suggested that the U.S. may taper its monetary stimulus later this year.
Traders have voiced concerns that Fed's shift away from the bond buying policy may lead to dollar-denominated oil prices to increase in local-currency terms in emerging markets, thus slowing growth.
About the Weekly Petroleum Status Report
The Energy Information Administration (NYSEMKT:EIA) Petroleum Status Report, containing data of the previous week ending Friday, outlines information regarding the weekly change in petroleum inventories held and produced by the U.S., both locally and abroad.
The report provides an overview of the level of reserves and their movements, thereby helping investors understand the demand/supply dynamics of petroleum products. It is an indicator of current oil prices and volatility that affect the businesses of the companies engaged in the oil and refining industry.
Analysis of the Data
Crude Oil: The federal government's EIA report revealed that crude inventories fell by 1.43 million barrels for the week ending Aug 16, 2013, following a decrease of 2.81 million barrels in the previous week.
The analysts surveyed by Platts - the energy information arm of McGraw-Hill Financial Inc. (MHFI) - had expected crude stocks to go down some 1 million barrels. An uptick in refinery processing rates and lower domestic production led to the stockpile drawdown with the world's biggest oil consumer even as imports rose.
In particular, crude inventories at the Cushing terminal in Oklahoma - the key delivery hub for U.S. crude futures traded on the New York Mercantile Exchange - were down 1.09 million barrels from the previous week's level to 37.43 million barrels. Stocks are currently at their lowest since Mar last year and 27.8% under the all-time high of 51.86 million barrels reached in Jan.
As a result of the seventh weekly inventory decline in 8 weeks, at 359.06 million barrels, current crude supplies are at their lowest level since Aug. 31, last year. It is now down slightly (by 0.4%) from the year-ago period, though it is still close to the upper limit of the average for this time of the year. The crude supply cover remained at 22.7 days - same as in the previous week. In the year-ago period, the supply cover was 23.2 days.
Gasoline: Supplies of gasoline were down for the second time in as many weeks, as domestic consumption strengthened and imports dropped. This was partially offset by rise in production.
The 4.03 million barrels withdrawal - comfortably outpacing analysts' projections for a 1.5 million-barrels decrease in supply level - took gasoline stockpiles down to 218.40 million barrels. Notwithstanding this drawdown, the existing inventory level of the most widely used petroleum product is 7.7% higher than the year-earlier level and is in the top half of the average range.
Distillate: Distillate fuel supplies (including diesel and heating oil) were up 871,000 barrels last week, just short of analysts' expectations for a 1 million barrels rise in inventory level. The increase in distillate fuel stocks - the third in as many weeks - could be attributed to higher imports and production.
At 129.35 million barrels, distillate supplies are 3.4% above the year-ago level but is close to the lower limit of the average range for this time of the year.
Refinery Rates: Refinery utilization edged up 1.6% from the prior week to 91.0%. The analysts were expecting the refinery run rate to decrease 0.5% to 88.9%.
Stocks to Consider
Despite concerns, with spot crude price staying strong - at around $104 a barrel - brokerage analysts are likely to upgrade their forecasts on oil-weighted companies and related support plays, leading to positive estimate revisions.
While all crude-focused stocks - including behemoths like Exxon Mobil Corp. (NYSE:XOM) and Chevron Corp. (NYSE:CVX) - stand to benefit from rising commodity prices, companies in the exploration and production (E&P) sector are the best placed, as they will be able to extract more value for their products.
In particular, one can look at Matador Resources Co. (NYSE:MTDR) - a small-cap, undervalued E&P player - as a good buying opportunity. Dallas TX-based Matador Resources, sporting a Zacks Rank #1 (Strong Buy), with current focus on the high-return Eagle Ford shale formation in South Texas, is expected to witness earnings growth of 287% in 2013.
Moreover, a price-to-book (P/B) ratio of just 2.5 suggests that the stock is still undervalued. In fact, shares of Matador Resources have risen from $12.78 to $17.29 since we recommended it on Crude Prices Surge: 3 Stocks to Buy Now on Jul 22.
Click the Links Below to Review Energy Markets Advisory Services and Alternative Energy Products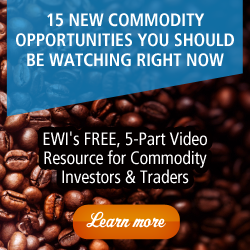 15 Commodity Opportunities You Should Be Watching Right Now

Buy Sell Signal Trade Plans for Crude Oil Futures
We hand-pick and call two very successful Forex markets (EURUSD and EURJPY) and two high-performing Futures markets (Crude Oil and Russell eMini) during the week, Monday through Friday. Specifically, here's the schedule: At 8:30 EST, we begin trading two Forex markets; EURUSD and EURJPY. At 8:50 EST, we begin trading Crude Oil Futures. At 9:30 EST, we begin trading our Russell eMini trade plan