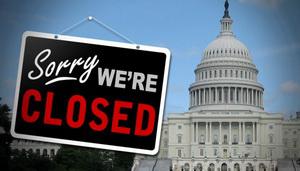 October 07, 2013 - U.S. Dollar and Government Shutdown: By the Book by Elliott Wave international
Here's what Jim Martens, the editor of our Currency Specialty Service posted for subscribers on Monday (Sept. 30), hours before the government shutdown (emphasis added):
The economic calendar is light this week. The most important release is the monthly jobs data due Friday morning.
But the jobs data is not the headline event for the week. It's the potential for a government shutdown at midnight tonight.
How will the dollar react to a shutdown? How will it react to an agreement that keeps it open? I don't think anyone can answer either question with confidence. Besides, "react" is a wrong word here.
What we do is look at where the buck is located within the Elliott wave roadmap. That will dictate its direction.
I see the dollar vulnerable relative to the heavily weighted currencies within the U.S. Dollar Index (EUR, GBP and CHF). But, the USD is late within its current decline sequence, as this chart shows: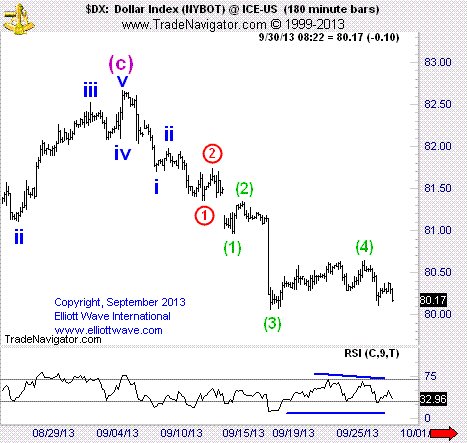 The dollar may weaken further, but in a fifth wave -- which is an ending movement. So it appears the dollar is poised to weaken, shutdown or no shutdown, but only to complete a larger decline sequence.
We'll be watching momentum. The indicator typically reaches its extreme toward the end of third waves, which normally represents the strongest wave in the sequence, and diverges during fifth waves. The divergence points out that wave five is weaker than wave three and warns the larger move is coming to an end.
Based on that typical fifth-wave divergence, the dollar's momentum may diverge on a move beneath 80.06, which would warn us that the downside potential (on this short-term timeframe) will prove limited.
And here's what the U.S. dollar did after the news of the shutdown was announced. This is the same chart you see above, updated: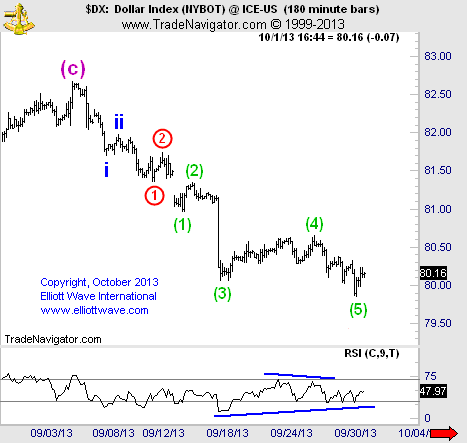 This is another example of the collective psychology of the marketplace unfolding exactly as Elliott waves have predicted.
Wave analysis is not perfect. What it offers you is a "roadmap," as Jim Martens puts it above. There might be a "detour" or two ahead, but having a map is better than having none.
Click here to get the latest forecasts for EUR/USD and 10 other forex pairs now inside our forex-focused Currency Specialty Service.

Long and Short Intra-Day NYSE Stocks Trading System
Test for two full months of these income trades for yourself. Published by Dr. Adrian Manz, this is an Intra-Day trading system that trades pure stocks on the NYSE exchange, you can set up automatically the night before the market opens the next day.