The dollar trade stable holding just below two-week highs against major currencies on hopeful signals of progress toward averting a possible U.S. debt default.
Asian shares: Japan's Nikkei 1.48%, Hong Kong's Hang Seng 1.24%(07:10 GMT), Korea's Kospi 1.17%, Australia's ASX 200 1.60% and China's Shanghai 1.70%.
House leaders were huddled in House Speaker John Boehner's office after presenting their plan for a short-term hike in the debt limit to avoid a potential default to President Barack Obama. The New York Times later reported Obama had rejected the plan, but Republican Paul Ryan told reporters Obama had neither accepted or rejected the proposal.
Hopes raised by the Republican offer helped major U.S. stock indexes mark their biggest gains in more than nine months.
Consumer prices in Germany rose by 1.4% in September 2013 compared with September 2012.
John Williams, the president of the San Francisco Fed and a policy centrist, on Thursday said politicians in Washington are playing a "very, very dangerous game" with their brinkmanship, and said the failure of the government to pay its bills could undermine world confidence in the U.S. dollar, and in the extreme could cause a global financial panic. "I would hope that Congress and the politicians would come to agreements that would last longer than six weeks, to add a little bit more certainty to the environment."
St. Louis Fed President James Bullard also had strong words for Congress. "It's just imperative that we do not go in this direction and get into a situation where we're not paying some of our bills," Bullard said, noting the U.S. dollar is the world's reserve currency and the United States is seen as a safe-haven investment. "There's no reason to let a self-inflicted wound put that at risk," he said. "We want to protect our international reputation ... and get this thing done."
The U.S. government was partially shut for a 10th day on Thursday.
Mario Draghi: European area pace of recovery subdued, uneven and fragile Monetary policy accompanies reform process. Outlook for nascent recovery Inflation expectations are firmly anchored. Credit dynamics remain weak. Countries must continue structural reforms and continue on banking union. Inflation will stay subdued in medium term. ECB has committed to low rates for extended period, has adopted explicit communication on rates. Forward guidance doesn't mean ECB is at lower bounds, has explicit easing bias.
Regling: Greece will likely need a 3rd rescue next year.
BOJ'S Kuroda doesn't expect US default, but if happened wouldn't change collateral policy.
China is poised to post its first slowdown in export growth in three months, a result that may understate the strength of demand after fake reports inflated figures in the year-earlier period. Overseas shipments probably grew 5.5 percent in September from a year earlier, according to a Bloomberg News survey.
Watch today: IMF and World Bank meetings, US consumer sentiment.
Click the Links Below to Review Forex Signals FX Brokers and Trading Education Courses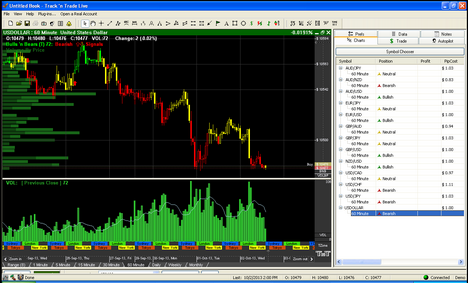 Track n Trade Live Forex Bulls Bears Signals
Bulls 'n Bears. Proprietary formula generates user-definable Buy/Sell signals. Red Light/Green Light system identifies trends. Ribbon indicator displays trend strength. Advantage Lines. Japanese Candlestick Auto-Recognition. Automatically identify and catalog candlestick formations. User-Definable Buy/Sell Signals with candlestick patterns. Apply external filters to help eliminate unwanted or overly aggressive signals. Autopilot forex trading. Back-test your favorite systems. Any changes to settings update automatically on-the-fly.

Forex Buy Sell Signal Alerts Free Trials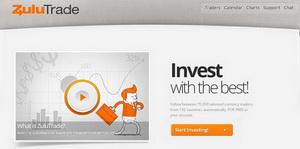 ZuluTrade Forex Accounts from Multiple Brokers All with Free Buy Sell Signals
Autotrade the Forex market like never before! Let ZuluTrade drive trades by specialists into your FX account for free. ZuluTrade bridged the gap between valuable information in money markets and trade execution, by converting the advice of professional and talented traders globally to an executed trade rapidly and automatically in your account.
Van Tharp Institute
Investing Trading Home Study Programs & Live Seminars Workshops
Dedicated to cutting edge, high quality professional educational investing trading programs for traders and investors providing a road map for financial freedom. The finest investing trading education in the financial universe. Dr Van Tharp is one of the orginal Market Wizards, and referred to as the Traders Coach.
Steve Nison Candlecharts Forex Candlestick Charting Training Mega-Course
NEW candle pattern insights, such as the order of power of candle signals so you'll know how much confidence to have in any candle setup. NEW trading psychology revelations, lets you quickly and accurately read the market's message to accelerate your analysis. NEW simple-to-follow systems, like my simple 5-Step Trading Checklist to give you a step-by-step method of maximizing your opportunities for success. Candlestick Trading System for Beginners to Pro-Traders. It doesn't matter if you're a complete beginner or pro-trader. These new DVD Training Programs will give you the Simple Candlesticks "4-Step Success System"