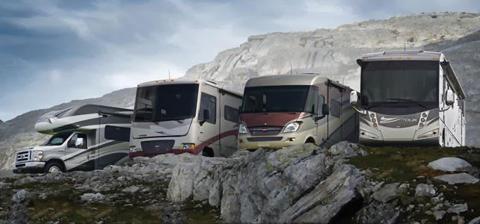 Click Here for a Free Trial of the "Profit Rockets" Stock Pick Service
What's one of the hottest big ticket items right now? Motorhomes. Winnebago Industries, Inc. (NYSE:WGO) is cashing in on aging Baby Boomers and the lure of the open road. This Zacks Rank #1 (Strong Buy) can hardly keep up with demand, as its backlog jumped 130% in the fiscal fourth quarter.
Winnebago's brand recognition is so strong that when you think of RVs it's the first name that comes to mind. Founded in 1958 in Iowa, Winnebago manufactures a variety of recreation vehicles ("RVs") including motorhomes, travel trailers and fifth wheel products.
Given consolidation in the industry during the Great Recession, Winnebago was able to add to its market share and now has about 20% of the RV market.
Baby Boomers And The Economic Recovery
Motorhome sales peaked in 2004 at 69,000 and plunged during the Great Recession. By 2011, only 25,000 motorhomes were shipped. But that number is expected to slowly rise as the economy improves and the Baby Boomers age.
The key segment of RV buyers is 55 to 64 years of age. The Baby Boomers are just on the cusp of reaching that age range right now with more to come in the next few years. That's a built-in market for RVs.
Additionally, with the stock market at record highs and the housing market recovering in many major metropolitan areas, Baby Boomers finally have the cash to take to the road.
All of this adds up to good things for the RV manufacturers. The RV and manufactured home industry has a top Zacks Industry Rank of 2 out of 265 industries.
Big Beat in the Fiscal Fourth Quarter
On Oct 17, Winnebago reported its fiscal fourth quarter 2013 earnings and blew by the Zacks Consensus Estimate by 35%. Earnings were $0.38 compared to the consensus of $0.28.
Revenue for the quarter soared 31.8% to $214.5 million from $162.5 million. For the full fiscal year, revenue jumped 38.1% to $803.2 million from $581.7 million.
The company has introduced new products, which are proving to be very popular among consumers. Motorhome shipments were up 31% year over year to 2010 units.
Inventory at dealerships also rose 38% as dealers couldn't keep product on the lots. And there was STILL a huge backlog which grew to 3380 units.
Shares at 5-Year Highs
Demand for motorhomes is expected to continue into fiscal 2014. Analysts expect earnings to grow another 10.6%.
Shares have been hot, hitting 5-year highs on the solid Q4 earnings report.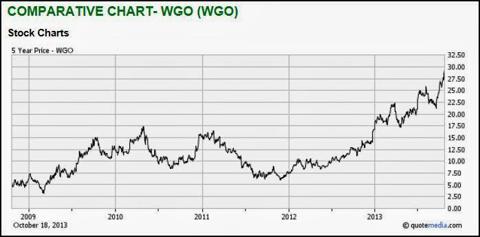 Winnebago is trading at 23x forward estimates but has a price-to-sales ratio of just 1.0. A P/S ratio of 1.0 or less usually indicates a company is undervalued.
For investors looking for a way to play the improving economy, including the housing recovery, Winnebago is one to keep on the short list.
Click Here to Review More Financial Intelligence
Disclosure: I have no positions in any stocks mentioned, but may initiate a long position in WGO over the next 72 hours.