Using Fundamentals and Technicals to Build a Better Trading Strategy by Market Authority
There are two ways we value investments - fundamentally and technically. Both play an important role in executing profitable trading strategies. I'm going to give you a brief overview of each approach and then show you how the strategy uses a mixture of both to evaluate trading ideas.
Fundamental analysis is widely known as the cornerstone of investing, and the greatest fundamental investor of our time is Warren Buffett. From investopedia.com, fundamental analysis "is a technique that attempts to determine a security's value by focusing on underlying factors that affect a company's actual business and its future prospects… The term simply refers to the analysis of the economic well-being of a financial entity as opposed to only its price movements." Fundamental analysts look at metrics such as revenues, profits, debt ratios, and the change over time in these metrics to determine whether to make an investment.
On the other hand, technical analysis looks at past prices and volume to predict future activity. The technical analyst, or chartist, doesn't take into account the intrinsic value of the stock, but is more concerned with the locations of buyers and sellers in the past.
If you were at a grocery store, the fundamental analyst would be examining each food item before determining what to buy. The technical analyst would be sitting at check out monitoring what everyone was buying and then make an investment prediction.
Now both of these approaches are important in determining when to buy, sell, or hold. However, your time frame is what determines whether you rely more heavily on fundamentals or technicals.
Technicals are more valuable to investors with shorter time frames, while the fundamental investor can sometimes wait years before his investment pans out.
Since we have short time frames (5 day holding periods)- we first choose stocks with strong technicals. Stocks that have been in a consistent uptrend over various time frames. These stocks have the highest chance of trading higher in the next 5 days. A chart that looks like Delta Airlines (NYSE:DAL)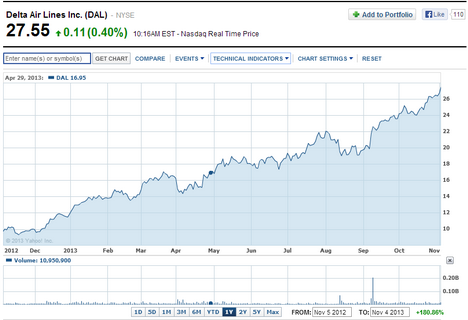 Witness how DAL is consistently higher over various time frames (1 month, 3 month, 6 month). This is indicative of a shift in investor sentiment and a good predictor of higher prices in the short-term.
However, technicals aren't all that matters. The system also looks for stocks with growing fundamentals to match the growing stock price.
Using DAL as an example, here are the fundamental trends in the stock that are pushing this price move…
1. Mergers have made the remaining airlines more efficient and profitable.
2. Capacity cuts.
3. Price wars are over.
4. Strong traffic.
Even after the big run-up this year, DAL is fundamentally cheap as it's valued at just 8x next year's earnings.
This is a lower valuation than competitors like United (10x forward earnings) and Spirit (15x forward earnings).
As you can see, a profitable approach utilizes both methods of looking at investments.

Long and Short Intra-Day NYSE Stocks Trading System
Test for two full months of these income trades for yourself. Published by Dr. Adrian Manz, this is an Intra-Day trading system that trades pure stocks on the NYSE exchange, you can set up automatically the night before the market opens the next day.