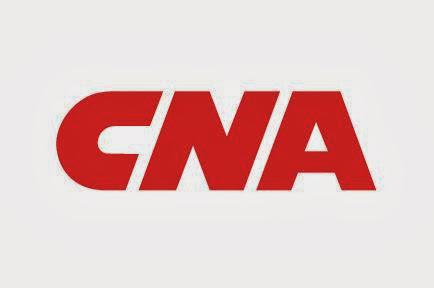 Click Here for a Free Trial of the "Profit Rockets" Stock Pick Service
Although recent troubles with the Affordable Care Act's rollout have called into question some in the insurance world, companies in the property and casualty segment are looking quite strong. And with some positive trends on the interest rate front, this could definitely continue into the near future.
That is why investors might want to consider this impressive industry for exposure, as it currently has earned itself a top five (out of over 250) industry rank, putting the property/casualty space into the top 2% of all industries. While there are a number of great choices in this space, one company, CNA Financial (NYSE:CNA), stands out as a great pick at this time.
CNA in Focus
CNA is a Chicago-based firm (which is actually a Loews (NYSE:L) subsidiary) that provides insurance products to businesses and middle market organizations both in the U.S. and internationally. It focuses on property insurance, management and professional liability insurance, and also risk management services as well.
This has been a pretty solid combination for the company, and CNA had another great quarter at its latest quarterly earnings release. In this release, the company easily beat estimates, reporting earnings of $1.00/share, crushing our consensus estimate of 76 cents a share.
"CNA's third quarter results reflect improved earnings and sustained progress in our core P&C business performance," said Thomas F. Motamed, Chairman and CEO of CNA Financial Corporation. "We are pleased with these results and are encouraged by the margin improvement, the ongoing favorable rate trends, and the continued shift in our book of business toward focus customer segments."
Can this continue?
Given the positive trends in the P&C corner of the insurance market, there is plenty of hope that CNA can continue to increase earnings and push its stock to new heights. And if you look at the recent earnings estimate trend, analysts are clearly believers as well.
All the estimates we have on the company have gone higher in the past 60 days, with not a single estimate going lower. This has pushed the consensus sharply higher too, with the current year earnings consensus moving from $3.11/share 30 days ago to $3.36/share today.
Investors should also note that while the company doesn't have a spotless track record at earnings season, it is definitely on the right track as of late. It has put up three consecutive (and solid) beats at earnings season, suggesting that the issues of last year are far behind this surging company which appears well-positioned for further growth.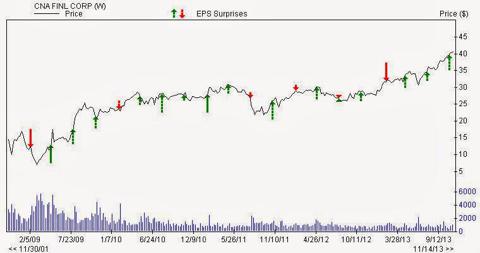 Other factors
Investors should also note that 2013 has been pretty kind to insurers in general, as there have been few major disasters in the U.S. which would cause a hit to claims. This is in sharp contrast to last year, and it is one of the chief reasons for why CNA is going to see such solid earnings growth for the current quarter when compared to last year.
CNA also has an extremely low forward PE suggesting that it is a pretty solid value, as this comes in at just 12.2. This is especially impressive considering that earnings are expected to grow by double digits this year, while the dividend yield here is a robust 2%, suggesting it could be an interesting pick for investors looking for a lower risk play.
Bottom Line
Events are shaping up pretty nicely for the insurance industry thanks to rates, few payout events, and surging investment portfolios. There are certainly a number of companies that play off of this trend, but one that you may have overlooked is CNA Financial.
Thanks to the above factors, CNA has earned itself a top Zacks Rank #1 (Strong Buy), and could definitely continue to outperform.So while CNA might not be as famous as some other insurers in the space, its solid earnings outlook and value characteristics could make it a great buy to close out the year for investors who want to get on this impressive trend.
Click Here to Review More Financial Intelligence
Disclosure: I have no positions in any stocks mentioned, but may initiate a long position in CNA over the next 72 hours.