The greenback rose against Japanese Yen to 101.91 yen on Monday, its highest level in six months. The yen is one of this year's worst performing currencies against the dollar, with its year-to-date losses at about 18 percent. That's just after the Indonesian rupiah, which has slid just over 20 percent against the greenback.
Asian shares: Japan's Nikkei 1.54%, Hong Kong's Hang Seng -0.05%, Korea's Kospi 0.49 %, Australia's ASX 200 0.30% and China's Shanghai -0.47%.
ECB's Noyer says EZ has low inflation not deflation. ECB does not want overall inflation to become so low it turns into deflation. We see risks that low inflation could remain for some time. if inflation moves into negative territory in sustained fashion it would be "extraordinary difficult situation". When conventional monetary policy does not have traction we have to invent means to achieve price stability.
ECB Coeure: Low inflation means the European Central Bank plans to keep interest rates at current low levels or may even cut them further.
ECB Asmussen: ECB, which cut interest rates to a record low earlier this month, was ready to take further action if necessary and instruments at its disposal included negative deposit rates.
French manufacturing Confidence indicator 98 Nov vs. 97 expected, 98 in Oct.
Currency speculators have ramped up bets on the dollar strengthening against other currencies to their highest level in two months, the latest sign of bullish sentiment towards the U.S. currency making a comeback. The value of the dollar's net long position rose to $17.10 billion in the week ending November 19, up from $14.46 billion the previous week and the highest since the week ending September 10, data released from the Commodity Futures Trading Commission late on Friday showed. Speculators hold the largest amount of long-dollar, short- yen positions in six years. Expectations for an unwinding of U.S. monetary stimulus in the next few months have renewed interest in the dollar after the currency fell in October. And the dollar's firm break above 100 yen last week has encouraged dollar bulls.
BOJ's Kuroda: Expects inflation target of 2% could be reached in late fiscal 2014 or early 2015. Has expressed willingness to adjust QE as necessary, if necessary, up or down depending on risks. We don't know exact impact implication on negative short term interest rates on economy and markets. Negative interest rates may have been possible, experimented with in some nations in the past, but that's only to a small extent and for quite a short time.
China Financial News: PBOC to expand yuan trading band to above 3%.
Iran agrees to curb nuclear activity at Geneva talks.
Swiss voters reject proposal to limit executives' pay.
AUDUSD posting new session lows of 0.9122, not seen since first week of September.
Global monetary authorities' enduring interest in the Aussie dollar is hindering efforts by Australia's central bank to curb the currency's strength. Westpac Banking Corp., the country's second -biggest bond underwriter, said the number of central banks it interacts with has tripled to about 60 over the past three years. Central banks bought more than a quarter of the 2033 Australian Commonwealth government bonds offered in a record sale last week, the country's funding arm said.
Click the Links Below to Review Forex Signals FX Brokers and Trading Education Courses

Forex Buy Sell Signal Alerts Free Trials

Forex Sensation Expert Advisors Championship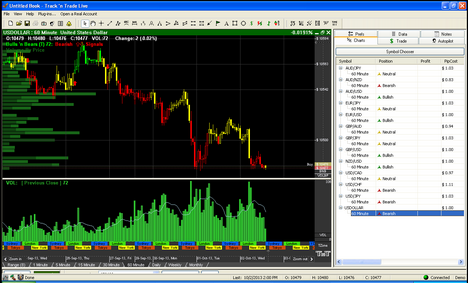 Track n Trade Live Forex Bulls Bears Signals
Bulls 'n Bears. Proprietary formula generates user-definable Buy/Sell signals. Red Light/Green Light system identifies trends. Ribbon indicator displays trend strength. Advantage Lines. Japanese Candlestick Auto-Recognition. Automatically identify and catalog candlestick formations. User-Definable Buy/Sell Signals with candlestick patterns. Apply external filters to help eliminate unwanted or overly aggressive signals. Autopilot forex trading. Back-test your favorite systems. Any changes to settings update automatically on-the-fly.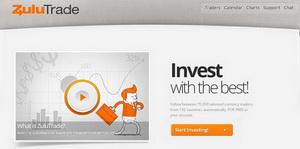 ZuluTrade Forex Accounts from Multiple Brokers All with Free Buy Sell Signals
Autotrade the Forex market like never before! Let ZuluTrade drive trades by specialists into your FX account for free. ZuluTrade bridged the gap between valuable information in money markets and trade execution, by converting the advice of professional and talented traders globally to an executed trade rapidly and automatically in your account.
Van Tharp Institute
Investing Trading Home Study Programs & Live Seminars Workshops
Dedicated to cutting edge, high quality professional educational investing trading programs for traders and investors providing a road map for financial freedom. The finest investing trading education in the financial universe. Dr Van Tharp is one of the orginal Market Wizards, and referred to as the Traders Coach.
Steve Nison Candlecharts Forex Candlestick Charting Training Mega-Course
NEW candle pattern insights, such as the order of power of candle signals so you'll know how much confidence to have in any candle setup. NEW trading psychology revelations, lets you quickly and accurately read the market's message to accelerate your analysis. NEW simple-to-follow systems, like my simple 5-Step Trading Checklist to give you a step-by-step method of maximizing your opportunities for success. Candlestick Trading System for Beginners to Pro-Traders. It doesn't matter if you're a complete beginner or pro-trader. These new DVD Training Programs will give you the Simple Candlesticks "4-Step Success System"