Japan's Nikkei 0.83%, Hong Kong's Hang Seng -0.20%, Korea's Kospi -0.63 %, Australia's ASX 200 0.66% and China's Shanghai -0.45%.
The euro edged higher against the dollar on Monday after two days of losses, lifted by euro zone data showing business activity picked up, while uncertainty over the Federal Reserve's economic stimulus program kept investors wary of the greenback. The Fed goes into a two-day meeting starting on Tuesday and market participants have started to price in the possibility that it will opt for a small reduction in its bond purchases.
Industrial Production in U.S. increases 1.1%, most in a year. Industrial production climbed in November, a sign manufacturing is bolstering the world's biggest economy. Output at factories, mines and utilities rose 1.1 percent after a revised 0.1 percent gain in October that was previously reported as a decline, a report from the Federal Reserve showed today in Washington.
Empire Fed misses for fifth time in a row, cites weak Labor Market as Obamacare concerns get louder. After posting a surprising drop in November to -2.21, or only its first negative print since a freak first half of 2013 aberration, the spin was quick to explain away the drop with the government shutdown, which surprisingly affected precisely nothing else in the economy but just a few diffusion indices (and led to epic surged in various PMI prints).
Euro zone business recovery ends year on a high - PMI. The fragile recovery in the euro zone's private sector is ending the year on a high as new orders flood in, but the chasm between the bloc's two biggest economies has widened, surveys showed on Monday. Purchasing Managers' Index , which gauges business activity across thousands of companies large and small, rose to 52.1 in December from 51.7 last month. It was the second-highest reading since mid-2011.
This is the last full trading week of the year, but it should be a pretty interesting one. The Fed stands tall over the agenda, their two day meeting starting tomorrow. The prospects of the Fed reducing the amount of monthly bond purchases (tapering) have increased through December, this being reflected in the rise in the 2 year yield in the US through December. Analysts say that the chances of this happening are at 40%. The impact of this would immediately be felt on the dollar (firmer) and also equities (weaker).
Australian Treasurer Joe Hockey: recent Australian Dollar fall, low rates should ease some pressures.
RBA Kept Rate Cut Option Open as Aussie 'Uncomfortably High'. "Given the substantial degree of policy stimulus that had been imparted, it was prudent to hold the cash rate steady," the Reserve Bank of Australia said in minutes released today of its Dec. 3 meeting, where it held the rate at a record-low 2.5 percent.
$AUD falls to the biggest loser of Monday's Forex trading.
New Zealand Fin Min English GDP forecasts to peak at 3.6% in 2015. Raises expectations for budget surpluses in 2014-2015. Also, he remarks after upgrading growth, budget surplus that RBNZ likely to hike rates in 2014...
Canada FinMin Flaherty says recovery will proceed slowly.
Brent crude oil rose by 1.5 percent on Monday, lifted by expectations for rising demand that sprang from stronger European economic data, while supplies from Libya remained sharply curtailed.
Watch movers for today: German sentiment ZEW, US CPI, UK CPI and EZ CPI!
Click the Links Below to Review Forex Signals FX Brokers and Trading Education Courses

Forex Buy Sell Signal Alerts Free Trials

Metatrader Expert Advisors is a autotrade forex trading system written in MetaQuotes Language 4 mql linked up to a Metatrader Forex Trading Platform.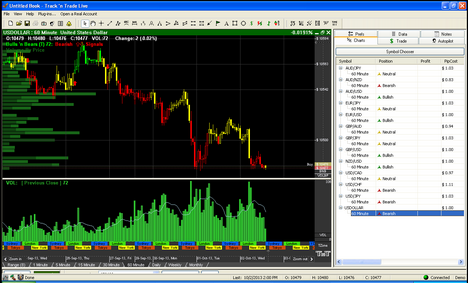 Track n Trade Live Forex Bulls Bears Signals
Bulls 'n Bears. Proprietary formula generates user-definable Buy/Sell signals. Red Light/Green Light system identifies trends. Ribbon indicator displays trend strength. Advantage Lines. Japanese Candlestick Auto-Recognition. Automatically identify and catalog candlestick formations. User-Definable Buy/Sell Signals with candlestick patterns. Apply external filters to help eliminate unwanted or overly aggressive signals. Autopilot forex trading. Back-test your favorite systems. Any changes to settings update automatically on-the-fly.
Steve Nison Candlecharts Forex Candlestick Charting Training Mega-Course
NEW candle pattern insights, such as the order of power of candle signals so you'll know how much confidence to have in any candle setup. NEW trading psychology revelations, lets you quickly and accurately read the market's message to accelerate your analysis. NEW simple-to-follow systems, like my simple 5-Step Trading Checklist to give you a step-by-step method of maximizing your opportunities for success. Candlestick Trading System for Beginners to Pro-Traders. It doesn't matter if you're a complete beginner or pro-trader. These new DVD Training Programs will give you the Simple Candlesticks "4-Step Success System"
Van Tharp Institute
Investing Trading Home Study Programs & Live Seminars Workshops
Dedicated to cutting edge, high quality professional educational investing trading programs for traders and investors providing a road map for financial freedom. The finest investing trading education in the financial universe. Dr Van Tharp is one of the orginal Market Wizards, and referred to as the Traders Coach.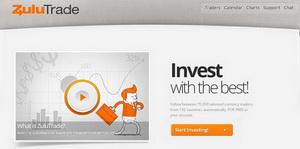 Forex Accounts from Multiple Brokers All with Free Buy Sell Signals
Autotrade the Forex market like never before! Let ZuluTrade drive trades by specialists into your FX account for free. ZuluTrade bridged the gap between valuable information in money markets and trade execution, by converting the advice of professional and talented traders globally to an executed trade rapidly and automatically in your account.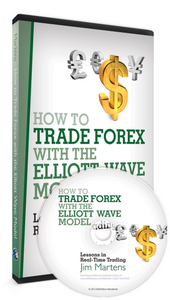 How To Trade Forex with the Elliott Wave Model
How to identify trends and countertrends across multiple time frames using the Wave Principle. How to spot high-confidence trade setups in both bull and bear markets. How to put your trade plan into action -- including your entry, exit, targets and stop levels -- with high confidence using Elliott wave and Fibonacci relationships. How to manage risk with the Wave Principle's built-in rules and guidelines. How to use mainstream news and cross-market analysis to give your forex trading a unique advantage.