3 Best Bargain Stocks for 2014 by Zacks Investment Research
With stocks having their best year since the mid-1990s, you might think that there's few stocks left that are truly a bargain.
Valuations trended higher throughout 2013 even as earnings rose. The S&P 500 is trading with a forward P/E of 16 which isn't exactly "cheap."
But even in a hot market, there are always stocks that are left behind. Some are ignored by investors because there is business trouble brewing at that particular company so they stay away. Others are in an out of favor industry or sector.
No matter the reason, a new year is always a good time to poke around in the bargain bin looking for deals. You might have to sort through a bunch of companies that aren't pretty to find the gems, but they are there.
What's a Bargain?
According to Dictonary.com, "bargain" is defined as: "an advantageous purchase, especially one acquired at less than the usual cost."
To be a "stock bargain", I looked for stocks trading with a forward P/E (that's looking at future earnings) under the average of the S&P 500, which would be stocks with P/Es under 16.
If it has a cheap price-to-sales ratio or price-to-book ratio, even better. I consider "cheap" to be a P/S under 1.0 and a P/B under 3.0.
I also only looked at Zacks Rank #1 (Strong Buy) stocks. Because, after all, why not buy companies where earnings estimates are rising into 2014? We want to own companies that are growing their earnings.
The 3 Best Bargains for 2014
1. Packaging Corporation
2. Tower International
3. Pacific Drilling
1. Packaging Corporation of America (PKG - Trend Report)
Packaging Corporation makes container board and other packaging products. The container board market hit a rough patch this fall as inventories rose, volumes flattened and prices looked ready to decline in November and December. The fourth quarter of the year is the seasonally slow period but this year was expected to be more difficult than normal.
However, November demand rebounded from October's decline. The container board companies also remained disciplined as inventories fell, a good sign heading into 2014. The analysts now believe that by maintaining production levels , the container board companies are keeping inventories under control. With inventories lean, that means they have pricing power.
After fears gripped the market in the fall that price declines were coming, prices remained flat in November and are expected to remain flat again in December.
Where's the bargain?
Forward P/E = 14.9
Earnings expected to grow 37% in 2014
Zacks Rank #1 (Strong Buy)
2. Tower International, Inc. (TOWR - Trend Report)
Tower is a Michigan-based auto parts manufacturer. It makes the frames and other chassis structures as well as welded assemblies for small and large cars, crossovers, pickups and SUVs for auto companies around the globe.
The auto sector both in North America and globally, has seen sales move higher the last few years. Analysts expect more of that in 2014. Yet investors haven't shown Tower much love. Shares have been flat since the summer but are dirt cheap.
Where's the bargain?
Forward P/E = 7.7
P/S = 0.2
Earnings expected to grow 24% in 2014
Zacks Rank #1 (Strong Buy)
3. Pacific Drilling S.A. (PACD - Trend Report)
Pacific Drilling is a Luxembourg headquartered ultra-deepwater drilling services provider. It operates 8 ultra-deepwater drillships. Analysts consider it to be one of the most technologically advanced of the drillers which is highly prized by the international oil companies.
The analysts expect demand for its rigs to remain strong into the future as the offshore drilling cycle has only recently revved up.
Energy has been ignored by investors. Because of that, some of the best bargains in the stock market are found in that sector.
Where's the bargain?
Forward P/E = 14
P/B = 1.1
Earnings expected to grow 101% in 2014
Zacks Rank #1 (Strong Buy)
Bargains DO Exist
When the stock market is red hot, don't get discouraged. There are ALWAYS stocks that are on sale. You just have to know where to look to find the bargains.

Dividend Paying Stocks Generate Real Cash and Build Wealth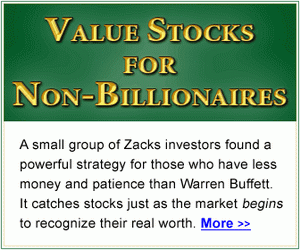 The Very Timely Profit Power of Selected Value Stocks

Free Trial Value Investing Stock Picks of Guru Investors
GuruFocus is dedicated to value investing. As employed by Warren Buffett, the greatest investor of all time, value investing is the only winning strategy for the long term. GuruFocus hosts numerous value screeners and research tools, and regularly publishes articles about value investing strategies and ideas. GuruFocus also publishes three newsletters: Monthly Ben Graham Net-Net, Buffett-Munger Best Bargains and Microcap Magic Formula Stocks.

Stock and Industry Analysis Reports Daily Technical Portfolio