Automotive Stock Forecast Outlook
Please Note: Blog posts are not selected, edited or screened by Seeking Alpha editors.
Long/Short Equity, Special Situations, Growth, Growth At A Reasonable Price
Seeking Alpha Analyst Since 2007
Michael Michaud is the founder owner of Invest2Success.com (http://www.invest2success.com/). He has been investing and trading in the financial markets since 1989.

He founded Invest2Success.com to empower independent and institutional investors traders to take control of their financial destiny by providing them education training mentorship and support for them to research analyze invest and trade in the markets successfully in the long-term.

As he says, "With knowledge, dated goals, a plan of action, then taking action, profitable investing and trading success will only be a matter of time."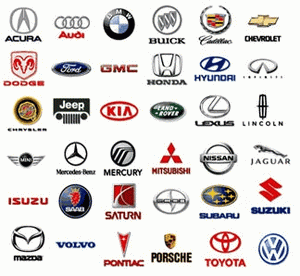 Stock Market Industry Sector Analysis Outlook Links
Click the stock industry sector links below to review current analysis and forecasts on stocks in those sectors.
Home Page Stock Sector Industry Forecast Outlook
Aerospace Defense Sector Industry Stocks
Alternative Energy Sector Industry Stocks
Business Services Sector Industry Stocks
Consumer Staples Sector Industry Stocks
Foreign Banks Sector Industry Stocks
Health Insurance Sector Industry Stocks
Homebuilders Sector Industry Stocks
Hotel Lodging Sector Industry Stocks
Mining Gold Sector Industry Stocks
Oil Gas Sector Industry Stocks
Pharma Biotech Sector Industry Stocks
Real Estate Investment Trust Sector Industry Stocks
Semiconductor Sector Industry Stocks
Telecom Sector Industry Stocks
US Bank Stocks Sector Industry Stocks
February 07, 2014 - Automotive Stock Forecast Outlook - by Zacks Investment Research
The automobile market recovered significantly in 2013 from the impact of the global financial crisis, buoyed by economic recovery and pent-up demand in the U.S. and Asia.
Japanese automaker Toyota Motor Corp. (TM) retained its market leading position in terms of global sales volume and sold 9.98 million vehicles during the year, up 2% over 2012 level. General Motors Company (GM) and Volkswagen AG (VLKAY) occupied the second and third positions, with sales volumes of 9.71 million and 9.7 million vehicles, respectively.
General Motors was the leading automaker in the U.S. in 2013 with annual sales of 2.8 million units. Ford Motor Co. (F) came in second with 2.5 million units, while Toyota slipped into the third position with registered sales of 2.2 million units.
Zacks Industry Rank - Neutral Outlook
The distinctive attributes of the auto industry prompted us to have a dedicated sector for the industry in our database. The automobile sector is one of the 16 Zacks sectors, unlike the S&P classification where autos are in the Consumer Discretionary sector (the S&P has 10 sectors vs. 16 for Zacks).
At the expanded classification level, the Zacks auto sector is divided into five industries: Auto-Domestic, Auto-Foreign, Auto/Truck-Original, Auto/Truck-Replacement and Engines. The level of sensitivity and exposure to different stages of the economic cycle vary for each industry. The sector's retail operations are part of the Zacks Retail sector in two industries -- one for Automobile/Trucks and the other for Auto Parts.
The current Zacks Industry Rank for Auto-Domestic is #184, Auto-Foreign is #231, Auto/Truck-Original is #54, Auto/Truck-Replacement is #23, Engines is #28, Retail/Wholesale Auto/Truck is #101 and Retail/Wholesale-Auto Parts is #224. As a reference point, the outlook for industries with Zacks Industry Rank of #88 and lower is 'Positive,' between #89 and #176 is 'Neutral' and #177 and higher is 'Negative.'
This implies that the general outlook for all auto-related industries varies significantly. We rank all 260-plus industries in the 16 Zacks sectors based on the earnings outlook and fundamental strength of the constituent companies in each industry.
Sector Level Earnings Trend
The auto sector is expected to contribute 2% of total S&P 500 earnings in 2013, more than its 1.5% market cap weightage in the index at present.
Looking at the overall results of the Auto sector, earnings surged 32.3% year over year in the third quarter of 2013, an impressive performance compared with the 18.5% year-over-year rise in the previous quarter. Total revenue increased 7% year over year in the third quarter versus a 4.7% year-over-year gain in the second quarter.
Based on the latest available information, 30% of the sector participants have already reported December quarter results with a beat ratio of 66.7% for both earnings and revenue. Total earnings for the companies that have reported so far have shown an 8.9% year-over-year increase on a 3.4% rise in revenues.
Auto sector earnings are expected to be up 20.3% in the fourth quarter while revenues are forecast to improve 4.4%, placing it among the winners in a whole bunch of 16 sectors covered by Zacks.
For the first quarter of 2014, earnings are expected to inch down 1.4% and decline further by 0.9% in the second quarter. Revenues are expected to move up 3.2% in the first quarter and 3.8% in the second quarter.
In 2014, earnings are expected to surge 11%, again putting it among the best performing sectors. However, revenue growth in 2014 is expected to be a modest 2.7%.
For more information about earnings for this sector and others, please read our 'Earnings Trends' report.
Opportunities
Market share concentration among a few companies makes the automobile sector highly competitive. The top 10 global automakers account for nearly 94% of total vehicles sold in the U.S. To remain competitive, automakers need to design technologically advanced and economic vehicles that cater to consumers in both mature and emerging markets.
To achieve this goal, Ford has undertaken the "One Manufacturing" strategy, which aims at producing multiple models in worldwide plants in order to reduce production expenditure and adapt swiftly to changing consumer preferences. The automaker aims to manufacture an average of 4.5 models at each of its plants by 2015.
Automakers are also concentrating on providing optional features (which will save gas) on small vehicles in order to attract buyers. The inclusion of these features provides scope for higher revenue generation from small cars, which have lower profit margins relative to large trucks.
In an attempt to reduce costs, automakers continue to shift production facilities from high-cost regions such as North America and the European Union to low-cost regions such as China, India and South America. According to a study by CSM Worldwide, China and South America together will contribute more than 50% of the growth in global light vehicle production between 2008 and 2015.
Apart from individual company strategies, the government plays a pivotal role in molding the future of global auto manufacturers. The energy and environmental policies of different countries will play a major role in shaping the future of the auto industry.
For example, in late 2011, 13 major automakers, including Ford, General Motors, Chrysler, BMW, Honda Motor Co. Ltd. (HMC - Trend Report), Hyundai, Jaguar/Land Rover, Kia, Mazda, Mitsubishi, Nissan Motor Co. Ltd. (OTCPK:NSANY), Toyota and Volvo, signed letters of commitment with the U.S. Government to upgrade the fuel economy in cars and light-duty trucks to 54.5 miles per gallon (mpg) by 2025. This has significantly affected the design and cost of new automobiles.
U.S. Market Recovery
Average age of vehicles on U.S. roads reached an all-time high of 11.4 years in Aug 2013. It continues to remain above 11 years at present and is expected to rise to 11.5 years by 2018, according to the forecasts made by IHS Automotive.
The high average age is resulting in high replacement demand for cars. Moreover, with the improvement in the general economic situation, banks are offering more car loans with lower interest rates.
Strong pent-up demand due to aging vehicles on U.S. roads, easier car financing and low gas price are boosting automobile sales in the nation. Improving macroeconomic conditions, such as low interest rates, improving employment rates and recovery of the housing market are also contributing to the sales growth.
Auto sales in the U.S. grew 8% to a six-year high of 15.6 million vehicles in 2013. Although extremely cold weather led to a 3% year-over-year decline in U.S. auto sales in Jan 2014, the outlook for 2014 remains good.
Toyota and Ford expect the growth rate to slow down in 2014. Ford expects U.S. industry volume to range between 16-17 million units in 2014, while Toyota expects it to be about 16 million. Meanwhile, GM expects industry sales in the range of 16-16.5 million in 2014.
Asia Promises High Growth
The Asian countries, especially China and India, are expected to account for 40% of growth in the auto industry over the next five to seven years. China is the biggest and fastest growing auto market in the world in terms of number of vehicles sold. In 2013, it became the first nation to surpass domestic sales of 20 million units.
The popularity of Ford's expanded product lineup in China boosted the automaker's sales by 49% in 2013. Ford expects Asia-Pacific (mainly China and India) to account for 70% of its global growth in this decade and generate 40% of its vehicle sales in four to five years.
The company expects its global sales to increase 50% to 8 million vehicles by 2015 on the back of the growth potential in Asia and the rising demand for small cars. The automaker anticipates small cars to account for 55% of the total sales by 2020. One-third of the small car sales are expected to come from Asia. Ford projects compact car sales in India to reach about 2 million vehicles in 2018, almost double from the 2013 level.
Moreover, Ford plans to boost exports of its engine production from India by shipping them to Europe. Currently, the automaker exports 40% of its India-made engines and 25% of its India-made cars to 35 countries. Further, to tap the growing Chinese market, Ford plans to triple its line-up in the nation by introducing 15 models by 2015.
Meanwhile, General Motors and its joint venture partners in China plan to invest $11 billion in the country by 2016 and launch about 17 new and upgraded car models as part of a major expansion program. In 2012, General Motors built two plants in China to increase production capacity by 20%. With the planned addition of four new plants, production capacity will increase further by 30% to 5 million vehicles whereas vehicle exports are expected to triple to 300,000 units by 2015.
Even Tesla Motors, Inc. (TSLA) is seeking a share in the lucrative Chinese market and started the reservation of Model S in the country in Aug 2013. The electric carmaker plans to open 10 to 12 stores in China by the end of 2014, including its flagship store in Beijing which was opened in Nov 2013. Tesla expects China to account for 30%-35% of its global sales growth in 2014.
In 2009, China overtook the U.S. as the biggest auto market in the world by sales volumes when the Beijing government introduced a stimulus package, including tax incentives for small cars. However, the incentives were scrapped in 2011 and the Beijing government imposed quotas on new car registrations in order to control traffic congestion. As a result, sales in China grew only 4.3% in 2012, lower than the 8% growth projected by the China Association of Automobile Manufacturers (CAAM) as well as the double-digit growth in 2009 and 2010.
Nevertheless, the nation recorded a 13.9% surge in vehicle sales to 21.98 million units in 2013. However, sales growth is expected to slow down to 8%-10% in 2014 as per CAAM. Efforts to control pollution and traffic congestion, along with caps imposed by several cities to limit new vehicle registrations are expected to affect sales.
Bailout Fund Repayments
General Motors Company and Chrysler received $62 billion from the U.S. government under the Troubled Assets Relief Program (TARP).
While the U.S. Department of Treasury has recovered $11.2 billion out of its $12.5 billion loan to Chrysler, the remaining $1.3 billion is unlikely to be retrieved. Meanwhile, the Department completed the divestment of its entire stake in General Motors in Dec 2013. The Treasury recovered a total of $39 billion out of its bailout loan of $49.5 billion to the automaker following its bankruptcy, thus, incurring a loss of $10.5 billion.
The U.S. Department of Energy (DOE) also lent more than $8.5 billion to a few automakers under the Advanced Technology Vehicles Manufacturing (ATVM) Incentive Program in order to reduce dependence on oil, curb greenhouse gas emissions and to create new jobs.
Ford utilized the DOE loan for retooling two plants for the production of small cars and developing fuel-efficient vehicles like Ford Focus EV and C-Max Energi plug-in hybrid. The automaker is repaying the loan in equal quarterly installments of $148 million and the full amount is expected to be repaid by Jun 15, 2022.
In May 2013, Tesla became the first DOE loan recipient ($465 million) to repay the full amount. Although the loan was repayable in quarterly installments till Dec 2017, the electric vehicle maker made an advance repayment of the entire outstanding balance using the proceeds from a common stock and convertible senior note offering.
Repayment of bailout funds is enhancing the financial flexibility and credit worthiness of these companies. The decline in debt will allow the companies to invest freely in growth opportunities.
Weaknesses
Although automakers continue to focus on shifting their production facilities to new regions driven by cost and demand factors, developing a supplier network in these unfamiliar regions remains one of their greatest challenges. Existing suppliers to automakers often lack the financial strength to expand capacity in new markets. On the other hand, auto parts suppliers are sensitive to technology transfers to local third parties, which can give rise to low-cost competitors.
High dependence on automakers makes auto market suppliers vulnerable to pricing pressure and production cuts. Pricing pressure from automakers constricts margins of parts suppliers. On the other hand, production cuts by automakers, driven by frequent market adjustments, negatively affect their operations.
Auto industry suppliers who are highly dependent on a few automakers such as General Motors, Ford, Chrysler and Volkswagen include American Axle and Manufacturing Holdings Inc. (AXL), Meritor Inc. (MTOR), Goodyear Tire and Rubber Co. (GT), Magna International Inc. (MGA), Superior Industries International Inc. (SUP), Tenneco Inc. (TEN) and TRW Automotive Holdings Corp. (TRW).
Future of Green Cars Looks Bleak
Rising fuel prices and global warming have turned attention to cars that either rely less on traditional fossil fuels or use cheaper renewable sources of energy. However, despite the U.S. Government's continued efforts to promote green alternatives such as fuel-efficient electric vehicles (EVs) and hybrid vehicles, prospects look bleak, at least in the near future. High car prices and improving fuel economy of non-hybrid cars are some factors that are hurting the sales of hybrids and EVs.
Globally, the hybrid market is ruled by Toyota (which includes Prius and Camry) and Honda (includes Civic and Insight hybrids). Meanwhile, other automakers such as Ford, General Motors and Nissan are also aggressively trying to drive hybrid sales. Some of the well-recognized "green" cars include Tesla Model S; Ford Focus, Fusion and C-MAX; Chevrolet Volt; Nissan Leaf and Daimler AG's (DDAIF) smart micro EV.
U.S. and Japan are the largest hybrid car markets in the world, while Europe is also emerging as a lucrative market.
However, the industry has witnessed some notable adverse developments in the drive for green technology. In Jan 2013, the DOE backed off from President Obama's stated goal of putting 1 million electric cars on the road by 2015 due to weaker-than-expected demand for plug-ins/EVs. According to Hybridcars.com, plug-in vehicle sales constituted less than 1% of the total passenger vehicle sales in the U.S. in 2013. The proportion declined from 3.3% in 2012.
The weak demand for plug-ins/EVs forced some lithium-ion battery makers to file for bankruptcy protection in 2012. They include A123 Systems Inc. and EnerDel, both of which were DOE grant recipients (A123 - $249.1 million; EnerDel - $118.5 million). It also led to writing down of the value of the third largest DOE grant recipient ($161.0 million), Dow Kokam, by chemical behemoth Dow Chemical (DOW - Analyst Report), which jointly operates the entity with TK Advanced Battery LLC since 2009.
Safety Recalls
Most of the major automakers have been plagued by a series of product recalls in recent years. In 2013, automakers recalled 22 million vehicles in 632 recalls. This represents a significant increase from 16.4 vehicles in 581 recalls in 2012.
The biggest victim of this problem is Toyota, which recalled maximum vehicles in both 2012 and 2013. The automaker recalled about 5.3 million vehicles in each of these years. Meanwhile, Chrysler led in terms of number of recalls, with a total of 36 recalls announced in 2013.
Automotive safety recalls were brought into focus by the media after Toyota's announcement of the then-largest global recall of 3.8 million vehicles in Sep 2009, which was triggered by a high-speed crash that claimed 4 lives. Later, in Oct 2012, the automaker announced a major worldwide recall of 7.43 million vehicles that included more than a dozen models manufactured between 2005 and 2010.
In Dec 2012, the U.S. Transportation Department slapped a $17.35 million fine on Toyota due to late response to safety regulators and a delay in recalling vehicles with a defect. According to safety regulators, it was the maximum allowable fine under the law for not initiating a timely recall. This was not the first time the company incurred heavy fines. Toyota also suffered a fine of roughly $48.4 million in 2010, imposed by the U.S. government, due to a late recall of millions of defective vehicles.
Toyota also agreed to a $1.1 billion settlement of a class-action lawsuit related to complaints of unintended acceleration in its vehicles. According to a plaintiff lawyer, the settlement is one of the largest in the history of automotive industry.
Following Toyota, recalls by other automakers such as Chrysler, Ford, General Motors, Honda, Volkswagen and Nissan also came into the limelight.
Ford in particular has been having problems with its popular sports utility vehicle (SUV) Escape of the model year 2013. The vehicle has been recalled seven times since it was redesigned and marketed in the spring of 2012. Further, Volkswagen's recent recall of 2.64 million vehicles was among the largest global recalls.
Economic Crisis in Europe
The Eurozone financial crisis adversely affected the operations of many global automakers, especially General Motors and Ford, who have a significant exposure to the market. Car sales in Europe continued to be low due to weak consumer confidence amid a weak economy.
According to the European Automobile Manufacturer's Association (ACEA), car sales in the European Union reached 11.85 million units in 2013, down 1.7% over 2012 and its lowest level since 1995. Most of the major automakers in Europe resorted to job cuts and plant closures, as it was no longer feasible for them to undertake full-fledged operations in the continent.
Among the U.S. automakers, Ford announced plans to cut production capacity by 18%, retrench 6,200 jobs and close three facilities in Europe. General Motors also took several initiatives to sustain profitability, including the closure of an auto factory in Germany in 2014, reduction of workforce and pay freeze across Europe. However, it also announced plans to invest 130 million euros ($175.4 million) in its German engine and parts plant in Kaiserslautern. Further, General Motors is pulling out its Chevrolet brand from the continent to focus on the expansion of its Opel brand.
Among the European automakers, Renault announced plans to retrench 7,500 jobs in France by 2016, while both Fiat and Peugeot decided to eliminate 1,500 jobs each. Among the Japanese automakers, Honda announced plans to terminate 800 jobs at its South Marston plant near Swindon, southwest England.
Unemployment in the European Union reached 26.55 million in Nov 2013, according to Eurostat. Of these, 19.24 million people were located in the euro area. The seasonally-adjusted unemployment rate in the European Union was 10.9% in Nov 2013, while it increased to 12.1% in the same month in the euro area from 11.8% in Nov 2012.
However, with the recent improvement in the European economy, things are beginning to look up for automakers. Car sales in Europe seem to have bottomed out and are expected to rise gradually with economic recovery in the Eurozone, although the process is expected to be slow.
In fact, car sales in U.K. and Spain witnessed improvements in 2013, although sales in Germany, France and Italy declined. Moreover, all these markets witnessed an increase in auto sales in Dec 2013.
Further, passenger car sales in Europe are expected to increase 2% in 2014.
Labor Union Woes
Frequent demands for wage hike and strikes by labor unions are concerns for automakers. The four-week strike towards the end of 2013 by a labor union in South Africa led to significant losses for automobile manufacturers as well as the South African economy. While Toyota lost over 700 car production daily, BMW lost almost 350 sedans. Nissan's daily output of almost 250 units in South Africa was also affected. The strike is estimated to have cost the industry almost 20 billion rand ($2 billion).
This was followed by a labor strike in the auto components industry, which also lasted for four weeks. The strikes have forced car makers to rethink their investment strategies for the nation. In Oct 2013, BMW announced the cancellation of its plans to expand in South Africa.
However, South Africa is not the only country where automakers are facing labor problems. General Motors has been facing trouble with labor unions in South Korea. Labor strikes in July resulted in production losses of over $90 million, forcing the company to reach a wage settlement, including yearly bonuses of 10 million Korean won ($9,000 million) per member.
Click Here for a Free Trial of Zacks Investment Research
Click the Links Below to Review Professional Industry Sector Advisory Services and Resources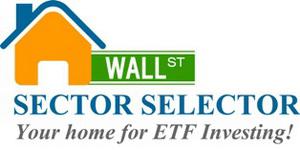 Wall Street Industry Sector Selector
Free email newsletter. John Nyaradi is Publisher of Wall Street Sector Selector: Professional ETF Trading, an online publication specializing in news, analysis and information regarding exchange traded funds. John's writes a weekly column for Investor's Alley, a widely read internet site, and his investment articles have appeared in many online publications including Dow Jones Market Watch, Trading Markets, Money Show, Yahoo Finance, Investors Insight, Fidelity, SeekingAlpha, ETF Daily News, iStock Analyst and many others.

Market Timing Signals & ETF Sector Rotation Investment Newsletter
The strategy behind the Sector Timing Report is a process of continuous upgrading your investment holdings to maximize portfolio returns. Our upgrading strategy works because as economic and market conditions change, new sector leaders rise to the top of our proprietary sector scoring system. We buy these top ranked sectors and hold them for as long as they outperform their sector peers. When a holding starts to drop in rankings we sell it and move on the the next hot sectors in the market. Rebalancing our holdings monthly keeps us in the latest leadership sectors at all times.

Profit From Zacks Investment Research Earnings Estimates Revisions
Free Trial
of Zacks a leading investment research firm focusing on equities earnings estimates and stock analysis for the individual investor, including stock picks, stock screening, portfolio stock tracker and stock screeners. "Earnings estimate revisions are the most powerful force impacting stock prices" Zack Investment Research Founder Leonard Zacks, Ph.D. Mathematics M.I.T.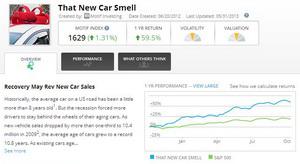 Automotive Industry Investing with Motif
A Motif is a portfolio of up to 30 stocks reflecting an investing idea. Pick an actionable idea from trends and events in our investing catalog. Customize a motif to your needs by adding deleting stocks or change portfolio weightings. The new easy low-risk high-profit way to invest in all types of new and old global energy stocks.
Seeking Alpha's Disclosure: Past performance is no guarantee of future results. No recommendation or advice is being given as to whether any investment is suitable for a particular investor. Any views or opinions expressed above may not reflect those of Seeking Alpha as a whole. Seeking Alpha is not a licensed securities dealer, broker or US investment adviser or investment bank. Our analysts are third party authors that include both professional investors and individual investors who may not be licensed or certified by any institute or regulatory body.