The Week that Was in the Stock Market and the Week Ahead By Market Authority
That was quite a week.
Let's go over the 5 day chart of the S&P to talk about levels for the week ahead.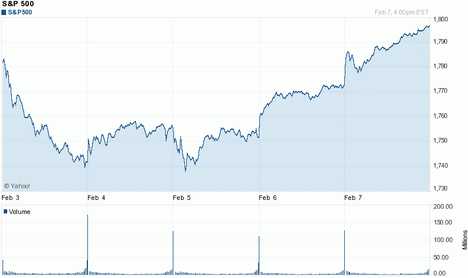 On Monday, the SP's broke through 1770 support and dropped to 1740.
On Tuesday, there was a feeble bounce, stopping short of 1760…
On Wednesday, anyone who bought Monday's lows and put their stops at 1740 were taken out as the market traded down in the morning. Since panic did not ensue, the market rebounded and stabilized in the afternoon.
On Thursday, the rebound continued stalling at 1770 resistance (support from Monday).
On Friday, the bears were steamrolled.
So here's what the market is looking at this week.
There is positive momentum from the weak unemployment report. Remember, bad news is still good news. If the economy is slower than currently anticipated, then there's less of a chance that new Fed Chairwoman Janet Yellen tapers the QE program.
Right now, the QE program's thresholds are 6.5% unemployment rate and 2% inflation. On Friday, the monthly unemployment rate was reported to be 6.6%, so we are getting close to the Fed's target. However, the 1.5% inflation rate is still a bit of a distance from their 2% target.
On Wednesday, we will hear the FOMC announcement which should provide investors with an update on QE. This is what's important - there's an outside chance that Yellen moves the Unemployment target to 6%. This could ignite a market rally, with the potential to see 1900 SP's by the end of the week.
However, ahead of the meeting on Monday and Tuesday, I'm looking for some consolidation as the market usually doesn't trade up in a straight line.. On top of that, the market will be hitting resistance in the 1800-1810 range, as you can see on this 3-month chart.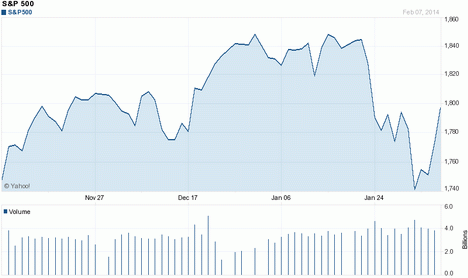 It would be sensible that buyers from 1740-1750 range will look to lock in profits the next few days.
Van Tharp Institute
Investing Trading Home Study Programs & Live Seminars Workshops
Dedicated to cutting edge, high quality professional educational investing trading programs for traders and investors providing a road map for financial freedom. The finest investing trading education in the financial universe. Dr Van Tharp is one of the orginal Market Wizards, and referred to as the Traders Coach.

Stock Option Forex Futures Trading Seminars Webinars Workshops Events
Click Here For The Complete 2014 Schedule