Putin on the Ritz: Here's how Russia will Impact the Markets by Market Authority
Geopolitical events take center stage again this week as Russian tanks roll into Ukraine-controlled Crimea after the Ukrainian street protests led to the ouster of Putin-puppet Viktor Yanukovych. Here's the best explanation of the current situation out there.
Here's a map showing the ethnic divide in the Ukraine.
Brown area = Ukrainians
Blue area = Russians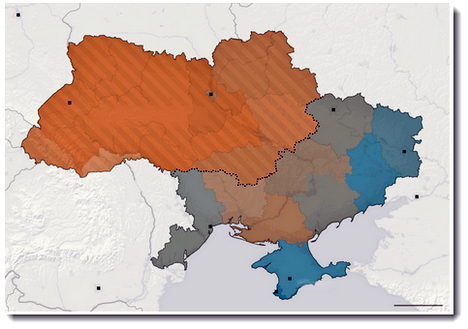 The following map shows the natural gas pipelines which allow Russia to sell nat gas to Europe. About 80% of Russian pipelines pass through the Ukraine.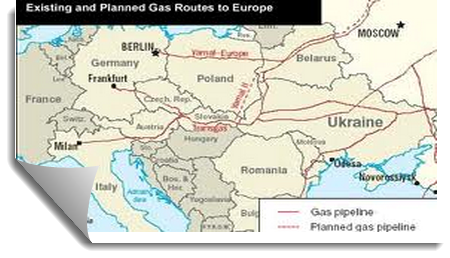 Traders must be cautious of headline risk this week as events unfold. S&P futures are looking down 15 points here on Sunday night after breaking to fresh all-time highs last week.
Habitual red-line drawer President Obama has increased the tension by threatening political and economic isolation if Putin doesn't respect the Ukraine's sovereignty. However, this is pure game theory and Putin holds the upper hand as Russia has the power to veto any UN action. And the US doesn't have the political will to act unilaterally and stop Russia.
The real irony here is that Putin's laissez-faire attitude towards Syria doesn't apply to sovereign nations where Russians reside. In Syria, Russia argued that a sovereign leader (even a dictator like Bashar al-Assad) should be left alone to deal with conflict in their own borders. However, if that deposed dictator ruled over Russians, the tanks roll down faster than the Jamaican bobsleds.
As mentioned above, 80% of Russia's natural gas exports to Europe pass through the Ukraine. And 40% of all the natural gas consumed by Europe originates in Russia. This is why the current crisis in the Ukraine has more geopolitical and economic weight than Russia's 2008 move into Georgia.
The Ukraine uprising can be seen in the price of natural gas, which has been steadily rising since January. Here's a 1-year chart of the Exchange Traded Fund that tracks natural gas prices, UNG.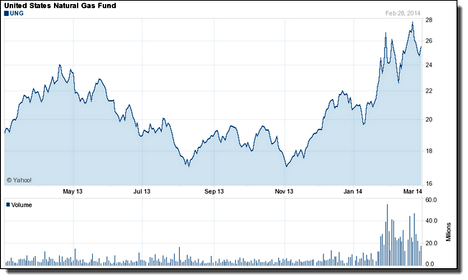 If you want to look for stocks that can get a boost from this conflict, check out any renewable energy stock (especially wind and solar). When the dust settles, this situation should remind investors (especially in Europe) of the importance of home-grown energy and the dangers that accompany heavily reliance on petrostate energy supplies.
Van Tharp Institute
Investing Trading Home Study Programs & Live Seminars Workshops
Dedicated to cutting edge, high quality professional educational investing trading programs for traders and investors providing a road map for financial freedom. The finest investing trading education in the financial universe. Dr Van Tharp is one of the orginal Market Wizards, and referred to as the Traders Coach.

Stock Option Forex Futures Trading Seminars Webinars Workshops Events
Click Here For The Complete 2014 Schedule