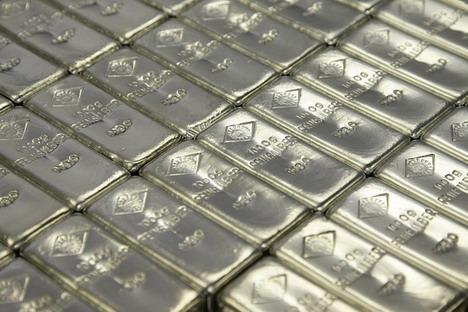 Click Here to Review the Elliott Wave Metals Specialty Service
April 23, 2012 - Silver: "It Doesn't Get Any More Important Than This" - By Elliott Wave International
"Tank." "Suffer." "Battered to a pulp." -- these are just a few of the colorful media phrases used to describe the recent performance of silver. As of April 23, silver prices were clinging to the rafters of a three-month low. Here's another word: "Surprise." Fact is, for many mainstream experts, silver's downtrend was not in the "fundamental" cards. From its late December 2011 bottom, silver prices had soared 30% to outshine even gold. And, in the days leading up to its February 29, 2012, high, the usual sources saw no reason for silver's winning streak to cease. On this, the following news items from late February 2012 set the scene:
"I see there's a lot of upward price because of a lack of supply. The silver price could regain its high of $50 per ounce and even hit new record highs before enduring another meaningful correction." (International Business Times)
"Silver has been one of the best performing commodities on a total returns basis this year. We expect this trend to continue given the ongoing positive growth shocks in the US." (Reuters)
Yet, the uptrend did not continue.
The one analyst who was not surprised by silver's downturn was EWI's Metals Specialty Service editor, Mike Drakulich. On February 27, at 1:44 PM, his intraday update for silver suggested
". . . at least a 38% retracement of the rally from 26.14 -- that would allow for a decline to 32.09."
On February 29, at 7:46 AM, Metals Specialty Service's intraday update wrote:
"I think a fifth wave 'might' end soon as 300-minute RSI is diverging and very overbought. I am going to continue to give the upside the benefit of the doubt, while acknowledging some increasing topping signs; this means I am leaning a bit more toward a top forming soon."
On February 29, at 11:40 AM, Metals Specialty Service's intraday update confirmed a fifth-wave top and subsequent reversal and wrote:
"This gives us an excellent road map in the days and weeks ahead… The rally from 26.14 took two months, so it's likely a [decline] could last for several weeks. I can't rule out a shorter duration but at this time, I would not bet on it."
Flash ahead: On April 23, a 10:23 AM, a Metals Specialty Service intraday update of silver presented the following chart that vividly captures the metal's March-April nosedive: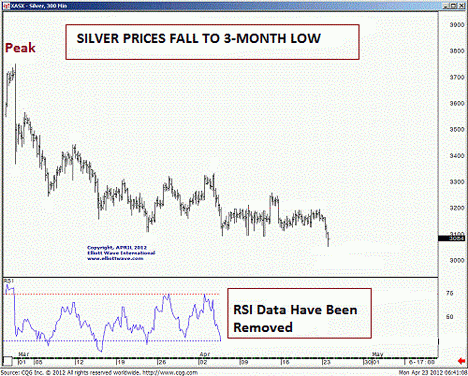 That very same update also included this urgent message: "It does not get any more important than this" as far as what silver prices must do to confirm a lasting bottom - or another leg of decline.
Get the complete story right away via a subscription to EWI's trader-focused Metals Specialty Service.
SILVER: Turn Market Possibilities into Actionable Probabilities with Help from an Elliott Wave Expert
Metals Specialty Service Editor Mike Drakulich uses the Wave Principle and 30 years of market experience to help you replace the endless market possibilities with higher-confidence probabilities.
Subscribe today to get Mike's expert intraday and daily Elliott wave forecasts complete with key price levels, targets and valuable insights for gold, silver and other major metals.
Click the link above to review more about EWI's Metals Specialty Service now.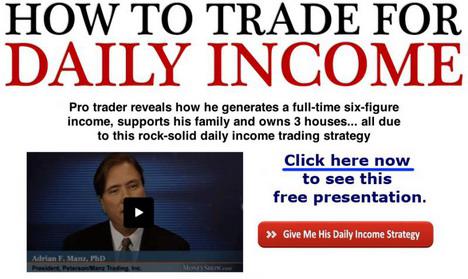 Click Here for a 60 Day Free Trial of the Daily Income Trader
by Market Authority Dr. Adrian Manz