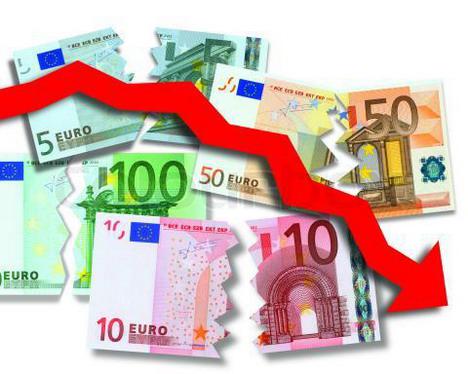 Click Here to Review the Elliott Wave Currencies Specialty Service
May 07, 2012 - EUR/USD Dips Below $1.30 - By Elliott Wave International
We've shown you before examples of how easy it is to interpret the same event as both bullish and bearish news for a market. Here's a fresh example.
On May 3, the European Central Bank met to talk about interest rates. At that meeting, the ECB's chief Mario Draghi "gave a more upbeat assessment of the euro zone economy than expected." (Reuters)
Question: Was that a bullish or bearish event for the euro? Well, how about both? See for yourself:
"Euro recovers as Draghi dampens easing hopes" (Reuters?, May 3)
"Dollar recovers after Draghi comments" (MarketWatch, May 3)
The reason why "fundamental" analysis can be this "flexible" is because often, you truly can argue -- and quite logically -- for the opposite market outcomes using the same news event. It all depends on which bias, bullish or bearish, you have yourself.
Technical analysis can help you make forex forecasting a lot less murky. While the mainstream pundits were deciphering the meaning of the ECB statement, our own forex-focused Currency Specialty Service made this May 3 forecast -- one based strictly on the objective metrics of Elliott wave analysis:
EURUSD (Intraday)
Posted On: May 3 2012 9:18AM ET / May 3 2012 1:18PM GMT
Last Price: 1.3169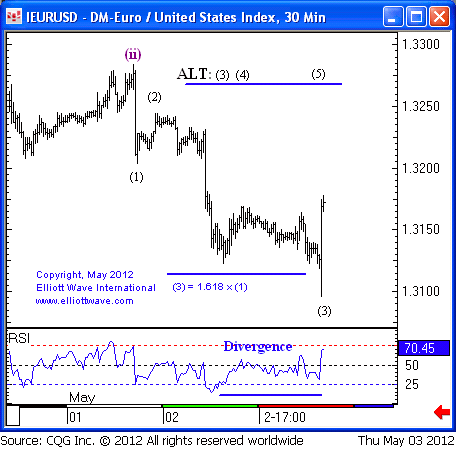 Correcting [upward], then lower. EURUSD reached the measured objective for wave (3), where it equaled 1.618x wave (1). Though starting off suddenly, we view the current rise as a correction. If it's wave (4), the 1.3200 area should offer resistance. Continue to look for weakness from beneath 1.3204...in a potential 3rd wave lower.
That "3rd wave lower" came in spades the very next day, when on May 4 a jaw-dropping decline took EUR/USD from near $1.3200 to below $1.3000 late on May 6, during the Asian forex session.
Since then EUR/USD has recovered somewhat. But you don't have to wait for the next round of news from Europe to know where the euro should go next.
Our Currency Specialty Service has objective Elliott wave forecasts for you right now.
With Currency Specialty Service, you get 24-hour-a-day analysis and actionable forex forecasts for 12 most-traded forex pairs.
Click the link above to learn more about the Currency Specialty Service now.