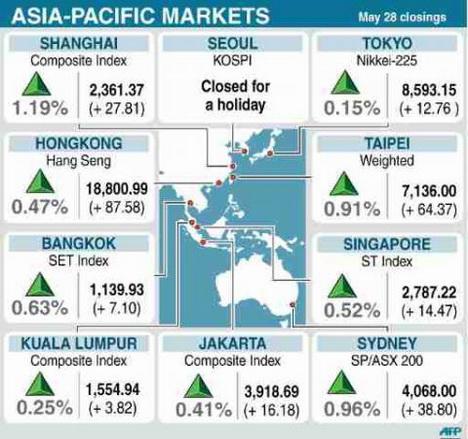 Click Here to Review the China, India, Japan, Australia and Beyond Trends with The Asian-Pacific Financial Forecast Service
May 25, 2012 - Why Asia's 10% Stocks Price Plunge Was Predictable -- with the Right Tools - By Elliott Wave International
Sometimes, studying the financial fundamentals simply doesn't cut it.
By all accounts, May 2012 should have been a stellar month for Asian-Pacific stocks. Almost every Asian-Pacific market surged in the first fourth months of the year. Plus, consumer confidence rose in 68% of global markets in the first quarter, according to a survey done by consumer information company Nielsen, with India leading the pack. The fundamentals were strong.
Alas, something went strangely awry. Instead of stellar, Asian-Pacific markets have been nothing short of abysmal. Instead of rising in May, some indexes have plunged more than 10% so far -- despite the solid fundamentals.
Does this mean that the drop in Asian markets wasn't predictable? Not at all. In fact, the drop was quite predictable -- if you had the right tools.
In the May 2012 Asian-Pacific Financial Forecast, Editor Mark Galasiewski (pronounced gala-SHEV-ski) began the publication with a striking chart of four emerging markets and this critical note to his readers about their wave patterns (emphasis added):
"Our wave counts indicate that the proverbial warning to 'sell in May and stay away' does apply. By month's end, most stocks in the region will have either ended their rallies or at least enjoyed the best part of their remaining advances."
Galasiewski's prescient forecast was fiercely contrary in light of the fundamentals. But it was dead-on. Asian-Pacific stocks have plunged as much as 11% since he published his forecast on May 4. And India, which had the highest consumer confidence in the first quarter, has seen the Sensex drop more than 9% to date.
So how did Galasiewski make such a forecast? He didn't need to look at the news or the fundamentals. Instead, the only tools he needed were the Wave Principle's objective rules and guidelines. And when the crystal-clear Elliott wave patterns he was tracking in Asian markets were complete, he knew to expect a sharp reversal.
Now, the most important question is: What's next for Asian-Pacific stocks? You can see what we see -- and get an independent perspective you won't find anywhere else -- via a risk-free subscription to the Asian-Pacific Financial Forecast Service. Learn more below.
Equip Yourself to Think, Trade and Invest Independently from the Crowd in Asian Markets The Asian-Pacific Financial Forecast, Elliott Wave Theorist and Asian-Pacific Short Term Update give you more usable analysis in one month than the mainstream will give you in one year.
You'll get instant access to:
The Asian-Pacific Financial Forecast. The May issue delivers in-depth forecasts and unparalleled analysis for Hong Kong, Singapore, Korea, Japan, Australia, India, China and more.
The Elliott Wave Theorist. Robert Prechter's NEW 21-page May issue puts the larger market trends into context and gives you a jaw-dropping chart with a vital 12-year pattern.
The Asian-Pacific Short Term Update. This more frequent service equips you to ride the near-term trends of Asia's most important markets with updates 3 times per week.