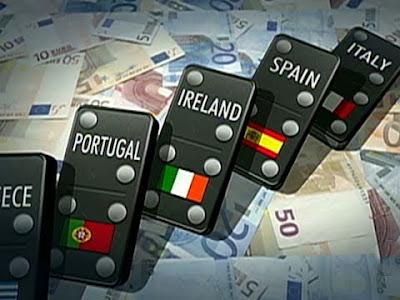 Click Here to Get Your Free Report: The European Debt Crisis and Your Investments
I don't have a buy or sell stock pick this week as I usually do but instead am providing some analysis and a free report on the European debt crisis and how it will affect your money wherever you live in the world.
The Greek Election
Its been one day now since the Greek elections and it seems Greece won't be leaving the Euro just yet but it seems the markets still see problems ahead for Europe and the Euro Dollar. What else is new this Monday from last Friday? Nothing it seems.
I do see the US equity markets trying to grind higher heading into major resistance price areas for the time being. We'll now wait and see if and when the global central banks are going to do some more quantitative easing to prop up the stock markets or not.
US Equity Index Major Resistance Areas
DJIA: 12,679.14 to 13,065.41
SP500: 1,344.80 to 1,388.51
Nasdaq: 2,902.35 to 2,926.29
We've all heard the line: Let me give it to you straight.
And in speaking to his counterparts in Spain, an Irish economist did just that.
Ireland has this banking advice for Spain:
imagine the worst and double it
. [emphasis added]
Like Ireland, Spain sought a bank bailout after being felled by a real-estate crash. Now, just as the Irish did, the Spanish are awaiting the results of outside stress tests gauging the size of the hole in the banking system. Bloomberg, June 14
Stress test or no, EWI's Global Market Perspective has known that Spain's banking system is frail. In May, the publication gave its subscribers this chart-supported insight: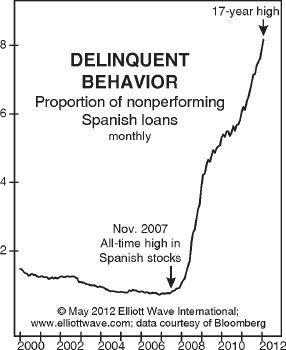 A 17-year high in the percentage of non-performing Spanish loans is merely one illustration of the Continent's illness. After falling to a four-decade low of less than 1% in 2007, delinquencies have spiked eightfold in the past five years. The percentage stands at its highest level since 1994. Global Market Perspective, May 2012
By itself, a subsidiary of Spain's largest bank, Banco Santander, absorbed Q1 bad loan losses of 475-million euros.
Italy is in the same sinking economic boat. The June Global Market Perspective showed how much the eurozone's third largest economy is also drowning in bad debt.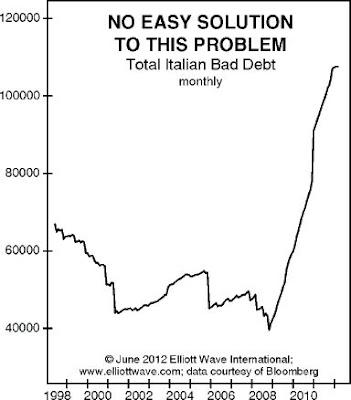 The Italian and Spanish economies are in shambles as borrowing costs have skyrocketed for both countries.
But the recent spotlight has been on Greece. Now that the Greek election is over and voters appear ready to embrace austerity, should we be optimistic about the future of the euro zone?
Click Here to Get Your Free Report: The European Debt Crisis and Your Investments