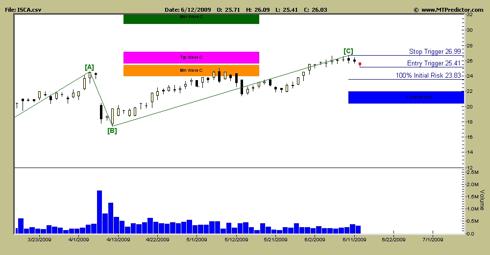 Market Week Ahead

Scanning the stock charts this early Monday morning looking for a low-risk high-reward trade or investment, I'm reviewing the week ahead. With oil and the dollar at keys levels currently, the stock market this week could be very volatile. Summers now upon us and we could possibly get a correction in the market with the S&P and the Dow moving averages at possible crossover points later in the week.

My Stock Pick This Week Needs More Gas

My stock pick this week is involved in auto racing. Nascar to be specific. Long story short, auto racing is not going away yet, but it should suffer for awhile from this recession we're in, and this entertainment is not a must have expense. I'm selling short this company for the time being. With earnings and revenues very possibly slowing down for awhile with this company, I'm betting the stock price is going to slow down and get dragged down too. The company is well run, but I don't think as many people are going to shell out hundreds of dollars to watch a car race in person when they might not even have enough money to put in their own gas tank first.

Sell-Short International Speedway Ticker ISCA

Sell Entry: 26.99 to 25.41

Stop-Loss: 27.45

Take Profit Areas: 23.83, 22.25 to 20.67, 16.03 to 14.58

International Speedway Company Profile

International Speedway Corporation, together with its subsidiaries, promotes motorsports themed entertainment activities in the United States. The company conducts racing events at its motorsports entertainment facilities. Its motorsports entertainment facilities promote stock car, open wheel, sports car, truck, motorcycle, and other racing events. The company also uses its track facilities for testing teams, driving schools, riding experiences, car shows, auto fairs, and concerts, as well as for setting television commercials, print advertisements, and motion pictures. In addition, International Speedway Corporation rents show cars for promotional events; owns and operates a motorsports-themed entertainment complex; creates motorsports-related programming content carried on radio stations, including a national satellite radio service; and provides catering, food and beverage concession, and merchandising services. As of November 30, 2008, it owned and/or operated 13 motorsports entertainment facilities in Florida, Alabama, Michigan, Virginia, California, Kansas, Illinois, Arizona, South Carolina, and New York. The company was formerly known as Daytona International Speedway Corporation and changed its name to International Speedway Corporation in 1968. International Speedway Corporation was founded in 1953 and is based in Daytona Beach, Florida.

Click here to review and trial the Trading Software I used in determining my short position on International Speedway.