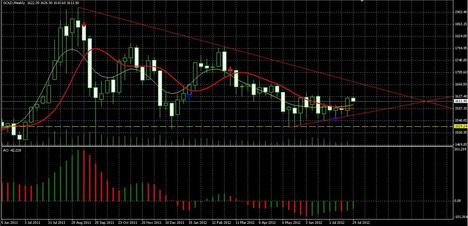 Gold Weekly Chart Triple Bottom Pattern
Click Here for Accurate Gold Silver Forecasts
August 01, 2012 - Profiting from the Next Price Trend in Gold and Silver
Gold has made a triple bottom since its all time high of 1920.20 on September 06, 2011. Is it getting ready for a sizeable upside breakout soon or a fake-out break-out and a continued downtrend? With major central banks around the world devaluing their currencies as fast as they can or what's call "the race to debase" the potential for a gold and silver upside breakout grows stronger by the day.
Another bullish indicator for gold is that China is doing its best to peg their Yuan Renmimbi currency to gold with their past gold purchases and new country to country currency swaps. Looks like they are possibly trying to make their Yuan Renmimbi a global reserve currency sometime in the future for a variety of reasons and also in case their US debt investments go down the toilet.
In any event, gold and silver look like they are very possibly going to attract more attention now with Europe still in a debt crisis, the USA approaching a fiscal cliff with their money printing program of quantitative easing casuing more uncertainty and volatility creating profitable trading opportunities intraday and longer-term.
Ways to Profit from Gold and Silver
There's a number of ways to profit from gold and silver. It all depends upon you, your trading abilities, and the time you can put into trading the precious metals. You can learn how to forecast gold and silver prices and place trades on your own analysis. You can also subscribe to gold silver alerts reports signals to tell you how to place your trades. You can also use a gold silver Metatrader expert advisor auto-trade robot like the Commodity Code to trade for you automatically. Either way you choose to trade, you have the potential of profiting from a new uptrend or a continued downtrend in gold and silver.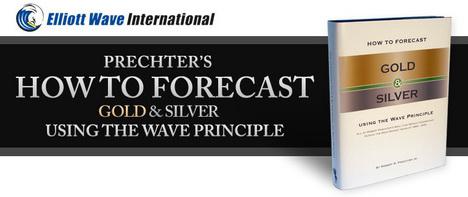 How to Forecast Gold and Silver Prices
Here's an intriguing question with a simple answer:
Name an analyst who:
Published specific gold and silver forecasts for 22 years during one of the metals' most historically baffling periods,
Correctly called nearly every major turn and trend during that time, and
Now offers that entire body of work for public scrutiny and personal education?
Yes, Bob Prechter. But you know that.
The years in question ran from 1979-2001, a period book-ended by gold's $850 all-time high in 1980, and its low near $250 in 2001. Put in other words, "All of Robert Prechter's Real-Time Metals Commentary During the Bear Market Years" -- which is the subtitle to Elliott Wave International's just-published book,
How to Forecast Gold and Silver Using the Wave Principle
Bob believed that Elliott wave patterns would transcend fundamentals, new technologies, even the government's intervention into markets.
Which is why this is unlike any "How To" volume you could ever read. Bob's earliest forecasts came just before the manic high in 1980. Investors then were as crazy to own gold and silver as they would be to grab up NASDAQ stocks twenty years later.
So you can imagine how Bob was received in January 1980, when Commodities magazine quoted him saying, "Silver can be expected to drop back to between $4 and $6 per oz. sometime in the next decade." And on February 9, 1980, Bob said "Gold has registered a fairly classic blow-off, which I now believe has finished off the major leg III from the 1970 fixed-price low."
But that's only how the story begins…
Here's a question with a straightforward answer:
Why should you make How to Forecast Gold and Silver Using the Wave Principle part of YOUR library?
First; How to Forecast Gold and Silver will show you what matters -- and what doesn't -- when you want to invest in precious metals. The analyses presented in The Elliott Wave Theorist did NOT look to the Fed, news headlines, politicians, or any other "external" source for information on gold and silver. Instead, it looked in one place to predict where precious metals would go: to those markets themselves.
Second: You can learn from this book. More than an abstract "How To," it shows "How To Do It Right" -- and I do mean show. And it's all in real-time, when no one knows the future and the pressure is on. If you grasp the analytical principles in How to Forecast Gold and Silver, you won't ever need someone else's analytical opinion on precious metals again. You'll have your own.
A final thought: How to Forecast Gold and Silver Using the Wave Principle is a coffee-table size book -- after all, think of how many years it includes! The jacket cover is a handsome piece of original artwork, designed by a professional graphic artist. Not only is this book made to read, it can also be put on display -- or serve as a gift for someone you know.
How to Forecast Gold and Silver Using the Wave Principle has no equal for the duration, depth and accuracy of its content. It's now available for $179 -- that represents a subscription value in the neighborhood of four-thousand dollars.
Click here to review the book and order a copy.

"Commodity Code" Gold Silver Oil AutoTrade Metatrader Expert Advisor
The commodity code is a 3 level system. Level 1: The Commodity Code Trading Station Gathers Gold, Oil and Silver quotes directly from the banks. It identifies the common patterns when the big banks are moving the price significantly. Level 2: Commodity Code analyizes the pattern and the signals and decides if there is a profitable low-risk high-reward trading opportunity to apply it. Level 3: The approved signal reaches your Metatrader terminal instantly, opening the profitable trade for you on autopilot.